'Too Hot to Handle': Harry Admits He's 'Trash' for Lying to the Group About Francesca
Harry Jowsey and Francesca Farago made a connection right away on Too Hot to Handle. They were the first couple to cost the group $3,000 for a kiss. When the group found out that Harry and Francesca had lost everyone money, they demanded to know who initiated the rule breaking. Harry pointed his finger at Francesca and everyone believed him without question.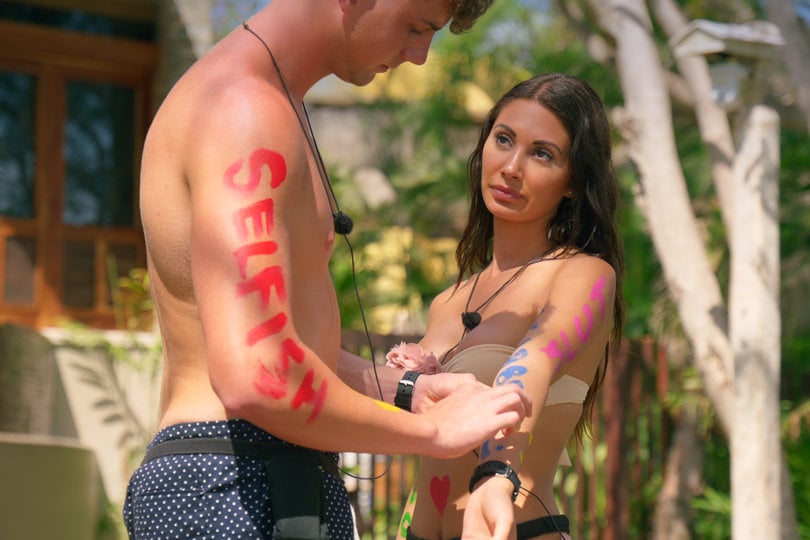 When Harry blamed Francesca for initiating their first kiss against the rules
In an interview Francesca did with Esquire that went live on April 23, the Instagram model said she never got the apology she thought she deserved from Harry for throwing her under the bus that day.
"I did not get the apology I deserved but now knowing Harry, he is younger than me and he handles situations still to this day differently than I do. So when he reacts a certain way, I don't take it personally, I kind of just realize he's acting a certain way because that's how he handles situations. Sometimes I don't even need an apology because I just understand the way he works to the degree where I'm like, alright, this is just you being you. But no, to answer your question, I didn't get an apology, I didn't feel like I needed one because I know how Harry is and I know he's just a little bit immature," she said.
Ultimately, she says she feels she got her "revenge" by "going for Kelz."
"So we evened the playing field," she said.
That situation, Harry blaming Francesca for initiating the first rule-breaking kiss, set the tone for the Instagram model for much of her time on the show. She says it was tough to be disliked in the house, particularly for something she didn't do.
"That was one of the hardest parts of living in that house, because no one wants to be exiled from the group. It's the worst feeling and I was doing it to myself because I was acting in a certain way, but I was kind of exiled almost from day one because of things that were out of my control. So, it was hard to form relationships with people and I wasn't necessarily trying as hard as I could have to rectify situations with people," she said.
Francesca is glad she had Haley (for a portion of filming) and Harry to lean on.
"I had Harry by my side and when I had Haley that really helped, so I kind of had to just focus on myself, and if people didn't like me I just had to go with it. But it was extremely difficult. No one doesn't want to be the one who people don't like. Everyone wants to be liked," she said.
Today, Harry and Francesca are better than ever
It seems Harry is finally owning up to his lie. He posted on his Instagram stories a photo of his head in a trash bin. "Me on Episode 2 of Too Hot to Handle," he wrote. Fans would have to agree.
Today, Harry and Francesca are happily together. They say they want to get married and have kids. So it's safe to say they've moved well past the first kiss lie.
Read more: 'Too Hot to Handle': Bryce and Nicole Have Been Figuring out Their Relationship After Filming–'We're Long-Distance Technically'