The Top 10 Covers of Elvis Presley's 'Can't Help Falling in Love'
The Elvis Presley classic 'Can't Help Falling in Love' has been covered by artists spanning every genre. Chris Isaak's understated version may come closest to the original.
Elvis Presley's classic "Can't Help Falling in Love" is often covered by other music artists. Recently, Kacey Musgraves shared she sings a version for the new Elvis film soundtrack. A good song spans genres, cultures, and ages. From rock groups to opera singers, these 10 artists put their spin on the Presley classic.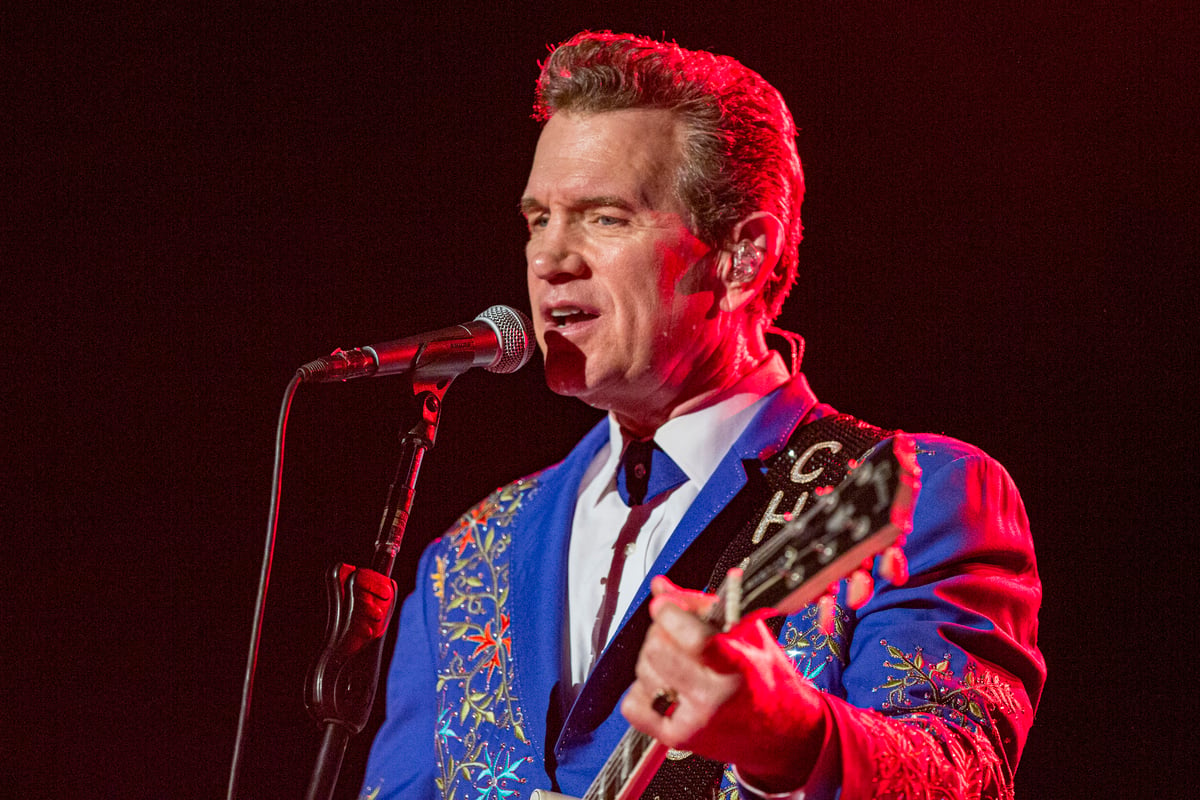 U2
U2 covered the song during the successful Achtung Baby tour in the early '90s. "Can't Help Falling in Love" served as the closing song and a memorable end for fans. The ZOO TV tour played 157 shows during five tour legs. Bono's emotional delivery of the Presley classic introduced a new generation to Elvis. 
Haley Reinhart
Former American Idol contestant, Haley Reinhart's most successful song is a cover of "Can't Help Falling in Love." In 2016 Reinhart recorded her version, which was used in an Extra gum commercial. The song gained a lot of traction due to the commercial and was certified gold. As a contestant on the reality show, Reinhart's strength was being able to emotionally connect with the music. Her version of the Presley song plays to this strength.
UB40
In 1993 British reggae group UB40 scored an unlikely Billboard No. 1 with "Can't Help Falling in Love." The "Red Red Wine" group's version appeared on the soundtrack of the Sharon Stone movie, Sliver. Clips of Stone and the movie are sprinkled throughout the music video. UB40 brought their signature reggae vibe to "Can't Help Falling in Love." 
Pentatonix
Acapella group Pentatonix released their version of the Presley staple in 2017. "Can't Help Falling in Love" was part of the album PTX, Vol. IV: Classics. The five members give an emotional and connected performance. In typical Pentatonix fashion, powerful, dynamic vocals take center stage.
Celine Dion
Like U2, Celine Dion never recorded a version of her "Can't Help Falling in Love" cover. Instead, she sporadically chose to sing it for fans during concerts. The early 90s was a popular time to hear the song in concert. During Dion's 1993 tour, she ended her show with her version of the song. Dion's cover is the opposite of understated, with big drama and a lot of vocal runs. 
Chris Isaak 
Perhaps the most similar to the original material, Chris Isaak's version of "Can't Help Falling in Love" is a beautiful tribute to Presley. Isaak's vocal tone and understated performance drive home the romantic feeling of the song. 
In 2011, Isaak released the album Beyond the Sun, a compilation of songs recorded at Sun Records. Besides the Presley song, he covered Roy Orbison, Johnny Cash, and Jerry Lee Lewis.
Twenty One Pilots
Alternative rock group Twenty One Pilots found commercial success in 2015 with songs "Stressed Out" and "Ride." While still on an independent label, they recorded "Can't Help Falling in Love" for the three-song EP, Holding on to You. A video of singer Tyler Joseph singing with a ukulele is a departure from the sound the group is known for.  
Kinna Grannis
During a pivotal scene in the movie Crazy Rich Asians, Kinna Grannis' version of "Can't Help Falling in Love" plays. While not as bombastic as a Celine Dion cover, Grannis provides a sweet, romantic, and simple version that encompasses the feel of the song and movie. She made a cameo in the film to sing the song. 
Julio Iglesias
Often overlooked, Iglesias' version stands among the best covers of "Can't Help Falling in Love." His phrasing helps drive the emotion home in a restrained, classic performance. He recorded his version for the 1990 album Starry Night. Other cover songs on the album include "And I Love Her," and "Mona Lisa."
Andrea Bocelli
In 2006 opera singer Andrea Bocelli covered "Can't Help Falling in Love," partly based on an 18th-century love song called "Plaisir d'amour." Bocelli recorded the song for his 11th studio album, Amore. It peaked at No. 2 on the Billboard Hot 100 chart. Bocelli has also covered the Presley classic, "Love Me Tender."