Is 'Top Chef' Carla Hall the Most Successful Contestant Who Lost the Show?
Carla Hall, known for her bubbly personality, competed in Bravo's Top Chef Season 5. She was in the middle of the pack until Episode 10 when her crawfish gumbo wowed the judges. The chef went on to win top entry and other elimination challenges until finishing runner-up to Hosea Rosenberg.
Hall came back for Top Chef: All-Stars where viewers voted her fan-favorite of the season. Once again, she did not win the cooking reality television competition; however, she went on to write books and host ABC's The Chew. Is Carla Hall the most successful chef after losing the show? Keep reading to find out!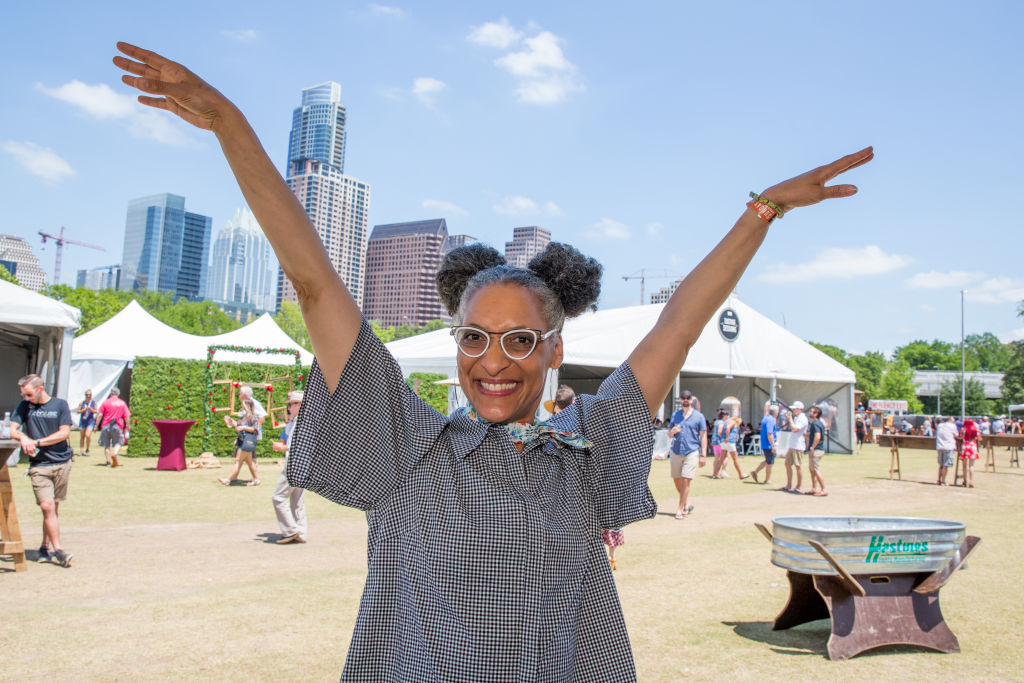 Carla Hall's beginnings
Born May 12, 1964, in Nashville, Tennessee, Hall went to Howard University's business school and received a degree in accounting. She then became a CPA before switching careers and moved to Europe to work as a model. While overseas, she realized cooking was her passion and returned to the United States to start a lunch delivery business.
The aspiring chef then graduated from L'Academie de Cuisine in Gaithersburg, Maryland in the mid-1990s. She held executive chef positions at businesses including the Henley Park Hotel before starting her company, Alchemy Caterers. The chef also opened a cookie store, Carla Hall Petite Cookies, available in stores and online.
Carla Hall and 'Top Chef' Season 5 and 8
In 2008, Hall competed on Top Chef Season 5 and placed top three, losing to Hosea Rosenberg. She was safe four times, selected as a top entry three times, chosen as a bottom entry three times, and won three elimination challenges.
In one of her more memorable victories, Hall won the "Super Bowl Chef Showdown" where the chefs had to compete in a "head-to-head" cook-off against previous contestants. They had to cook a regional cuisine from one of seven NFL teams, and Hall faced off against Season 4's Andrew D'Ambrosi with a New Orleans Saints cuisine.
Hall pulled out the win with her Crayfish and Andouille Gumbo over Stone-Ground Grits, earning two tickets to Super Bowl XLIII. Known for her trademark phrase, "Hootie hoo!" and philosophy of "cooking with love," she returned for Top Chef: All-Stars, alongside Fabio Viviani and Jamie Lauren, and won fan favorite.
Carla Hall and her success after 'Top Chef'
Three years later, Hall became an original member of ABC's The Chew, an hour-long daily show that features cooking components, alongside Mario Batali, Michael Symon, and moderator Clinton Kelly. American nutrition author, Daphne Oz, also hosted for the first six seasons before deciding to leave after becoming pregnant with her third child.
Batali also stepped down, and later fired, after sexual misconduct allegations. Neither of the hosts was replaced until ABC canceled The Chew a year later due to low ratings. The show received seven Daytime Emmy Award nominations from 2014 until 2018.
Batali, Hall, Kelly, Oz, and Symon won the 2015 Emmy for Outstanding Informative Talk Show Host, and The Chew earned the 2016 Emmy for Outstanding Talk Show. While hosting the show, she also wrote two books: Cooking With Love: Comfort Food That Hugs You and Carla's Comfort Foods: Favorite Dishes From Around the World.
In 2014, she launched a Kickstarter campaign and raised over $264,000 to open her Brooklyn, New York, restaurant, Carla Hall's Southern Kitchen, in June 2016. However, it closed almost a year later. The chef also portrayed herself in a BoJack Horseman episode and voiced characters in Disney Junior's The Lion Guard as well as Nickelodeon's Butterbean's Cafe.