'Top Chef' Chefs Are Taken by Surprise When They Are Thrown an Absolute Curve Ball
In typical Top Chef fashion, the "cheftestants" are thrown a left hook … and then a right hook. During an upcoming episode on Bravo, chefs must scramble to create a new game plan when they are suddenly forced to pivot for a challenge.
The "coffee and beer" challenge suddenly becomes a team challenge when Tom Colicchio informs them, "You are no longer working individually. This is a team challenge," he says in a preview clip. Groans are heard and shock is apparent on the chef's faces.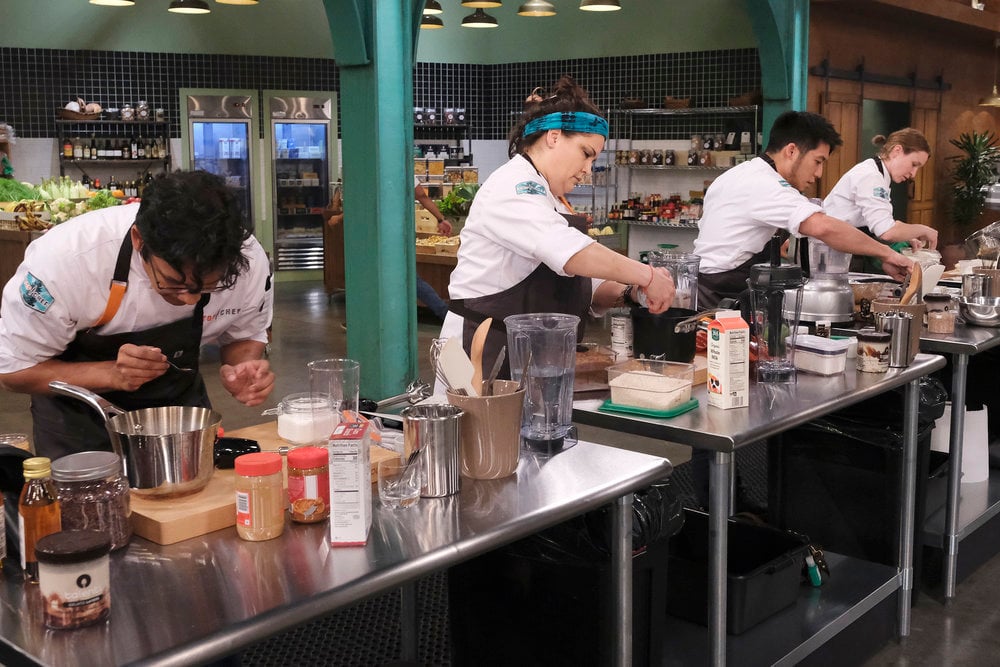 Chefs throw out their plans and partner up
"So, in teams of two, you'll create a new dish featuring both beer and coffee using the ingredients you've already purchased," he explains. "So those dishes you planned, throw them out the window. You need to make a dish that's cohesive. But make sure each of you has an element on the plate that is entirely yours because only one chef is going home."
More groans and gasps.
Colicchio gives the chefs an opportunity to choose their partners. Brittanny Anderson immediately goes to Sasha Grumman. "Sasha and I are just … magic magnets," Anderson explains in a confessional. They immediately discuss what they are going to do. A few other chefs wander through the crowd unsure of partners.
Avishar Barua jokes about how he ended up with his partner, Shota Nakajima by looking down at the ground.
Some partnerships result from a process of elimination
Ribs and ahi (tuna)? Gabriel Pascuzzi and Dawn Burrell end up on a team but only because they were the last two left without partners. "Everybody picks everybody else and we're both like, alright I guess we're together!" Pascuzzi says in a confessional after sharing that their ingredients are ribs and ahi. Burrell adds, "Yeah," looking a little less than thrilled.
Colicchio confirms that the chefs are happy with their teams before he kicks off the challenge. "Your time starts … now!" he exclaims as the chefs spring into action. They confidently run back to the kitchen but it is clear they are a little rattled by the last-minute changes. Even the super team of Anderson and Grumman aren't exactly sure what direction they are going to take. "What are we going to cook?"
The teams frenetically start to plan, muttering ingredients to each other, brainstorming dishes. Keep in mind the individual chefs had already planned for their dishes so they not only have the signature ingredient of beer or coffee, but they are stocked with other ingredients that now have to be blended together. "Beer and coffee is so … those flavors are so hard to come together," Byron Gomez explains in a confessional "Put it in a dish especially with somebody you've never worked with before."
Coffee and beer are celebrated in this episode
Coffee and beer are a theme during the second episode. In fact, another preview clip teases how the chefs get to the coffee and beer challenge.
The chefs are also challenged to select either coffee or beer to build a dish. Coffee and beer were chosen because Portland is known for its iconic coffee shops. But it's also known though for its breweries," Padma Lakshmi tells the chefs. "For your elimination challenge, we want you to create a dish celebrating one of these two iconic Portland brews."
While the throw down has two key ingredients, the chefs don't get to decide which one they get to use. Who draws coffee and who draws beer?
Top Chef is on Thursday at 8/7c on Bravo.