'Top Chef' Winner Kristen Kish's Two-Bread Stuffing Is the Only Side Dish You Need This Thanksgiving
Season 10 Top Chef winner Kristen Kish has an ambitious menu at her Austin, Texas restaurant Arlo Grey that features her unique takes on everything from handmade pasta to gourmet burgers. But with her holiday dishes, Kish gets inspiration from her traditional family recipes.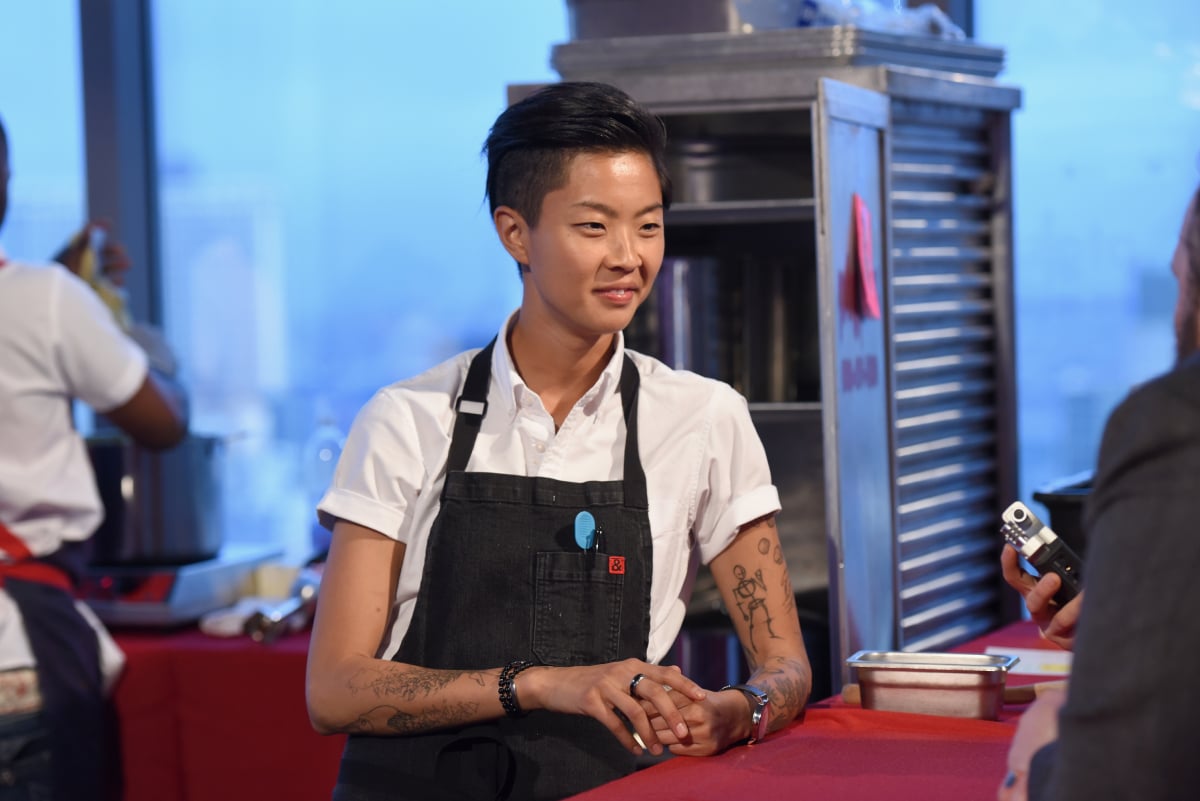 Kish has been passionate about Thanksgiving dinner since she was in school. When it comes to stuffing, her recipe for two-bread stuffing is the only one you'll ever need.
The 'Top Chef' winner swears she saved her family's Thanksgiving when she was in culinary school
According to Food and Wine, Kish remembers saving Thanksgiving during her first holiday break during culinary school. When she arrived at her family home in Grand Rapids, Michigan, Kish says she found a partially frozen turkey that no one had bothered to brine.
Kish recalls that she immediately got to work to save her family's Thanksgiving dinner, but her mom Judy remembers it very differently.
"You threw a fit about the brine, and I think you tried to cook the turkey overnight in the oven," Judy says. "Well, you were very sure of yourself at the time."
After she opened Arlo Grey, Kish invited her family and close friends to Thanksgiving dinner at her restaurant. For her holiday menu, paid homage to some childhood family staples while mashing up family traditions with her own ideas.
Her bean and beet salad paid tribute to her mom's three-bean mix and her grandmother's pickled beets. Kish also gave her grandpa's favorite Jell-O salad (sweetened with 7UP and topped with Cool Whip) a nod with her cranberry-orange relish. But, it's what Kish did with her stuffing that is truly spectacular.
Kristen Kish's two-bread stuffing is a mash-up of family recipes
Kish created her two-bread stuffing out of necessity. Half of her family is from Michigan and prefers white bread stuffing. The other half of her family is from Texas and demands cornbread stuffing. She decided to compromise by mixing the two types of bread together.
"When you're growing up, everything just seems normal, like white noise. Then you become an adult and realize that all of it is yours, your culture, your family," she says. "I'm realizing that the reason I even have a story to tell through food is because of these people."
According to The Kitchn, Kish outdid herself with the story she told through her two-bread stuffing. If there's a stuffing debate in your house, Kish's recipe is the answer.
Top Chef' winner Kristen Kish's two-bread stuffing recipe can feed an army
Kish's two-bread stuffing recipe features both prepared cornbread and stale white sandwich bread. You can choose to make your own cornbread first or purchase prepared cornbread from your local bakery.
The recipe is simple to prepare and truly delivers on the holiday flavor. Combining the chewy white bread and the coarse cornbread creates a variety of textures.
Just remember that Kish's recipe calls for leaving the white sandwich bread out the night before so it has the chance to stale. Also, consider skipping out on the softer, squishier white sandwich bread and splurge on hearty white sandwich bread so it can hold the broth.
Baking the dish for 30 minutes at 350 degrees makes the top crispy while leaving the inside tender and moist. The yellow onions, celery, sage, and parsley in the dash add flavor and texture while holding the stuffing together nicely so it doesn't fall apart on your fork.
It should be noted that this recipe is enough to feed an army. It serves as many as 16 people, but can easily be cut in half for smaller gatherings.