'Top Chef's' Joe Sasto Shares How Cooking With Cannabis Is a Delicious Experience
Chef Joe Sasto from Bravo's Top Chef isn't a big fan of cannabis-laced brownies. But the culinary expert with the signature handlebar mustache wants to change the perception of cooking with cannabis with his own approach to creating a magnificent meal with a side of glow.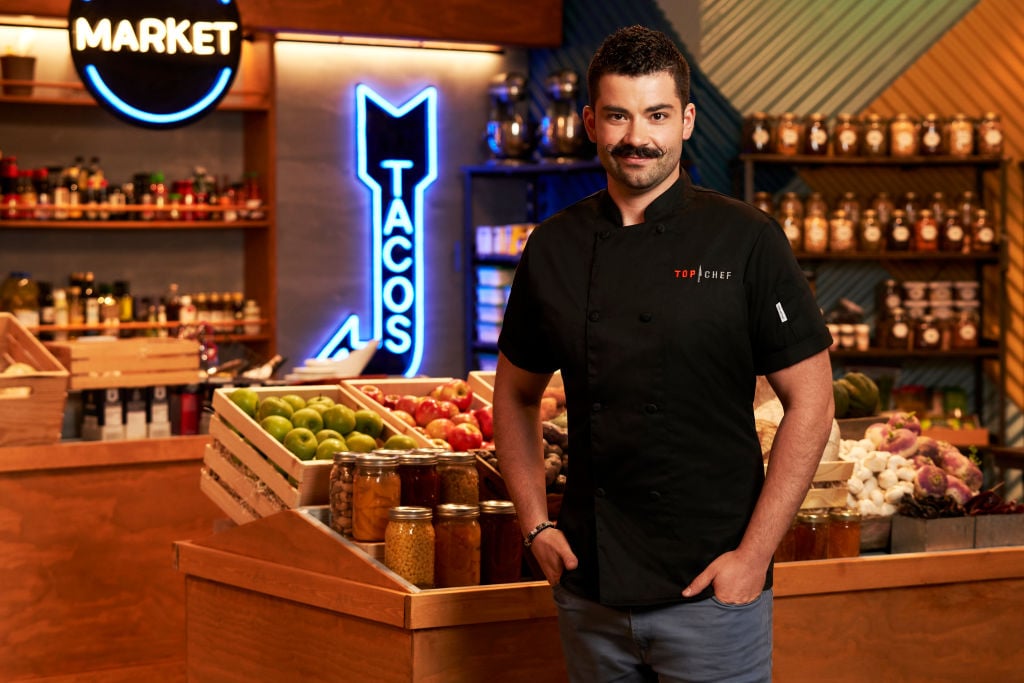 He shared with Showbiz Cheat Sheet that chefs who want to cook with cannabis really need to do their research. He also admits he doesn't like the taste of weed. "It's the plant matter itself that you're tasting," he explains. "And I think it's completely off-putting. That's why I don't like going the route of butters or infusions or anything like that because it's often overpowering. And you lose the true nature of the meal and that's the food and the vegetables and everything that you're making."
Sasto added that chefs also need to be especially cautious because the amount of cannabis that provides a relaxing and open experience for one person could mean trouble for someone else. "It's plagued the cannabis industry for decades and the idea of edibles and everyone having that terrible experience where they forget how to breathe for four days because they overdosed on brownies."
Sasto strives for a meal with a glow
He acknowledges that the wrong dosage can be the downfall of a meal with cannabis. "So what I started doing when I was first doing this was going on the micro-dosing route," he explains. Sasto estimates he uses between one to two milligrams per person, per course.
"Kind of starting on the higher end for the first couple courses, maybe with a mocktail infused with CBD and then really tapering it off at the end of the meal with the idea that you're not really getting high or baked," he says. Instead, you are "using the cannabis to enhance the dining experience where it's still first and foremost about the food and then the cannabis really elevates that."
He likens the experience to having a few glasses of wine with dinner. "So not where you'd be taking shots all night long or getting really, really high and stoned by the end of the meal."
As a result, Sasto adds that he's shifted toward using the terpenes naturally found in cannabis. "Going with terpene pairings rather than wine pairings," he says. "And then when you unlock that door, it opens up a whole new color palette to be painting with."
His meals are truly a culinary experience
Sasto says using terpenes provides complementary flavors and tastes to enhance the food. "So with the hashes, you are tasting the terpenes which is completely different," he describes. "Terpenes are naturally found aromatic and volatile flavor compounds. Like citrus has them. Any lemon or lime has maybe 10 to 20 different kinds of terpenes. That gives it those smells and aromas that you attribute to lemon or lime."
"And then if you look at any strain of cannabis [it has] anywhere from 100 to 200 different terpenes," Sasto shares. "If you look at terpenes like flavors, like lime oil, lemon oil, orange oil, you're kind of dealing with this whole new product with a whole new series of flavors."
Sasto's meals focus heavily on pasta dishes. Depending on the meal, he'll do up to six different pasta dishes. "Each one, progressively building on the next," he says. "Some seafood focus, some vegetable focus, going into a heavier meat ragu to something maybe light and buttery. And then using the different strains and the different hashes to pair, balance, and contrast off of all those different dishes much like you would an alcoholic paring."
Sasto relies on California-based licensed cannabis cultivator, Autumn Brands to help bring his meals to life. He appreciates the product because it is clean and pesticide-free, which allows him to create an experience "so Snoop Dogg and Martha Stewart could sit next to each other and both have a great time." Sasto plans to host pop up dinners in the coming months.