Tori Spelling Felt 'Really Insecure' While Filming 'Beverly Hills, 90210' — Here's Why
Tori Spelling is opening up about feeling "really insecure" while playing Donna Martin on the iconic 90s series, Beverly Hills, 90210. 
In a heartfelt Instagram post on Dec. 12, 2019, the 46-year-old TV personality, actress, and author shared how she felt while filming the show despite her happy appearance on-screen and in photographs, according to People. 
Spelling described herself as a 'really insecure teenager'
Teenage years are tough even for famous actors. Spelling revealed she adopted a "fake it till you make it" approach because her personal life had been so at odds with the character she played on TV. As Donna on-screen, Spelling pretended to be someone who had it all figured out with everything in order while Spelling herself felt less than confident.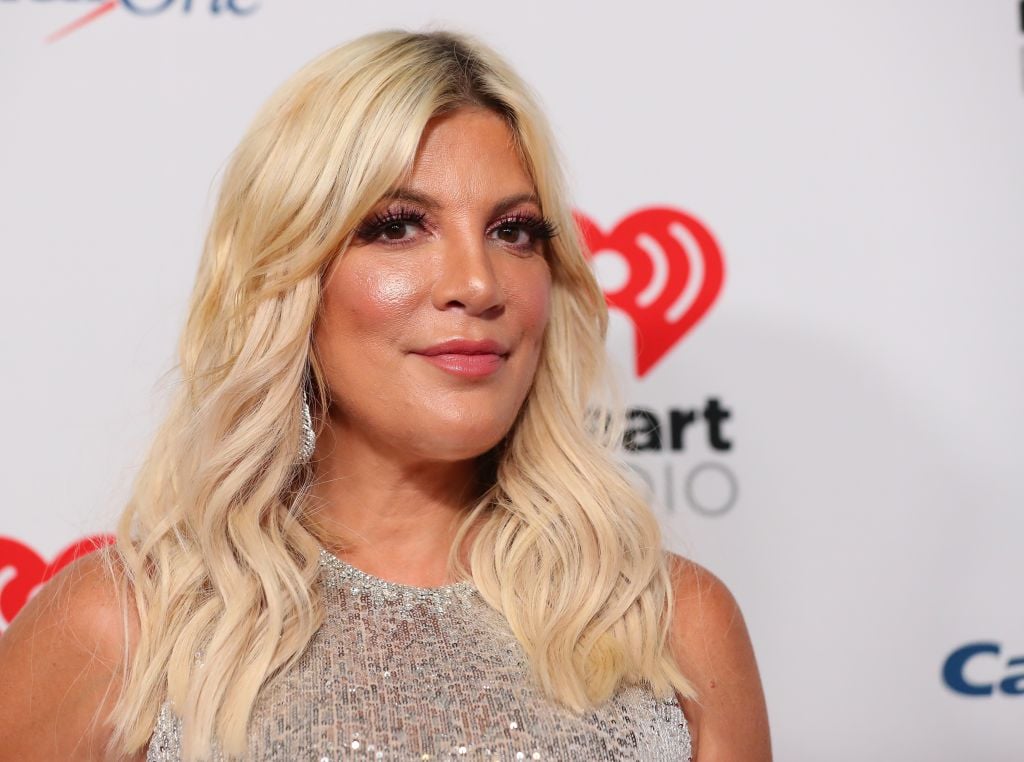 "I was a young really insecure teenager that never thought I was good enough," she wrote. "Yet, I was on a hugely successful TV show playing a beautiful popular teen that had it all together. A character that girls everywhere looked up too and boys adored. Off-camera I didn't feel at all beautiful or good about myself."
Spelling played Donna for a decade from 1990 when the show premiered to when it ended in 2000 alongside her costars Shannen Doherty, Jennie Garth, Jason Priestley, Brian Austen Green, the late Luke Perry, and Ian Ziering. 
The mother of five  — Spelling has three sons and two daughters with her husband, Dean McDermott — shared an image of herself confidently posing as Donna but explained what people saw in the photo wasn't how she felt. 
"But, in this pic I was ALL IN for the camera! "Playing" Donna Martin would be model 😂Goes to show that perception is not always reality," Spelling said
Advice Spelling has for her teenage self: 'She was good enough' 
She continued, reflecting on her younger years and wishing she could go back and give her teenage self some encouragement to be herself.
"Now, I look back at that young insecure girl and I give her HUGE props," Spelling wrote. "She stepped up and went for it."
She went on saying she would've liked to offer herself some advice. 
"I wish I could have [sic] off-camera hugged her and told her she was good enough and was beautiful just the way she was. Life is hard enough for teens living up to the expectations the world, society, and peers put on us… let alone being on camera weekly in front of millions," she explained. 
But that doesn't mean Spelling would take back the experience of being on the show produced by her late father, Aaron Spelling.
"Don't get me wrong… one of the best times of my life! So blessed and grateful for the successful TV series I got to be a part of and will always cherish the #90210 cast that became my family and friends and relationships that would continue for a lifetime," she explained. "I just wish I wouldn't have been so hard on myself. Let myself "off-camera" be the girl I felt I was "on camera." 
On a final note, she told her 1.5 million Instagram followers what she learned playing Donna is something she reminds her daughters of on a daily basis. 
"Because of Donna Martin, I tell my girls [sic] every day they are good enough, smart, beautiful, and can be anyone they want to be. But never be who everyone expects you to be! Be you. #donnamartingraduates #beverlyhills90210 #bh90210 #tbt"
Spelling reunited with her Beverly Hills, 90210 cast members in a reboot of the series called, BH 90210, but Fox canceled the program in Nov. 2019 after one season.