Tori Spelling's Recent Procedure Involved Zero Plastic Surgery — And She's Happy With It
It is common for people in Hollywood to undergo extensive amounts of plastic surgery. Some people even say that the residence of Las Angeles visit their favorite plastic surgeon's office more than they visit their own relatives.
Because most celebrities in Hollywood do get plastic surgery at some point in their lives, when a celebrity admits that they have had cosmetic surgery, no one is really shocked. In fact, the only thing that really shocks fans is when they find out that their favorite celebrity has not had any cosmetic procedures done.
One celebrity that is not afraid to admit that she has had plastic surgery is Tori Spelling. She has admitted on several different occasions that she has some cosmetic procedures.
However, she says that she has not had nearly as much plastic surgery as many other fans think. And recently, she had another cosmetic procedure performed but it required no plastic surgery whatsoever.
What plastic surgery procedures has Tori Sleeping had?
Spelling has been in the public eye for almost her entire life. When she was just a teenager, she starred in her dad's hit dramatic series Beverly Hills 90210.
From almost the moment she started the show, fans began to speculate that she had undergone different plastic surgery procedures. And almost 30 years later, fans are still saying that she has had a lot of work done.
However, she told People that she has had a few cosmetic procedures, but it is not quite as much as people think.
"I literally had my nose done and my boobs done, and that's it," Spelling had said. "I'm constantly reading that I've done more."
She also went on to say that when she was young, she would tell her dad how much it bothered her for people to think that she had a lot of plastic surgery. Her dad would tell her that the rumors would eventually die down, but so far, the rumors have continued to follow her into adulthood.
Tori Spelling regrets her decisions about plastic surgery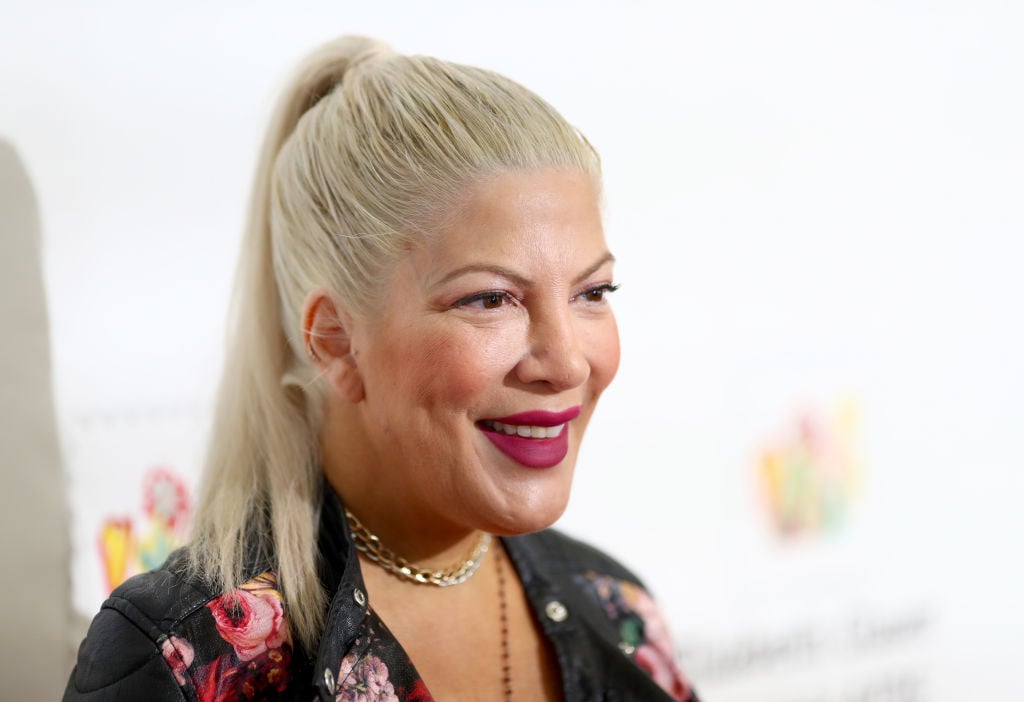 Spelling is not afraid to admit that she has had some plastic surgery in the past. However, she also admitted that she is not happy with all of her decisions when it comes to plastic surgery.
According to Daily News, Spelling says that if she could go back in time, she would not have chosen to get breast implants. Spelling is a mother of five, and to her, being a mother is the most important job that she has. However, after she gave birth to her first child, she found out that her implants had interfered with her milk production.
"Well I got my boobs done in my army 20's," Spelling told Good Morning America before she had her third child. "And if I had known it would or could possibly impact the production of milk, I would never had had them done."
Spelling didn't really go into too much detail on how exactly her implants affected her milk production. However, she now has five children that range in age from 2 years old to 12 years old, and all of her children look to be very healthy.
Tori Spelling's recent procedure involved zero plastic surgery
In the '90s, every woman wanted thin eyebrows. Back then, women would sit in front of the mirror, for what seemed like hours, with a pair of tweezers and pluck one hair at a time out of their eyebrows until the brow line was paper-thin.
After Spelling had been plucking away at her eyebrows for decades, she had realized that she was damaging her brows to the point of no return and the hair was not growing back as it should. That's when she decided to try microblading.
Microblading is where pigment is permanently injected into the brow line in order to make the eyebrow appear fuller. It is sort of like getting a tattoo on your eyebrow that makes your brows look naturally fuller and perfectly shaped.
Spelling took to Twitter to show off her new brows. And she seems very happy with the results. She had said that for years, she was afraid to try microblading, but it turns out that the procedure was not as bad as she thought it would be and she is very happy that she decided to have the procedure done.