The Tragic Accident That Caused 'Tiger King' Star John Reinke to Lose His Legs
One of Tiger King's fan favorites is former G.W. Zoo manager, John Reinke. The easy-going cast member is seen in the seven-part docuseries with heavily-tattooed prosthetics for both legs. While not the focus of the series, many wonder how Reinke ended up losing both legs. The accident changed his life forever.
John Reinke was an avid bungee-jumper before 'Tiger King' fame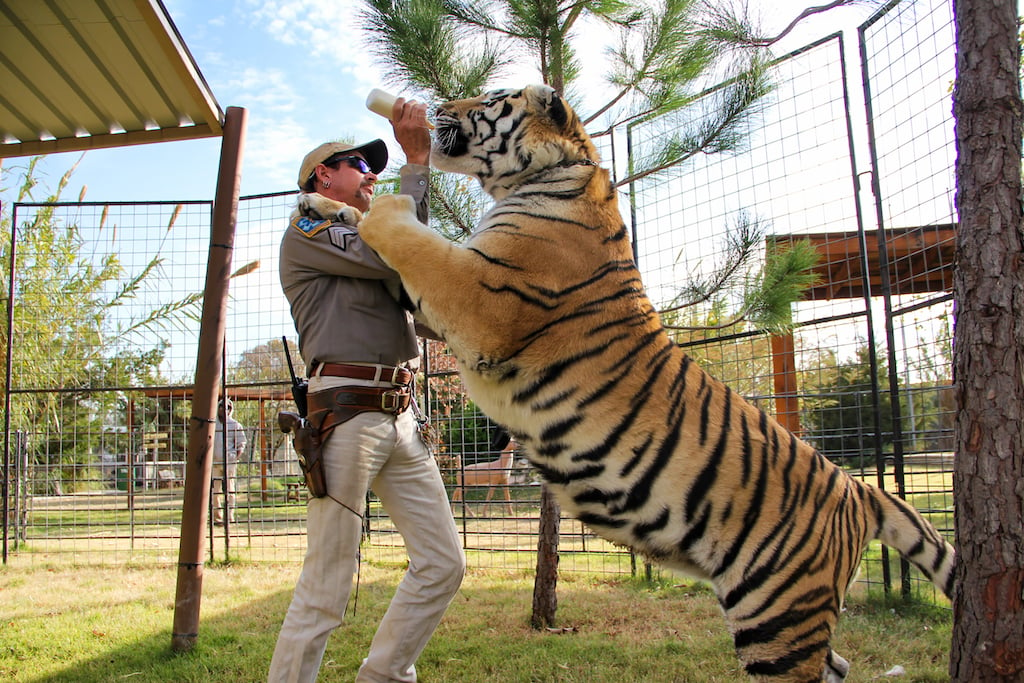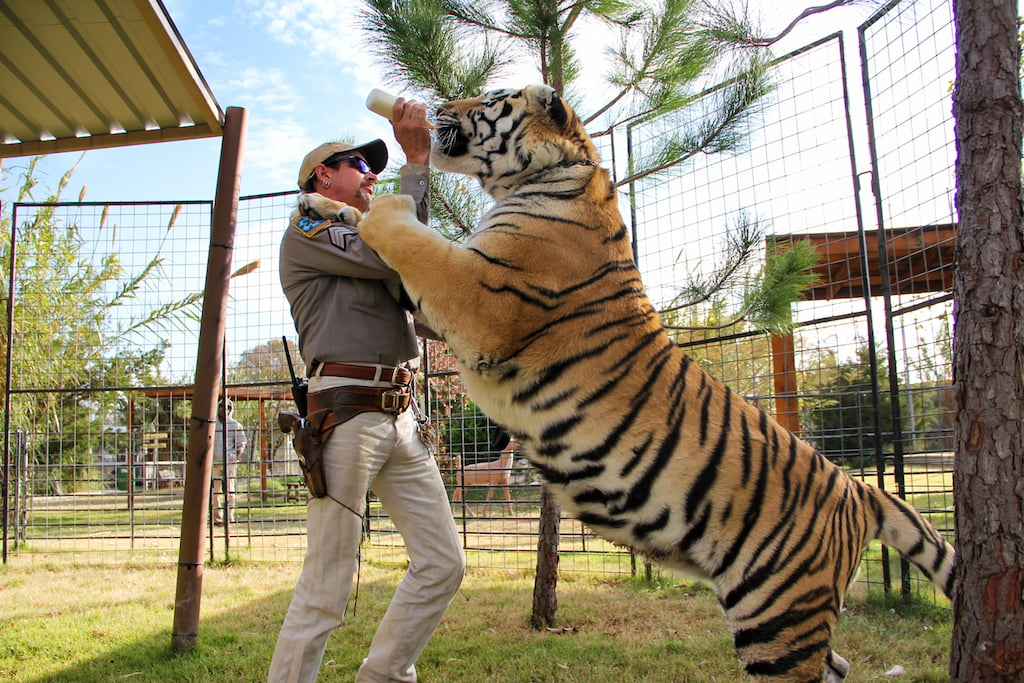 While the "Tiger King" himself, Joseph Maldonado-Passage may be the main subject of the hit Netflix docuseries, the supporting cast members are just as interesting.
Former zoo manager, John Reinke, found his place at the Greater Wynnewood Exotic Animal Park only after his stint as a professional bungee jumper came to a tragic end that nearly cost him his life.
According to a 2010 profile on Reinke via The Oklahoman, it was a 1994 bungee accident that changed Reinke's life forever.
How did Reinke lose both legs?
In April 1994, Reinke's day started out as many others before it, testing bungee jump equipment for a ride in Burkburnett, Texas. As The Oklahoman reported, "a pulley malfunctioned, sending Reinke tumbling 55 feet. He bounced, crushing both legs, and landed on a 6-inch metal stake that pierced his colon and stomach."
Though he couldn't move his body, he could still talk.
"I kept asking them to get my wife, Kristi, but they wouldn't. If they had I don't think I'd be here today," he said. "I was ready to tell her goodbye."
It took around 18 months in a wheelchair, over 20 surgeries, and the removal of his legs (first one leg, then the other in 2006) for Reinke to learn how to walk again with prosthetics.
At a time when Reinke struggled to find a new normal, he stumbled upon the G.W. Zoo on a spring break trip. After visiting every Sunday, Maldonado-Passage offered Reinke a job and a place to live on the grounds. The Oklahoman reported Reinke's wife and kids visited Oklahoma from Texas every weekend.
Reinke healed through caring for big cats
Through his bonds with the animals, Reinke found a newfound lease on life. He once slept with a lion named Bonedigger, and the two comforted each other.
"He won't hurt me because I've been with him from day one," Reinke said. "You do have to keep your guard up. You've always got to remember that they are natural stalkers."
Another of Reinke's jobs included bottle-feeding the cubs, which included Bonedigger before he grew into a 120-pound cat. Still, he never feared the strength of the animals he worked with.
"That's a risk you take working around 180 cats. You never know when it's your time. But if I died, I would die doing something I loved," he said. "I hope it doesn't happen that way."
Reinke left the zoo as shown in Tiger King and the aftershow special, The Tiger and I, and now works on cars for Bodine Transmission Shop in Texas, per The Cinemaholic. He and his wife of 30 years separated and he has a girlfriend now. More importantly, Reinke said in the aftershow he has not had contact with Maldonado-Passage and is happy now.
Tiger King: Murder, Mayhem, and Madness is available on Netflix now.