'Trainwreck': Why Judd Apatow Put Bill Hader and Amy Schumer In 'The Most Uncomfortable' Situation
Actors like Amy Schumer and Bill Hader will make sacrifices for their directors. Learn how Judd Apatow made them suffer for 'Trainwreck.'
It's been five years since Amy Schumer made her leading lady debut in Trainwreck. The Judd Apatow-directed comedy, written by Schumer, also stars actor Bill Hader. Discover why Apatow felt it necessary to make his two leads "uncomfortable" before filming even began.
Amy Schumer became famous for her comedy
Schumer started as a stand-up comic in the mid-00s. She began to appear in TV series such as 30 Rock and Curb Your Enthusiasm around this time. She also began to release comedy specials.
Through her work with Comedy Central, Schumer was able to create her own show, Inside Amy Schumer. Premiering in 2013, the sketch series, which brought on notable guest stars like Selena Gomez, earned her more mainstream recognition.
Her first starring film role was 'Trainwreck'
Aside from a couple of small roles, Schumer didn't make an impression on the big screen until Trainwreck. In the movie, she stars as Amy Townsend, a journalist at a men's magazine. Growing up, she was taught that monogamy isn't realistic. So she refuses to settle down, leading a party girl lifestyle.
Though Amy's younger sister, Kim (played by Brie Larson), is happily married with a baby on the way, Amy chooses not to recognize her own arrested development. That is until she interviews Dr. Aaron Conners (Hader), with whom she hits it off. The film sees her address her issues with her father (played by Colin Quinn) and intimacy as a whole.
How Apatow changed her life
In 2011, Schumer was on The Howard Stern Show, where she opened up about her personal life, including her relationship with her dad. This is when, according to Apatow, he became interested in working with her. After she appeared in a few episodes of Girls, the HBO series he executive produced, they set out on a new project, which heavily drew from her personal life.
"I asked her if she wanted to work on a movie," Apatow told Vanity Fair in 2020. "And at first we worked on a different movie for a while. Then one day, we just sat down, and we started talking about relationships, and Amy came up with the idea for Trainwreck. And it was one of the great, fun experiences."
The way he cast Hader opposite Schumer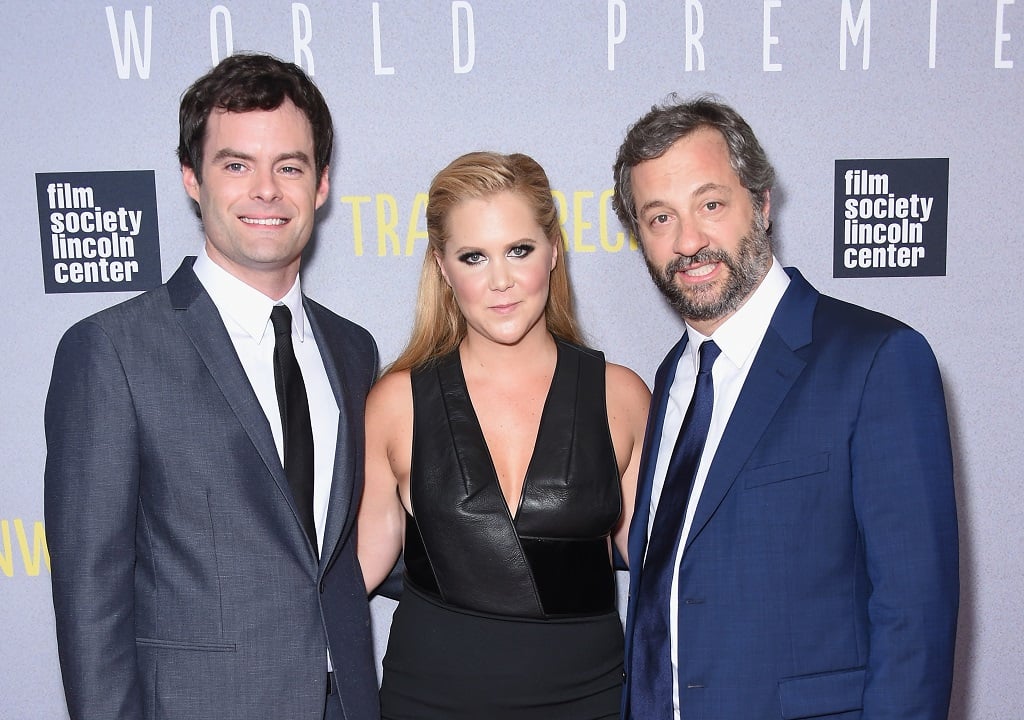 Apatow often works with the same people. One such actor is Hader, who has been in Apatow-produced films like Knocked Up and Superbad. Of Trainwreck, Apatow said, "It was real fun to try to have him play this leading romantic lead, which he always found funny. He thought it was a weird thing that he would be the romantic lead."
He continued, "But before he got the part, I went to New York with Bill and had him and Amy hang out and have dinner, almost like a date. And I sat at the table and just watched them, and he said it was the most uncomfortable thing he's ever gone through. Just me creepily deciding if they were sexy together."