Travis Barker Called Kourtney Kardashian a 'Great Friend' When They Started Dating
All eyes have been on Kourtney Kardashian and Travis Barker for months. From the beginning of their relationship, the two were never shy about showing love and affection for each other, even in front of their kids. In October 2021 that Kardashian and Barker got engaged after only a year of dating. But, as it turns out, the two have known each other for much longer. Thus why Barker called Kardashian "a great friend" when they started dating.
How did Kourtney Kardashian and Travis Barker meet?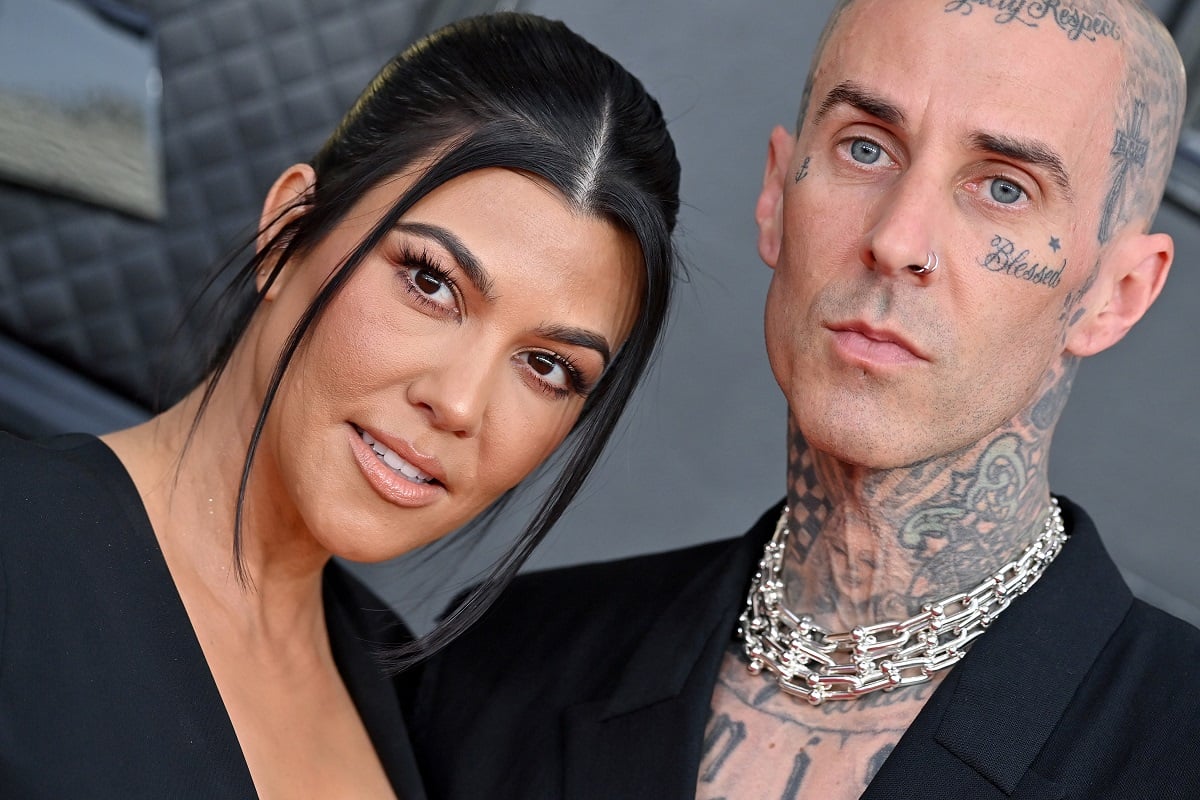 Kardashian and Barker seemingly come from two different worlds. So, how did the couple meet? According to Cosmopolitan, it goes back to 2006, when Barker was in a relationship with Paris Hilton. Kardashian's younger sister, Kim Kardashian, worked as Hilton's assistant. Oddly enough, Barker had a crush on his now sister-in-law. The Blink-182 drummer even called Kim "eye candy."
Things fell into place years later when Barker and the oldest Kardashian sister realized their true feelings for each other. After living in the same neighborhood for years, they finally made it official.
Barker called Kardashian 'a great friend' when they started dating
Because the two were so close before things turned romantic, their bond is strong. Glamour reports romance rumors began swirling in 2019 when they were seen having dinner together. But it wasn't until they began flirting on social media in early 2021 that fans really took notice.
In March 2021, Barker told Drew Barrymore, "I'm spending time with a woman who's a great mom, who's a great friend." He noted the relationship "comes natural" to them.
Before long, the couple started taking trips together. Then, Barker took the permanent step of having his girlfriend's name tattooed on his chest. They began posting intimate photos. And in May 2021, Barker referred to Kardashian as "the love of his life." A few months later, the reality star posted a photo featuring a vial of her boyfriend's blood. As the relationship progressed, the drummer posted a photo of the two of them in Paris with the caption "Forever isn't long enough."
In October 2021, they decided to spend their lives together. Barker dropped to one knee in the middle of an extravagant display of roses and asked Kardashian to be his wife. They tied the knot in a private Santa Barbara ceremony, followed by a big wedding in Italy on May 22, 2022.
Kardashian made the first move
The full story of their relationship has taken time to come out. As fans expected, Kardashian opened up on TV. "He was one of my closest friends for probably eight years," Kardashian explained on an episode of The Kardashians (via Entertainment Tonight). "We could just be ourselves. We fell in love."
She explained that while she was attracted to him throughout their friendship, it took until "it was the right time in [her] life" for her to pursue him. "I just put it out there," Kardashian said. During their first movie night hangout, "I made the first move," she clarified.
RELATED: Travis Barker Says Kourtney Kardashian 'Gives Me Strength': 'I'm Invincible When I'm With Her'