Travis Barker Cherishes Kourtney Kardashian and What They Have — Things 'Come Natural'
Travis Barker is really smitten with his new girlfriend Kourtney Kardashian. Though they haven't been dating for long, Barker is already head over heels for the reality star as he recently explained what it is about her and their romance that makes what they have worthwhile.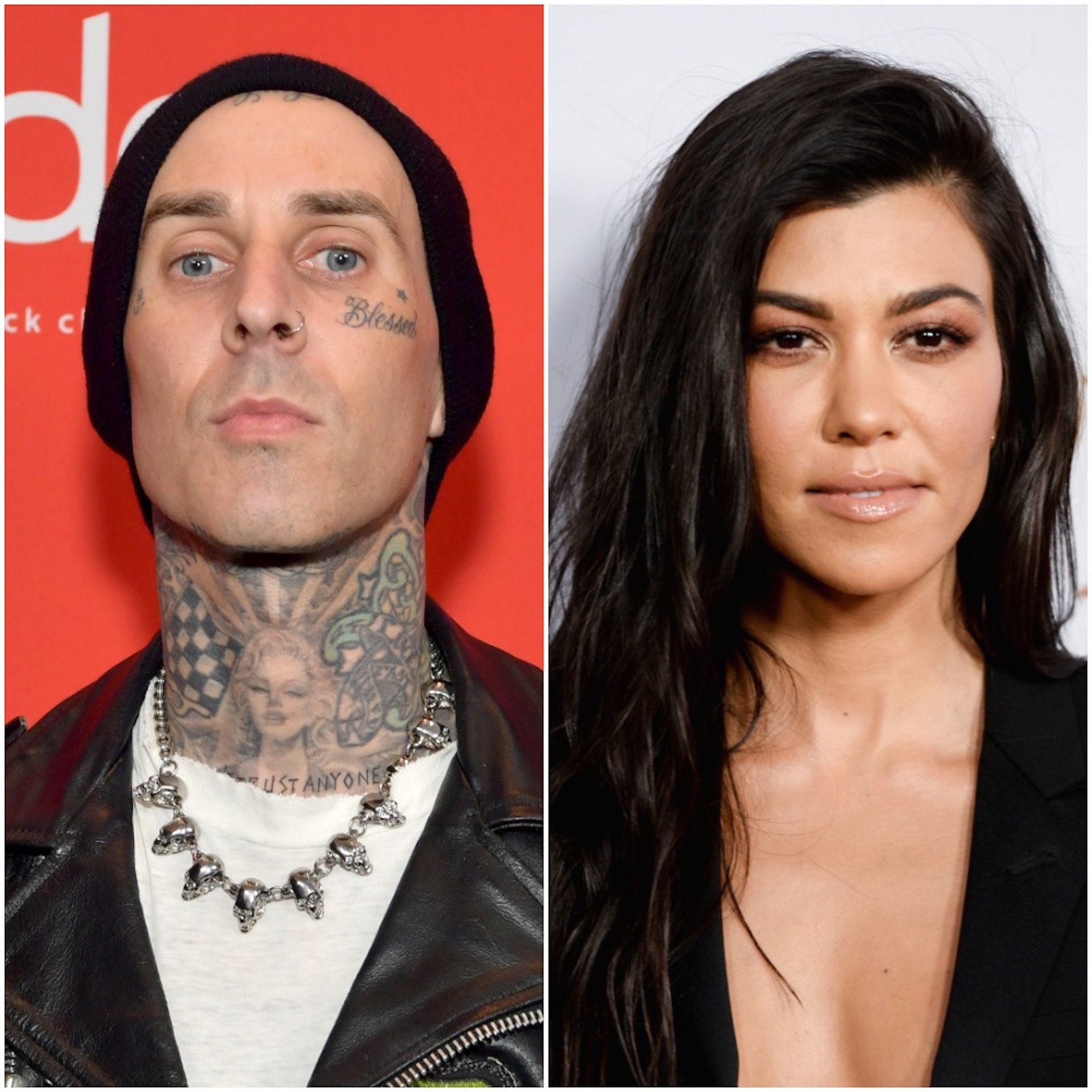 Travis Barker loves that Kourtney Kardashian is a single parent
Barker recently proved that he and Kardashian are quite the match.
While appearing on a recent episode of The Drew Barrymore Show, the Blink-182 drummer opened up about his budding romance with the Keeping Up With the Kardashians star.
The conversation kicked off when Barrymore mentioned the love letter Kardashian had written Barker —which he posted to his Instagram Story — that read, "To lots of fun adventures. May we destroy each other completely. Love, Kourtney."
Barrymore said the letter was "so hot" and joked that her version would be something like, "Can we just get to bed early and, like, watch a movie?"
Barker responded by saying he "would prefer the opposite," noting that he favors going out "in a blaze of glory and ball of flames."
RELATED: How Did Kourtney Kardashian and Travis Barker Meet?
The musician then got candid about his romance with Kardashian, explaining to Barrymore how their relationship works.
"Up until now, I would, you know, date girls that didn't have kids, and I find it kind of hard," the dad of two shared. "I think they would have trouble understanding, 'Well, why don't you want to go to dinner every night with me?' or 'Why don't you want to see me every night?'"
He continued, "And now, I'm spending time with a woman who's a great mom; who's, like, a great friend. And I just, you don't have to worry about any of those things. It just comes natural. It's like a maturity thing."
Barker went on to reveal what else he likes about being in a relationship with the mom of three.
"I also really like missing someone and cherishing the time that I spend with them instead of, you know, every day being with them," he added. "Especially in the beginning of the relationship, I think missing someone is so important."
Travis Barker and Kourtney Kardashian just started dating
Barker's comments about his and Kardashian's newfound relationship comes a month after they went Instagram official.
After spending Valentine's Day together, Kardashian posted a snapshot of her and Barker's hands intertwined to her Instagram, sealing the deal that they're romantically involved.
The two first raised eyebrows a month prior after they both shared photos from Kris Jenner's Palm Springs estate. To fans, it appeared that something was going on between the A-listers, but nothing had officially been confirmed.
RELATED: 'KUWTK': Why Fans Love Kourtney Kardashian's New Romance With Travis Barker
A few days later, media outlets reported that the reality star and the drummer were finally dating after maintaining a close friendship for years.
"It's been very low-key," an insider explained to E! News. "They are a really good match, and Kourtney's entire family already loves Travis. They have been neighbors and great friends for years, and it just recently turned romantic."
The source added, "Travis has always had an eye for Kourtney. The chemistry and flirtation has always been there. They have a lot in common, and Kourtney has always been attracted to how Travis is as a parent. He's an amazing, hands-on dad, and Kourtney loves that about him. They love relaxing at home with their kids, and everyone gets along. It's going well, and they aren't putting pressure on it being super serious at this point."
Now that Barker has opened up about his and Kardashian's relationship, it's safe to say that this romance is the real deal!