Travis Barker Confesses His Love for Kourtney Kardashian in Steamy Instagram Post in Honor of Her 42nd Birthday
Kourtney Kardashian and Travis Barker's relationship just went from 0-100.
Just two months after the pair went Instagram official, the Blink-182 drummer has publicly confirmed his love for the Keeping Up With the Kardashians star — and the way he went about it goes to show that things haven't stopped heating up between the pair.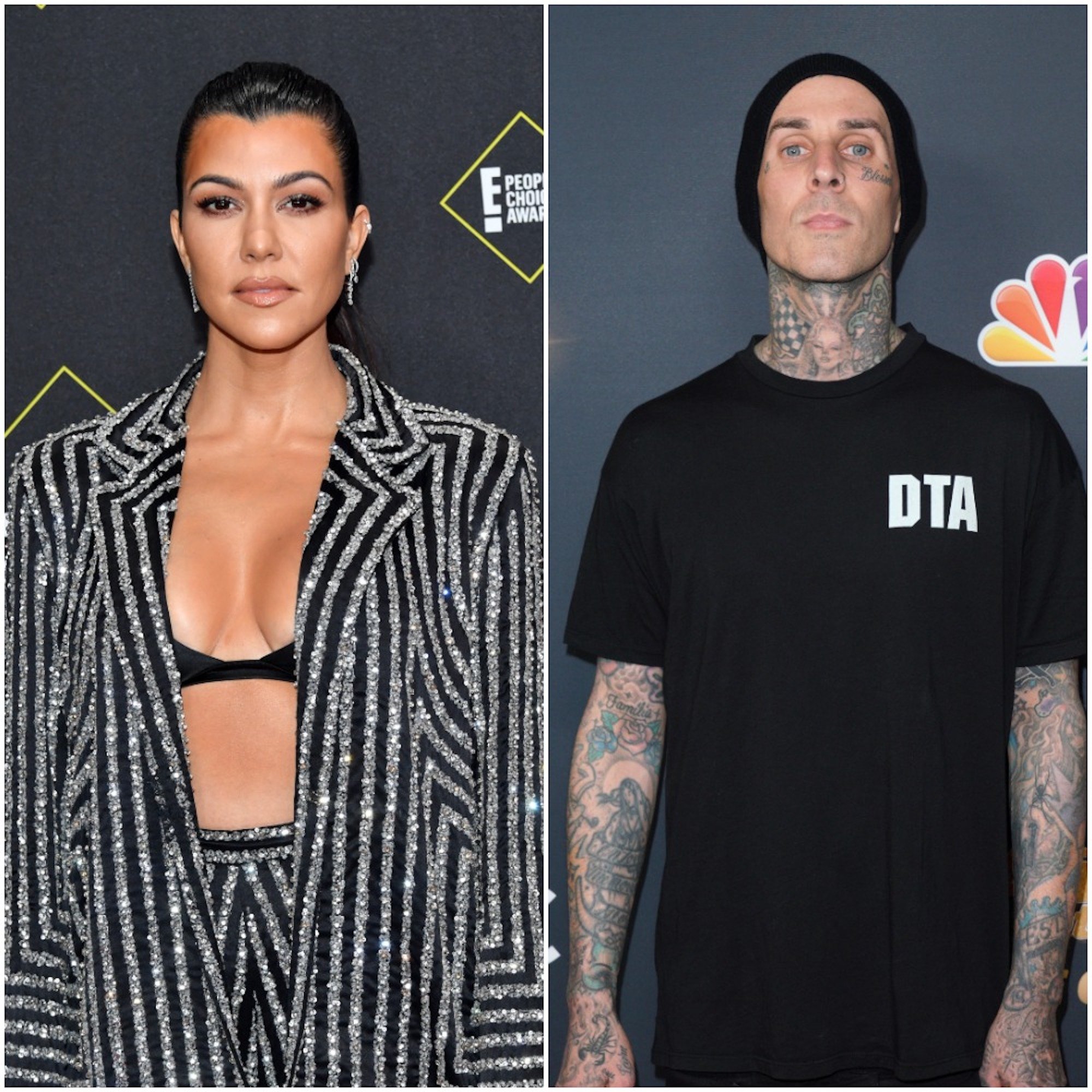 Travis Barker penned a special tribute to Kourtney Kardashian for her birthday
Kardashian turned 42 years old on Apr. 18 and her new boyfriend, Barker, went all out to make her day special.
In honor of her birthday, the rock star shared a steamy post paying tribute to his famous girlfriend on social media.
In the post uploaded to his Instagram, Barker shared his first-ever photos of him and Kardashian together. The post includes multiple snapshots of the pair kissing and embracing each other in public places and cozying up near an outdoor fire pit.
RELATED: Will Travis Barker Be on 'Keeping Up With the Kardashians'?
Barker also shared an NSFW video of the Poosh founder intimately sucking his thumb, which reminded sister Khloé Kardashian of the steamy sex scenes from Netflix's Bridgerton.
"I F*CKING LOVE YOU!" the musician captioned the PDA-filled slideshow. "YOU'RE A BLESSING TO THIS WORLD. HAPPY BIRTHDAY @kourtneykardash."
But not all of Barker's birthday tributes were on the steamy side.
Ahead of Kardashian's special day, Barker surprised her with a romantic floral arrangement, which included strings of individual flowers suspended in the air.
"Tulips and gardenias are my favorite flowers," the KUWTK star wrote alongside a photo of the thoughtful gift on her Instagram Stories. "My entire house smells yummy."
Later that night, Barker and Kardashian enjoyed a romantic early birthday dinner. "My first birthday wish," the mom of three wrote alongside a snap of a delicious-looking dessert, which Barker also shared on his own account.
Things have been heating up between Kourtney Kardashian and Travis Barker
Kardashian's 42nd trip around the sun marks the first birthday she and Barker have spent together since insiders confirmed their relationship earlier this year.
"They've been dating for about a month or two," a source told People in January 2021, adding that "Travis has liked her for a while."
The following month, Kardashian made her romance with Barker Instagram official by posting a photo of her manicured hand holding Barker's tattooed one over Valentine's Day weekend.
After making their social media debut, Barker posted a sweet handwritten love letter from Kardashian on his Instagram Story. The reality star wrote, "To lots of fun adventures, may we destroy each other completely. Love, Kourtney."
Since then, the pair have been spotted out together in Los Angeles several times. Barker even opened up about their romance during an appearance on The Drew Barrymore Show.
RELATED: Kourtney Kardashian Has the Perfect Reason for Dating Travis Barker After Years of Friendship
Recently, the couple embarked on a family vacation with their kids in Utah. They also celebrated Easter together with the Kardashian-Jenner family in Palm Springs.
Though their romance has been evolving these last few months, things between Kardashian and Barker just went up a notch as the famed drummer recently got his girlfriend's name tattooed on his chest.
From what we can tell, Kardashian and Barker have a really good thing going!