Who Was Travis Barker's Daughter Alabama Named After?
Musician Travis Barker has made headlines repeatedly in 2021. But not for his music. He went public with his relationship with reality star Kourtney Kardashian. Though some find the pairing to be strange, others have enjoyed the content posted by their families, including that of Barker's daughter, Alabama. Where did her name come from?
Travis Barker had an on-again, off-again relationship with Shanna Moakler
Following a short-lived marriage in Blink-182's heyday, Barker began dating former Miss USA Shanna Moakler. The pair tied the knot in 2004. As with many stars of the time, they even got their own reality show, Meet the Barkers. But after less than two years of marriage, Barker filed for divorce.
However, they didn't go through with it right away. Barker and Moakler reconciled and continued working on their relationship. Their divorce was eventually finalized in 2008. They tried one more time in 2009 but soon called things off again. In 2014, Barker and Moakler were both arrested following an altercation.
How many kids do Barker and Moakler have together?
Before their many ups and downs, Barker and Moakler started a family together. Moakler brought with her daughter Atiana Cecilia De La Hoya from her relationship with boxer Oscar De La Hoya, and Barker remains close to his stepdaughter years later.
Ahead of their 2004 wedding, Moakler welcomed her first child with Barker — a son, Landon Asher Barker — in 2003. After they were married, she got pregnant once more. In 2005, Moakler gave birth to her third child, daughter Alabama Luella Barker. All appeared in Meet the Barkers.
Travis Barker's daughter Alabama gets along with Kourtney Kardashian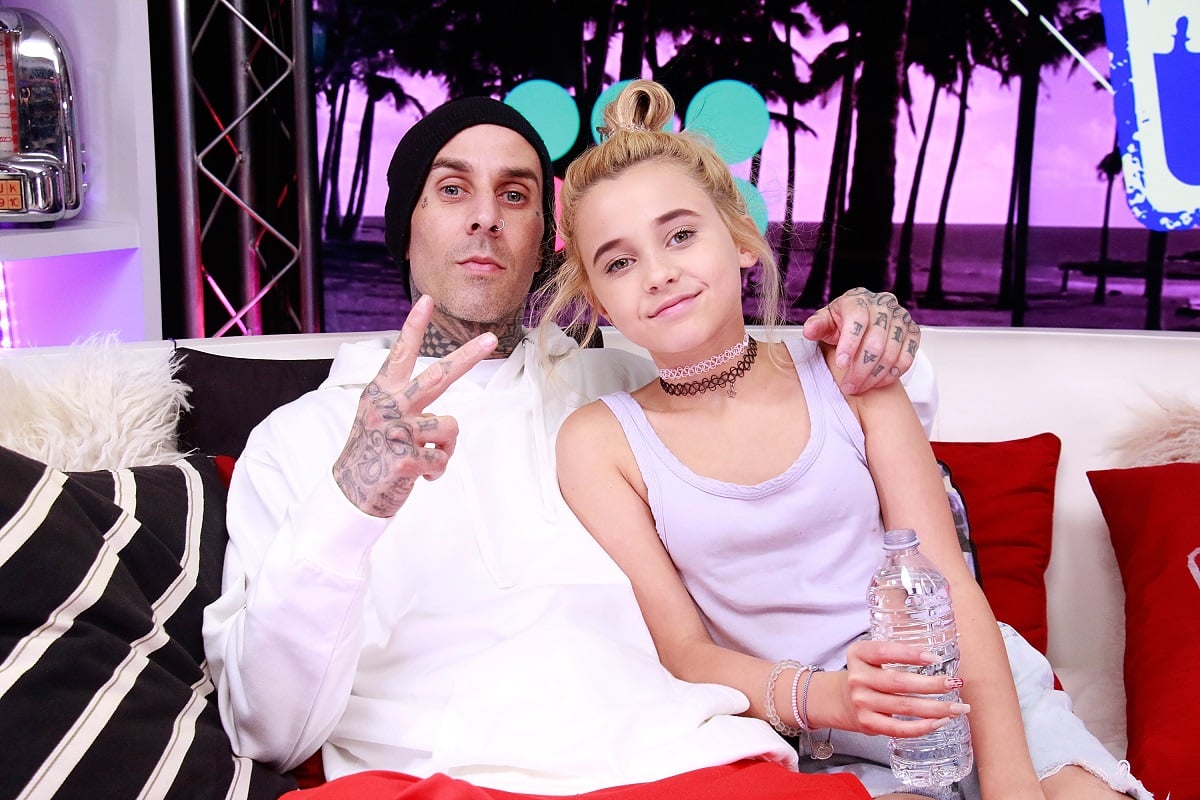 In late 2020, Barker began dating long-time friend Kardashian. The reality star has three children of her own, and their two families soon started spending lots of time together. From the social media content shared by all involved, this arrangement seems to be going well.
Moakler doesn't have a problem with that. "My kids seem to really like her and her family, so that's key," she told People in May 2021. "I'm really, genuinely happy for him," she continued of Barker. "I want the father of my kids to be happy and to have a partner that makes him happy."
Moakler cites Alabama in a comment about 'weird' PDA
RELATED: Is Travis Barker Just Copying All the Things He Did for His Ex-Wife With Kourtney Kardashian?
Though Moakler has "no ill will" toward Kardashian, she commented on the couple's "weird" recent displays of affection. "The movie, True Romance, that I feel like they've been bonding over was the theme of our wedding," she told the publication. "Our daughter's named after the character in the movie."
True Romance is a romantic crime film released in 1993. Written by Quentin Tarantino, it stars Christian Slater and Patricia Arquette as a couple on the run after Slater's Clarence steals drugs belonging to his wife's former pimp. Arquette's character's first name is Alabama.