Travis Barker Says He and Kourtney Kardashian Aren't Buying a House Together Just Yet
TL;DR: 
Travis Barker says he's converting his home studio to a "bunk room" for Kourtney Kardashian's children.
The Blink-182 drummer said he and Kourtney Kardashian will "wait to find something better than what we have." 
Both own homes not far from each other in Calabasas, California.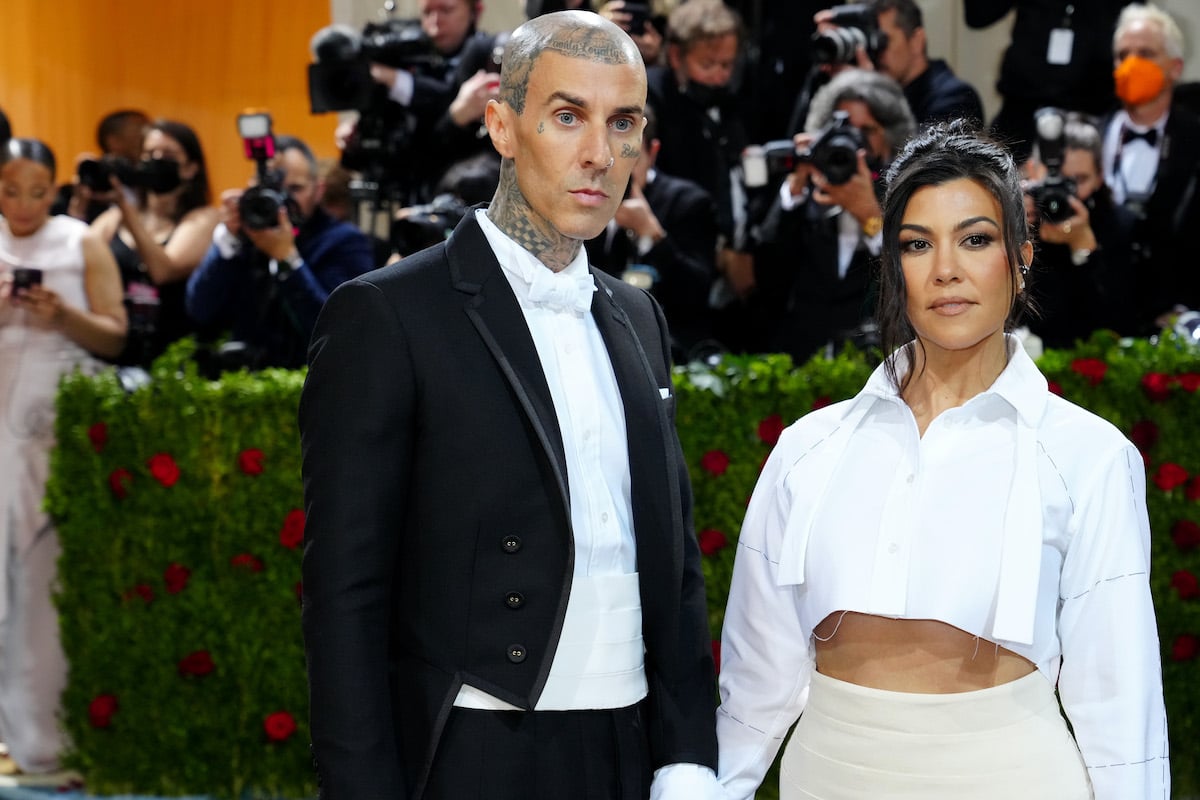 A Kourtney Kardashian and Travis Barker house? It seems there isn't going to be a change of address for the newlyweds. The couple had a "practice" wedding in Las Vegas in April 2022. A month later they officially tied the knot. As Barker revealed during a home tour, he's making changes to his home to accommodate Kardashian's three children. As for buying a property together? Barker said it's "in the future." 
Kourtney Kardashian and Travis Barker live in the same neighborhood
Kardashian and Barker, who began dating in 2021 before getting engaged on a beach at sunset later in the year, don't live together. However, the commute to and from their respective homes isn't far. They live only a block apart in the same neighborhood in Calabasas, California.
Kardashian lives with her kids, Mason, Penelope, and Reign, whom she co-parents with her ex Scott Disick. Meanwhile, Barker's home has room for him and his kids. The drummer has two children, Landon and Alabama, with his ex-wife, Shanna Moakler. Barker's also close with his stepdaughter, Atiana De La Hoya.
Perhaps, like Gwyneth Paltrow and Brad Falchuk living in separate homes, it's simply what works for Barker and Kardashian's blended family.
Travis Barker plans on making his house 'comfortable' for Kourtney Kardashian's kids, says they'll 'wait' for a 'better' house
Barker opened up about his living plans with the Keeping up with the Kardashians alum while giving AD a tour of his home in May 2022. "Kourtney has a great house a block away from here," he said. 
The 46-year-old continued, suggesting they're not putting their homes up for sale and moving to a new house together since saying "I do." Barker shared he's prepared to make changes to his current home.
"Right now I'm just planning to convert my home studio into a bunk room so her kids are comfortable here," he said.
So what about eventually living together? Barker said it's something they'll consider later. "In the future, I suppose we'll wait to find something better than what we have," he said. "Wherever we end up, we feel incredibly blessed and grateful."
The drummer told Kris Jenner he bought a home in Calabasas to be close to Kourtney Kardashian
"Location, location, location," is a common refrain in real estate and it proved to be true for Barker. Per Harper's Bazaar, he revealed to Kris Jenner he bought his house a block from Kardashian because he knew she was the one. Jenner later shared the information with Kardashian on Hulu's The Kardashians.
"Do you want to know the real reason why he moved to Calabasas?" Jenner asked her 43-year-old daughter. "He said, 'Because I knew she lived in Calabasas, and I knew she was the love of my life.'"
Jenner continued, filling the Poosh founder in on the rest of Barker's explanation. "'I didn't even know her like that," Jenner recalled him telling her. "'But I just knew if I couldn't date her or be with her because she was with someone else that at least I could live by her.'"