Travis Scott Opens Up About His 'Big Bro' Kanye West's Controversial Politics
Kim Kardashian West and her youngest sister Kylie Jenner have frequently been compared to one another. Although Kim led the family to fame through hobnobbing with the rich and famous like Paris Hilton, Kylie has solidified their celebrity status. Some fans think that Kim laid the foundation for Kylie's fame, and much of her net worth, which is near one billion dollars.
Kim and Kylie share a lot of similarities, but interestingly, so do their love interests. Kanye West, Kim's husband, has a lot in common with Kylie's ex, Travis Scott. Although the status of their relationship is up in the air, Kylie and Scott are parents to baby Stormi, so Scott is essentially a part of the KarJen clan.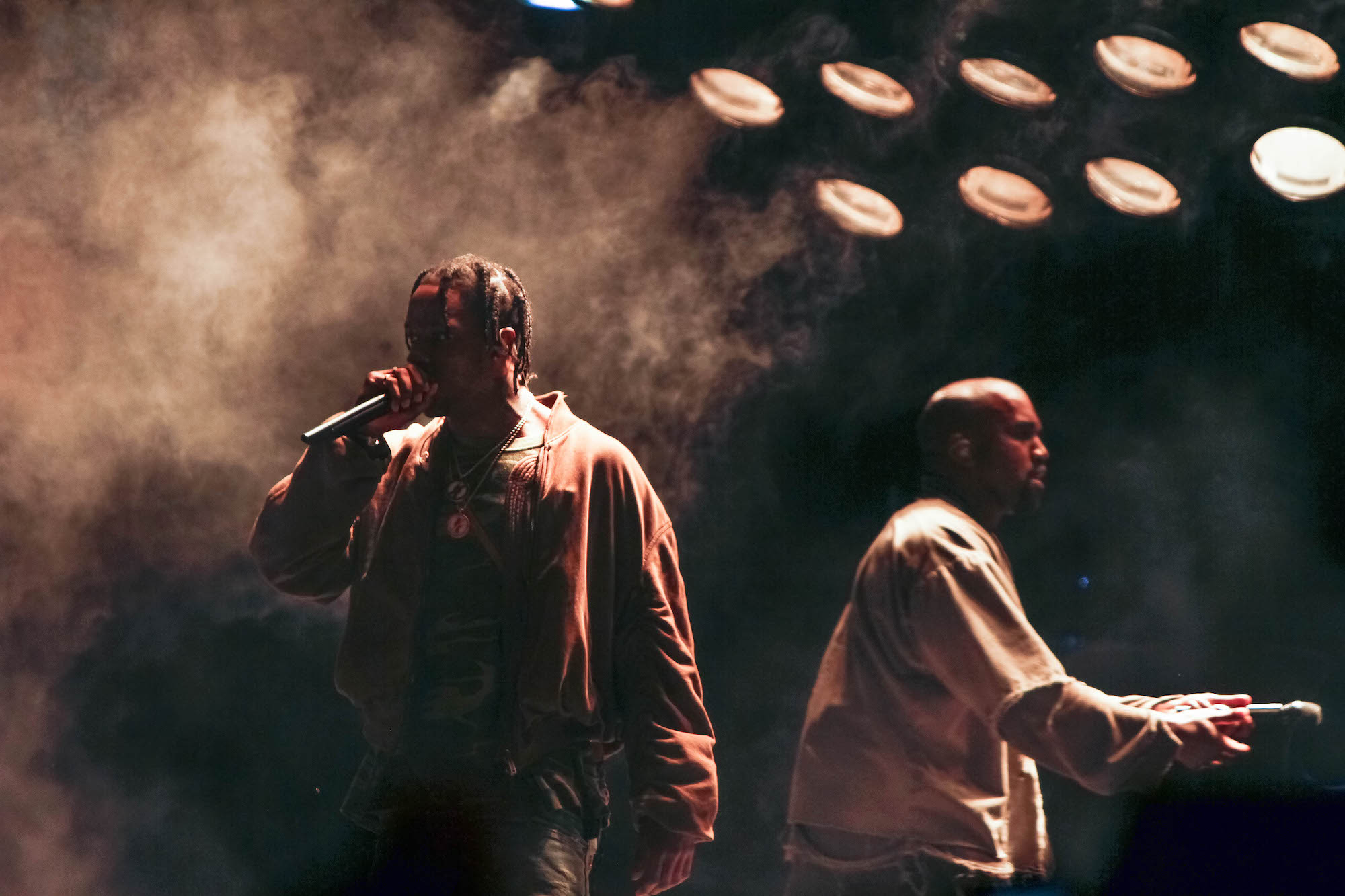 Kanye West and Travis Scott have a lot in common 
Even though Scott is not officially back together with Kylie, Scott and West are still close. The two have a lot in common. Both are musical revolutionaries. Both used their platform to become fashion icons. Both are innovative and groundbreaking. Scott and West are rare. They're completely original and think outside the box. Kanye has often used visual artistry in combination with his music, something Scott uses as well. Both artists have cultivated a personal brand that's oftentimes mysterious, despite the fact that they're paramours are reality TV icons. 
Although Kanye has appeared on KUWTK, it's rare. Scott also avoids the show. Both men prefer to keep their private lives private, despite their larger-than-life celebrity status. The two are also incredibly close. Kanye has acted as a mentor to Scott, who recently told GQ that Kanye is his "big bro." 
Travis Scott doesn't hold back his opinion from Kanye West 
Kanye has been going through a lot recently, but his controversial opinions pre-date his current mental health crisis. He's been a vocal supporter of Donald Trump since 2016, something that has caught him a lot of criticism. In the summer of 2020, he launched his own presidential campaign. Soon after, he broke down at a campaign rally and then fired off a long series of controversial tweets about his family that had fans concerned. 
A lot of celebrities, like Kanye's friend John Legend, have tried to talk to him about his political beliefs. Scott is one of them. Even though he looks up to Kanye, he doesn't agree with him politically, and he's not afraid to tell it like it is. "Everyone's entitled to their own [opinion]. I just tell him how I feel. How people feel about this sh**."
Travis Scott and Kanye West's new song, "Wash Us in the Blood," may be a sign 
It seems like Scott may be a good influence on Kanye. Although he hasn't come out and changed his political affiliation, there are signs that he may be listening to Scott. After all, Scott isn't trying to change his mind. He's just telling him the truth, which might be a hard quality for Kanye to find in friends. The two just dropped a new song, "Wash Us in the Blood," that may be a good sign. 
Fans are hopeful that Kanye will drop his conservative affiliations and return to his activist roots. It's hard to imagine the man who said: "George Bush hates Black people" on national television could have changed so much, but "Wash Us in the Blood" is a protest song, and Scott was a part of it. In the video, footage of Breonna Taylor, Ahmaud Arbery, and Black Lives Matter protests accompany the innovative and dark musical stylings of Scott and Kanye. It's a very political track for both Kanye and Scott.