Travis Scott Shockingly Did This in The Drive-Thru
Travis Scott did not take long to go from one of hip-hop's best young up-and-comers to a household name whose reach beyond the songs he is featured on. From sneakers to documentaries and everything in between, Scott has found new ways to market himself for an audience beyond his music's fans. He recently turned heads, promoting his latest collaboration …
Travis Scott did not take long to go from one of hip-hop's best young up-and-comers to a household name whose reach beyond the songs he is featured on. From sneakers to documentaries and everything in between, Scott has found new ways to market himself for an audience beyond his music's fans. He recently turned heads, promoting his latest collaboration with McDonald's in a way that only rappers could get away with.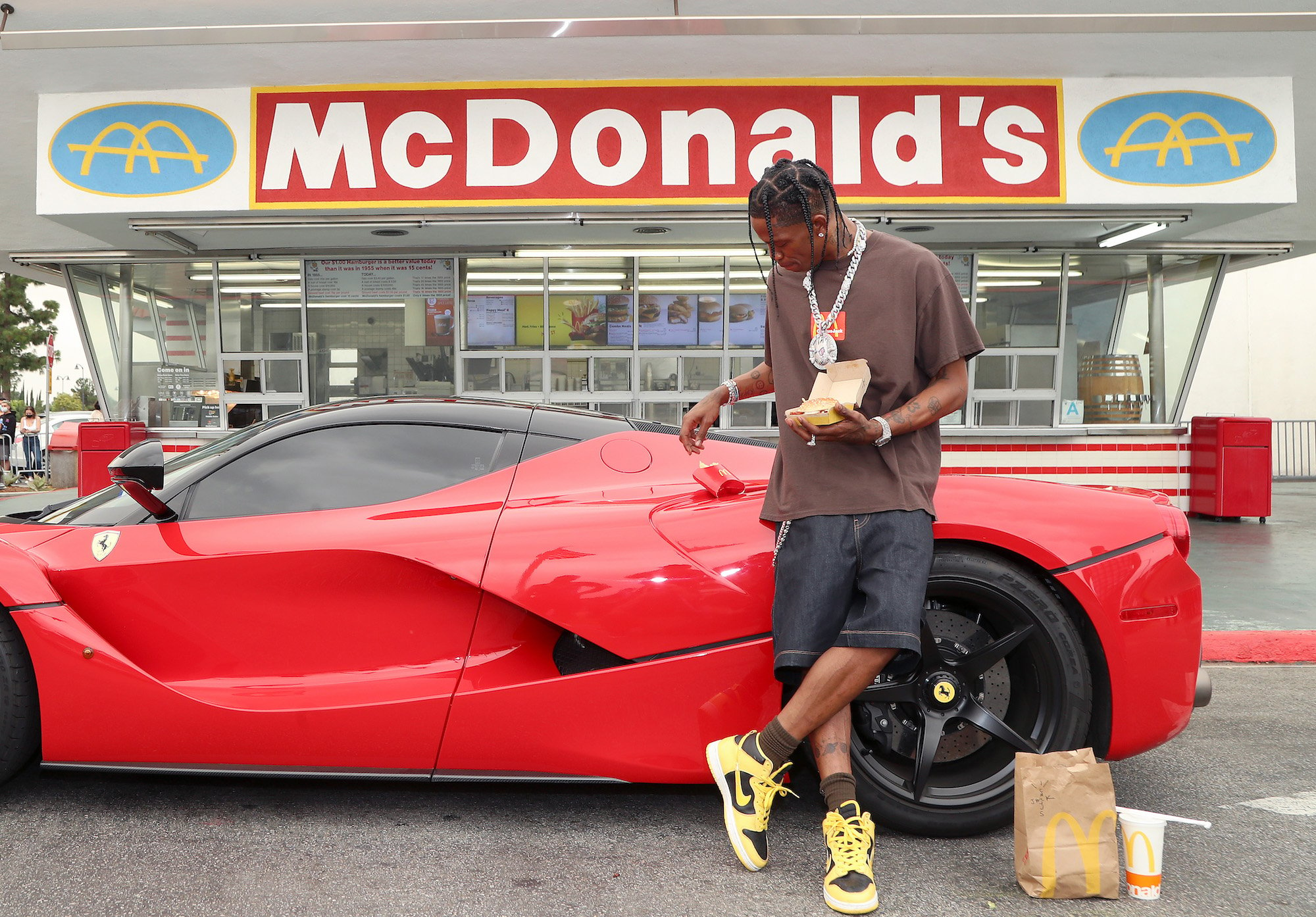 Travis Scott and the power of the brand
One of Scott's biggest ventures away from the music industry has to do with his sneakers. In a hip-hop world that maintains its love of sneakers as everything else around it changes, Scott jumped onto the bandwagon in a big way. His sneakers are consistently among the greatest sellers on the planet, and resale can often net the lucky buyers far more than they paid for the collector's items.
Scott, in many ways, followed a similar pathway to sneaker success as many athletes do. He launched his first clothing line, including the Nylon High Tops and the Nylon Low Tops with Helmut Lang, according to Nice Kicks. However, after the collaboration with the Italian clothing company took off, Scott climbed the ladder to bigger success. 
His next shoe, the Jordan Trunner LX, partnered him with the Jordan Brand and Nike. The shoes were rare, as only Scott's friends and family got a pair. At the time, Scott knew that this was a strange move, but he didn't want to make a move that wasn't strange. 
"I didn't want to do anything traditional," said Scott when speaking on his first collab. "I've never seen the Trunner with so many colors on it. I wanted something different; to see that model differently."
Since 2017, Scott has consistently released new shoes that immediately raise value the second they sell out. However, hoping the duplicate this success, Scott's recent collaboration is both more affordable and less resellable. How he announced its drop, however, showed how good the rapper is at branding. 
Travis Scott shares his favorite meal
Collaborations with McDonald's are not necessarily a new move for celebrities. Several of the biggest names in sports and entertainment have helped the burger giants sell their meals and happy meals. Away from the Happy Meals, however, sponsored meals bearing the name and likeness of a celebrity are rare.
The Travis Scott meal comes with the ever-popular Quarter Pounder with cheese. However, to separate the meal from typical McDonald's fare, the meal comes with bacon on the burger and sprite and BBQ dipping sauce to add a unique twist to the traditional burgers, fries, and ketchup. The launch took the internet by storm. However, when Scott announced the collaboration, the way he did so had people rolling. 
Scott drives in with style
Scott streamed the launch of his latest collaboration in style. A car fanatic, he rolled up to a McDonald's in a red Ferrari with a 'FLAME1' vanity plate. To add to the crossover's uniqueness, Scott surprisingly worked at the drive-through and gave the meal that bore his name to several fans. While celebrities often appear in fast food ads, Scott found a way to do something different and market himself to a greater audience in the prospect. 
Nothing Scott does is normal. From his brand as a rapper to his entrepreneurial side, Scott knows how to market himself in ways that are both unique and true to his public persona. The Travis Scott meal is available at McDonald's across the country.