Travis Scott Likes Sexy Photos of Iggy Azalea as Relationship With Kylie Jenner Remains in Limbo
Recent reports say that Travis Scott is still trying to figure out whether he wants to get back with Kylie Jenner, but in the meantime, it looks like Iggy Azalea has caught his eye.
The "SICKO MODE" rapper was recently seen liking a string of Instagram photos of the "Fancy" star, including some pretty sexy snapshots. One shows her with her cleavage exposed while the other shows the artist wearing a form-fitting dress.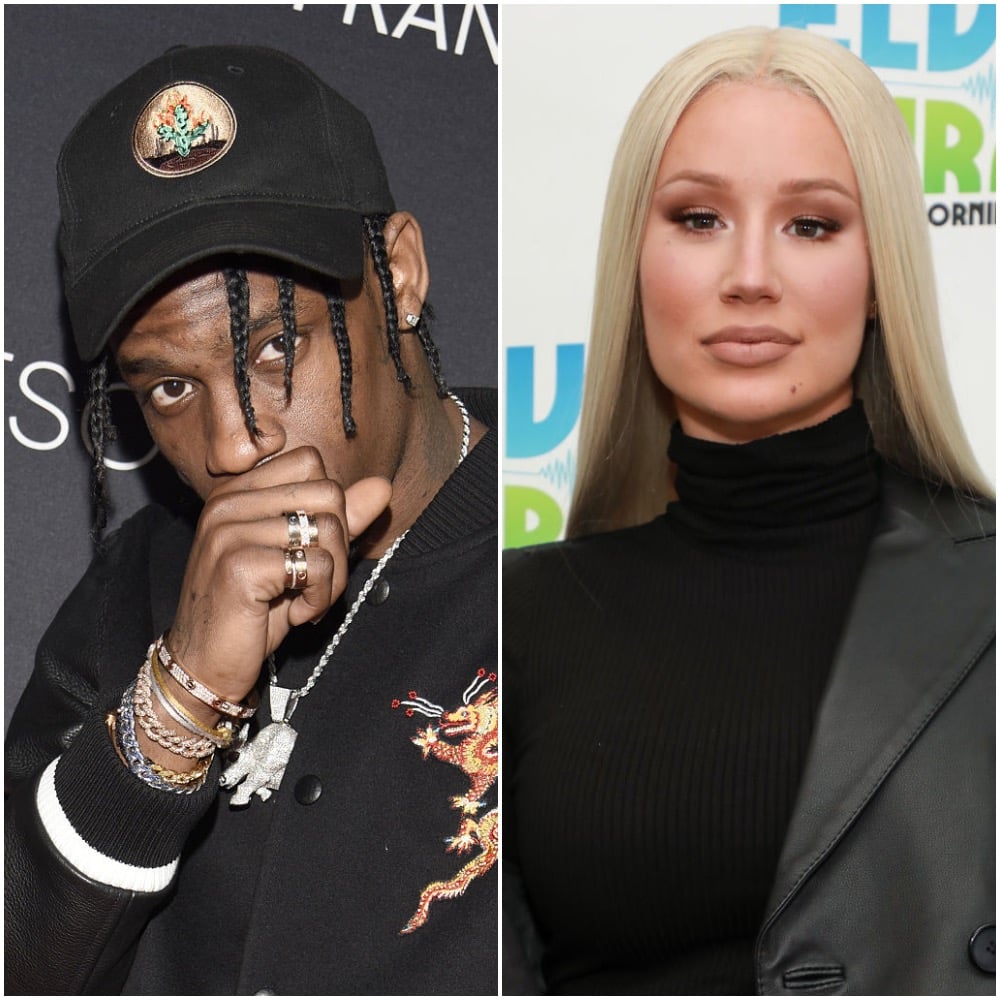 The latest on Travis Scott and Iggy Azalea
Ace Showbiz reports that Travis Scott liked at least two pictures of Iggy Azalea. One shows her wearing a slightly-unzipped crop top and the other features her in a dress with a high-split. See photos here.
His liking of the photos comes about eight months after his split from Jenner. TMZ and multiple other outlets reported on Oct. 1, 2019, that the couple had broken up after dating since April 2017.
It was initially suspected that they would quickly reconcile but as we know now, that isn't how things panned out. However, the two have remained friends and co-parent their daughter, Stormi Webster, together.
RELATED: Fans Think Travis Scott Raps About Kylie Jenner In New NSFW Song 'Solitaires'
Travis Scott is trying to figure things out with Kylie Jenner
Sources have said that they have been quarantining together and are even considering getting back together. In April, an insider told HollywoodLife: "[Kylie and Travis are] trying to figure out co-parenting and trying to see if there is anything more there for them both romantically."
"It is a slippery slope to say the least, and every day provides a different turn in the story," the source continued. "It seems some days they want to be friends and parents and the next day they want to be more. They don't know really how much they want to take things and are dealing with the process day in and day out."
Since their split, neither of them has seriously dated anyone else (though Jenner was briefly linked to Drake following her split from Scott).
RELATED: Travis Scott Reportedly Had a Heated Reaction to Kylie Jenner Hanging Out with Drake
Travis Scott's history with Iggy Azalea
It's unclear if these two actually know each other, but Travis Scott has swooned over the "Sally Walker" artist in the past. While detailing his type in his song "3500" from his 2015 album Rodeo, he rapped: "I got a young 'Yonce wit a Iggy on her." The line is seemingly in reference to The New Classic star's famous derrière.
It all seems pretty innocent if you ask us, but if he is interested in Iggy Azalea, he's out of luck, as she is already in a relationship. She has been with Atlanta rapper Playboi Carti since late 2018.
"Once I started talking to her, I just cut off everybody," Playboi Carti told The Fader for its summer 2019 issue. "It was over with."
In early May, it was reported that Iggy Azalea had secretly given birth to their child, but she has not yet addressed the rumors. She has instead been on social media, y'know, posting pictures like these and stuff.
Read more: Iggy Azalea Seemingly Shades Cardi B and Megan Thee Stallion In Viral Tweet