Travis Scott's Biggest Brand Collaborations Include McDonald's, Nike, and Others You Probably Never Knew About
Travis Scott is a certified superstar, with fame, wealth, and musical success that few can match. He's had a bunch of musical success over the last few years, which has led to impressive partnerships with some of the biggest brands in the world. All of this work has ballooned his net worth and allowed the rapper to indulge in some of the finer things in life, including a $23 million mansion in Los Angeles.  
Although Scott is known globally for his hit records such as "Sicko Mode," "Antidote," and "Highest in the Room," he's also become well known for his high profile collaborations with major corporations. On Sept. 8, Scott kicked off a month-long partnership with fast-food chain McDonald's, but it's far from his only one. He's also worked with the likes of Nike, Fortnite, Reese's Puffs, and Helmut Lang, among others.
Take a look at a few of Scott's most notable brand partnerships over the years.
Travis Scott's first food collaboration was actually with Reese's Puffs
Although many would think Scott's 2020 McDonald's collaboration was his first foray into the food industry, it was actually a partnership he had with Reese's Puffs in 2019 that holds that title. For this collaboration, the General Mills cereal brand sold limited-edition cereal boxes, bowls, and spoons on his website for $50, and even hosted a pop-up event in Paris. At the event, Scott hosted a meet-and-greet and signed boxes of cereal for fans.
Fans were also able to purchase the cereal in supermarkets across the country.
Scott hosted a virtual streaming concert on 'Fortnite' during the pandemic
In early 2020 when the COVID-19 pandemic first struck, brands were scrambling to figure out how to stay afloat. While many businesses that thrived off of live entertainment struggled to deal with the sudden shutdown, others pivoted to the virtual space to continue engaging customers.
In April 2020, Scott partnered with the insanely-popular video game Fortnite to host a virtual concert. The concert was a massive success, with over 12.3 million concurrent users attending the show, according to Sportskeeda.
Travis has released several exclusive sneakers with Nike
RELATED: Travis Scott Wants You to Buy His Chicken McNugget Body Pillow, and Here's Why You Should Too
Related post url: 
Anyone that knows Scott knows he has a thing for fashion and sneakers. Specifically, he loves his Jordans, and can frequently be seen wearing the Retro Jordan 1s. As fate would have it, he signed an endorsement deal with Nike in 2017 and has gone on to recreate some of Nike's most iconic shoes including the Air Force 1, Jordan 1, Jordan 4, Jordan 6, and the Dunk, according to GQ.
Scott still collaborates with Nike in 2020, with one of his most recent releases being the Air Max 270 "Cactus Trails."
The 'Astroworld' rapper partnered up with his hometown Houston Rockets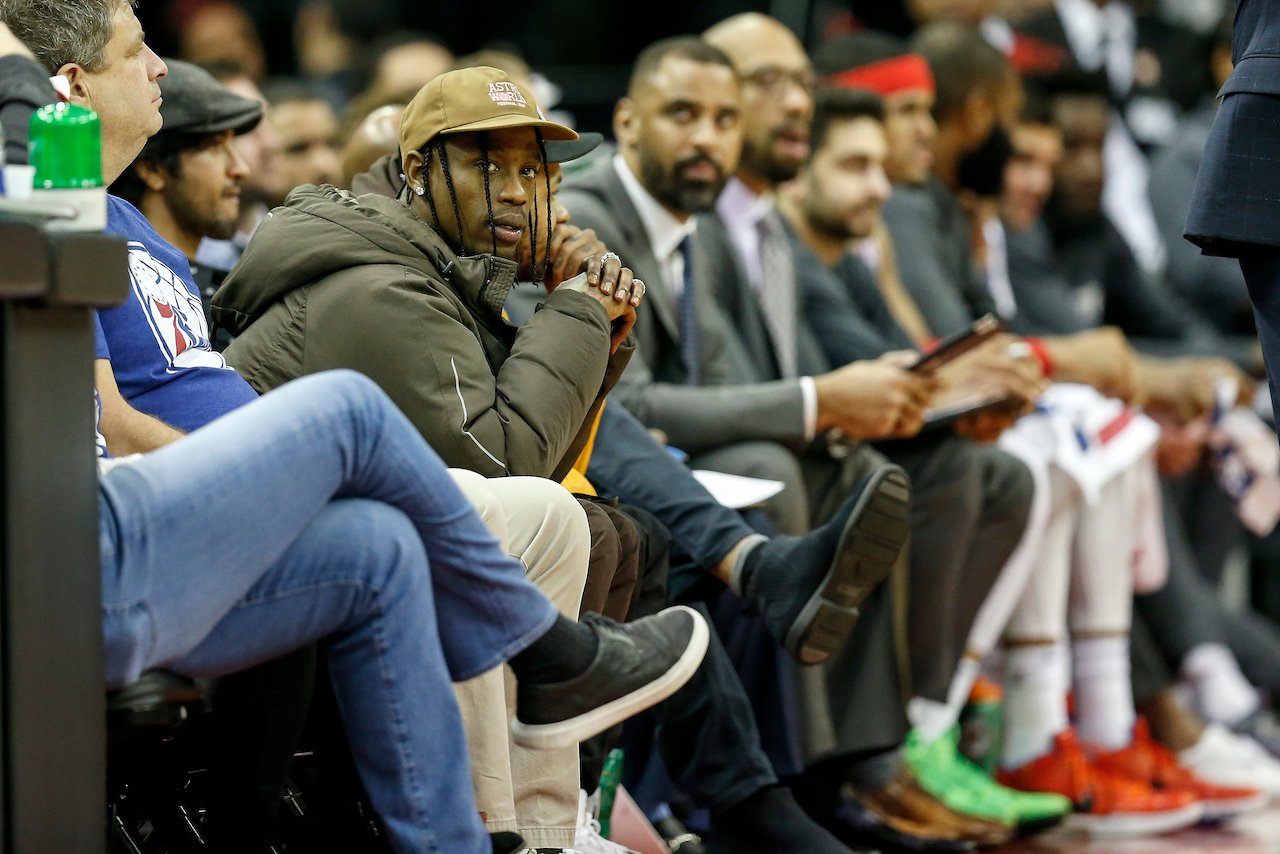 There's no place like home, and Scott has never been afraid to embrace his hometown of Houston. He constantly shouts out the Texas metropolis in his songs, and his magnum opus, Astroworld, is actually inspired by the now-defunct Six Flags Astroworld that he frequented as a child. Things came full circle for the rapper when he began a partnership with Houston's NBA team, the Rockets, in 2020.
In Feb., the team hosted an official Travis Scott bobblehead giveaway at one of its games, and in the past did a t-shirt giveaway as well.
Travis Scott made history with his McDonald's collaboration
In possibly his biggest deal yet, Scott launched a partnership with McDonald's on Sept. 8. His deal with the massive fast-food chain includes a custom Travis Scott meal, new uniforms for McDonald's employees, a redesigned McDonald's logo, and a ton of exclusive merch available on Scott's website.
Among the traditional merch items available are t-shirts, shorts, pants, hats, jackets, and socks, however, Scott also offers intriguing products such as rugs, a metal lunchbox, a lunch tray, a tie, a basketball, a jersey, and—most interestingly—a Chicken McNugget body pillow.