Trina Braxton Revealed All Of Her Exclusive Wedding Details In Sit Down Interview; Says It Was a Family Effort
They say "third times a charm" and in the case of Trina Braxton, it's proving to be true with her new hubby Von Scales. Braxton and Scales married in a St. Louis ceremony in Dec. 2019. Details of their special day were scarce with just a few unauthorized images scattered across social media but the Braxton Family Values star sat down with Rolling Out and revealed all for her fans.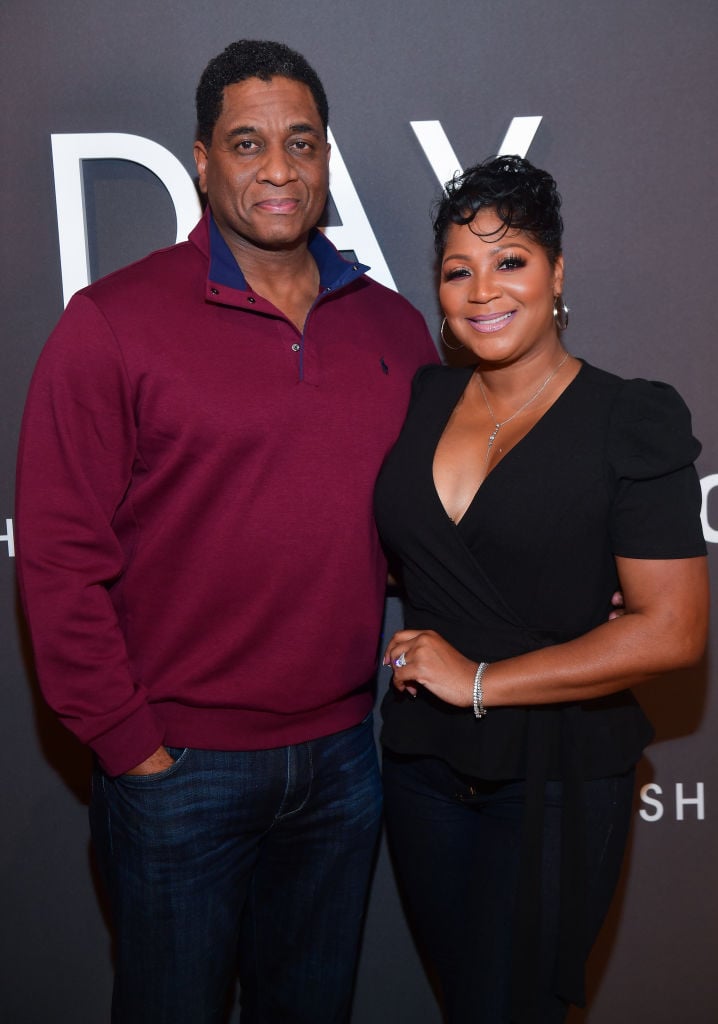 Trina Braxton and Von Scales's relationship
Braxton and Scales met on a blind double date that mutual friends set up. Both had recently ended bad relationships and after hitting it off at dinner and a movie with their friends, they decided to go out again on their own and have been together ever since.
Much of their relationship was long-distance, with Scales traveling from his home in St. Louis to visit Braxton. The show chronicled Scales meeting Braxton's family, whom they instantly liked. He asked for Braxton's hand in marriage from both of her parents, as well as her two sons. 
After a year and a half of dating, Scales proposed during a family couple's trip to Napa Valley with her sisters surrounding her with their stamp of approval – with the exception of her baby sister Tamar who was upset that Scales proposed during a trip that she said was in honor of her birthday. Tamar eventually apologized to her sister for her behavior.
Trina Braxton gives exclusive details on her wedding day 
Braxton and Scales were married on Sunday, Dec. 15 in Scales's hometown of St. Louis at Windows on Washington. She sat down for an exclusive interview with Rolling Out to dish on the details of her day.
Braxton donned a beautiful custom made gown equipped with crystals, a semi sweetheart neckline with straps and lace. The dress took a lot of work as the designers are based in Israel and required several alterations, leaving Braxton and her team shipping the gown to and from until it was just right. 
Known as the cheap sister out of the Braxton clan, she revealed that she struck gold with her headpiece. She ordered the accessory online from Amazon for a whopping $8.99 and admitted that she was a bit nervous that it was too good to be true. 
"When I saw it I was like, 'It can't possibly be this cute on me' but the next day when it came I was like, 'This is cute,'" she exclaimed before joking, "I'm a bargain Betty honey."
Braxton stuck to the traditional theme of something old, something new, something borrowed, something blue – revealing that her sisters and her mother all contributed something special to her special day for her overall look. Her mother provided her with her jewelry, which was the "something new" aspect. The shoes she wore designed by her older sister Traci, who is currently working on a shoe line.
For the reception, Braxton changed into a white off the shoulder top with matching pants as Scales wore a gray suit. Her hair and makeup were done by well-known artists from the Atlanta area where she resides. She went for a natural look, rocking a natural simple ponytail to highlight her headpiece. 
All of her immediate family were present for the nuptials, including her father Michael Braxton, who skipped out on her second wedding to her late ex-husband Gabe Solis. 
The couple's wedding was officiated by former Divorce Court judge Mablean Ephriam, who administered their pre-marital counseling and even wrote custom vows for them based off of their sessions.
Throughout the interview, Braxton gushed about Scales, calling marriage with him "easy." They honeymooned for eight days in Mexico, leaving the day after their wedding. They now reside full-time in Atlanta and have blended their families – they both have sons from previous marriages. 
Braxton promises the wedding day will be aired during the upcoming season of Braxton Family Values.