Trippie Redd Calls This 'Life's a Trip' Single His Favorite Song He's Made in His Career
Ohio-bred artist Trippie Redd exploded on the music scene in 2017 following successful mixtape releases and a single with Travis Scott. After becoming a 2018 XXL Freshman, Redd continues to prove he's here to stay with his chart-topping albums and multiple collaborations with some of the biggest names in music. Although the rapper has released nearly a hundred songs and likely made many more, he was able to pick his favorite to create from his three-year career.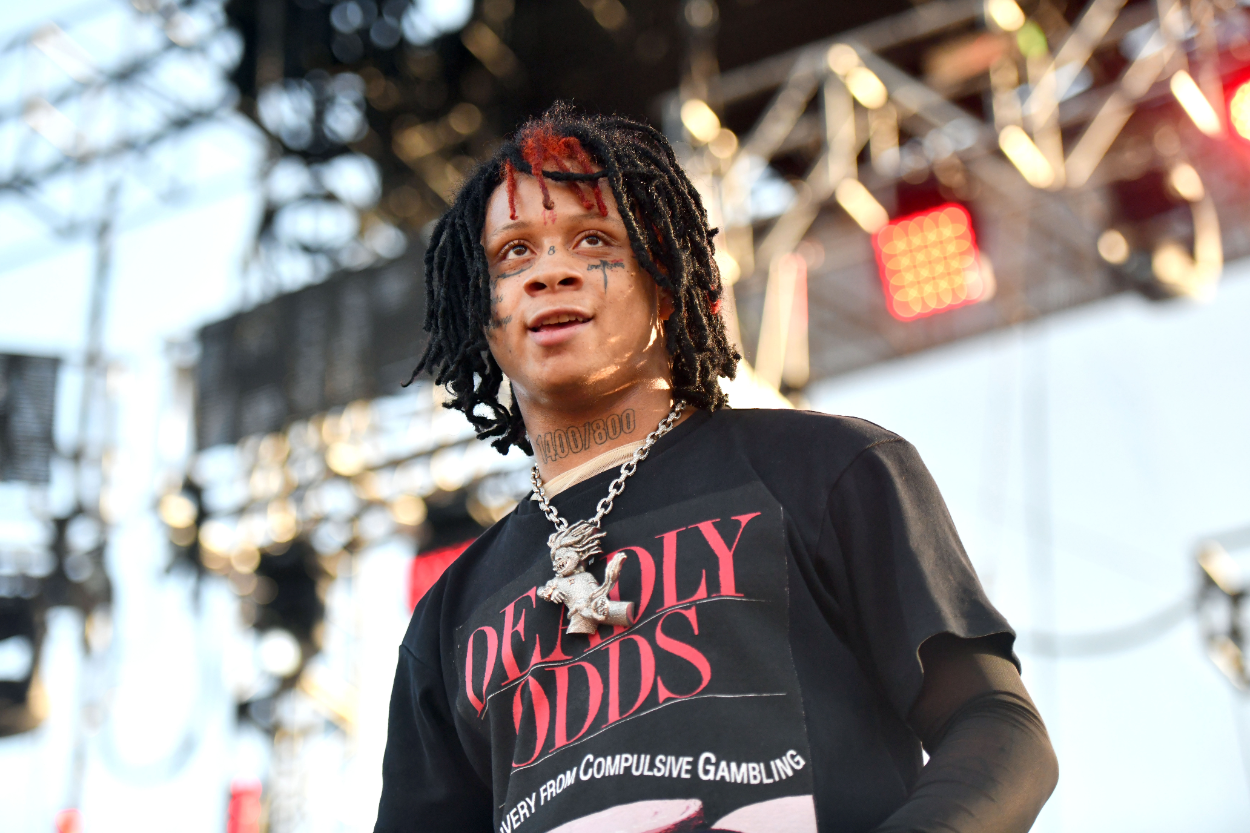 Trippie Redd made his debut in 2017
Raised by a single mother in Canton, Ohio, Michael Lamar White IV has a younger brother, "Hippie Redd," and older sibling, a musician nicknamed "Dirty Redd," who died in a 2014 car accident.
He adopted their last name and began focusing on music in the same year, inspired by rapper Lil Tae, releasing now-deleted songs, "Sub-Zero" and "New Ferrari."
RELATED: Xxxtentacion's Mother Wants to Block His Baby Mama's Request for a Paternity Test — Here's Why
After graduating high school three years later, the artist relocated to Atlanta and began collaborating with rapper Lil Wop, who helped him get into a professional studio. The two then linked up with Atlanta-based musician Kodie Shane and they dropped three projects together.
It created a buzz, resulting in Redd signing to label Elliot Grainge Entertainment. In May 2017, he dropped his debut mixtape, A Love Letter to You, and a couple of months later, he appeared as the only feature on XXXTentacion's 17 for "F**k Love."
Redd recently dropped 'Pegasus'
The Ohio-based rapper flooded the market throughout 2017 by releasing another mixtape, A Love Letter to You 2, and an EP collaboration with Lil Wop, Angels & Demons.
He also dropped "Dark Knight Gummo," featuring Travis Scott, which became his first Billboard Hot 100 single, putting him on the map.
RELATED: Trippie Redd Dedicated His Sophomore Album, '!', To XXXTentacion: Here Are The Tracklist And Song Meanings
After releasing Scott Storch-produced "TR666" featuring rapper Swae Lee and "18," Redd dropped his first studio album, Life's a Trip (2018). It debuted at number four on the Billboard 200 chart, with the single "Taking a Walk" peaking at number 46 on the Hot 100.
A year later, the rapper hit number three on the charts with his second album, !. Following a couple of collaborations with UK-based YouTuber KSI and Juice Wrld and chart-topping mixtape A Love Letter to You 4, he released his third studio album, Pegasus, which peaked at number two.
Redd says 'Taking a Walk' is the favorite song he's made
Throughout Redd's three-year career, he has made hundreds of songs, many of which fans might never hear. However, he was able to pick a favorite from his illustrious catalog.
In a clip posted on TikTok, Redd called the popular song from 2018's Life's a Trip, "Taking a Walk," his most treasured song to create to date.
RELATED: Swae Lee's Girlfriend Put a $20k Hit out on Him Before Taking Back Offer
Redd speaks about his failed love life and references death over an instrumental and seemingly light-hearted Scott Storch-produced beat in the reflective song.
Several fans agreed with his choice in a Reddit thread and called it one of their favorite songs from him. Redd is set to release Neon Shark, a rock-based deluxe album of Pegasus, in February 2021.