'Trisha's Southern Kitchen': Inside Trisha Yearwood's Gorgeous Nashville Home Where She Films Her Show
Trisha Yearwood wasn't always a celebrity chef. The Food Network star has had a lucrative career as a country music singer and only pivoted to the small screen a few years back. Though Yearwood has always loved to perform, she's found a new love sharing her family's southern-style recipes with the world on Trisha's Southern Kitchen.
Yearwood films her show in Nashville, where she resides with her husband. Garth Brooks. And the couple's 6,500 square foot home is nothing short of beautiful.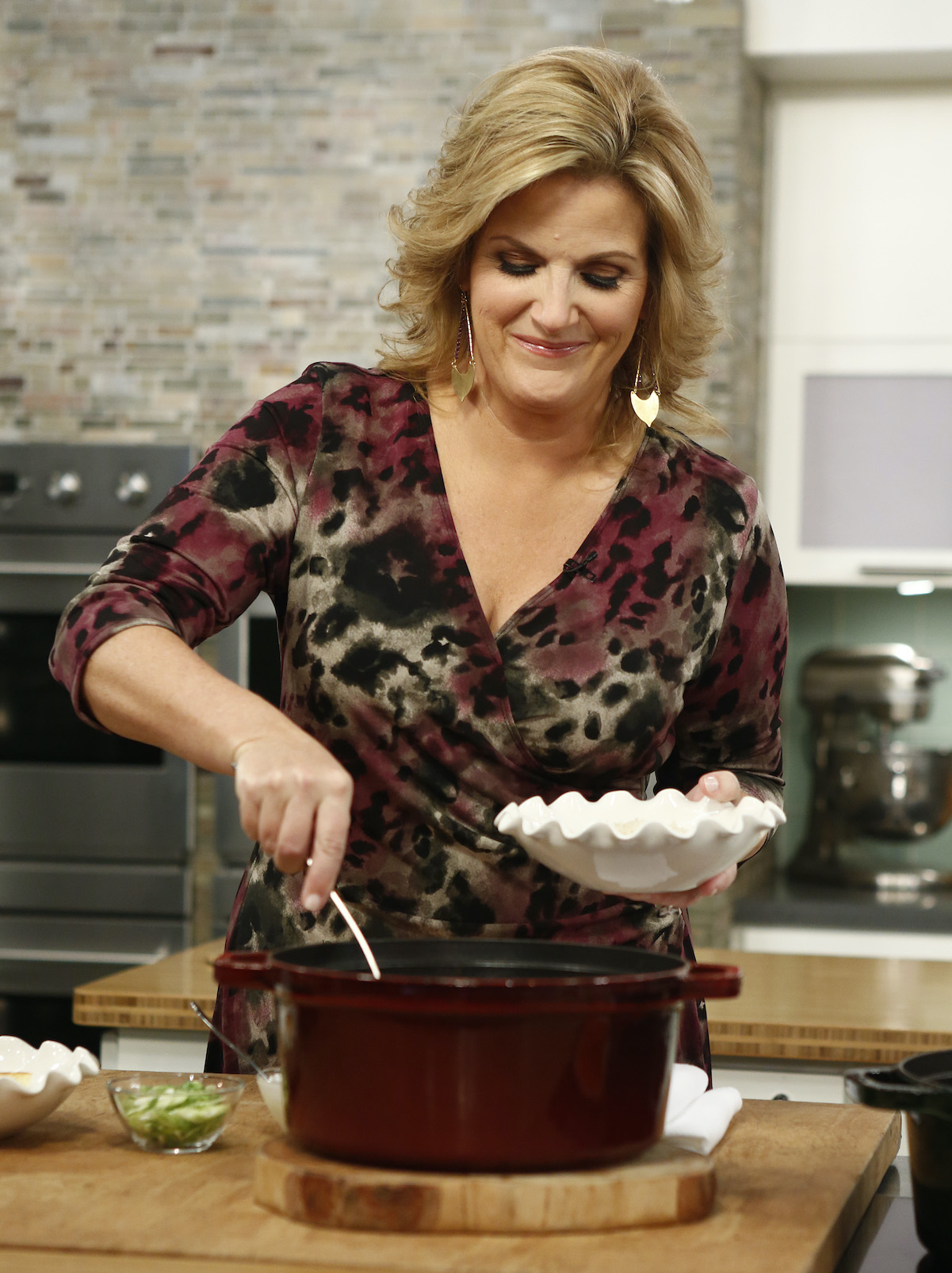 Trisha Yearwood was a successful country music star before pivoting to cooking
Yearwood first rose to fame back in the early 1990s, and she'd been pursuing a career in music from a young age. Back in college, Yearwood held an internship with a Nashville record label; she was hired full-time and used it to her advantage to record demo tapes. Eventually, it worked out for her, as her 1991 hit "She's in Love with the Boy" peaked at no. 1 on the Billboard Hot Country Songs chart. Her first album, in total, had four songs reach the top 10, which set the stage for the rest of Yearwood's career.
In 2005, Yearwood married country singer Garth Brooks at their home in Ossawa, Oklahoma. Since then, the two have settled into Brentwood, Tennessee, a suburb of Nashville and home to a number of celebrities.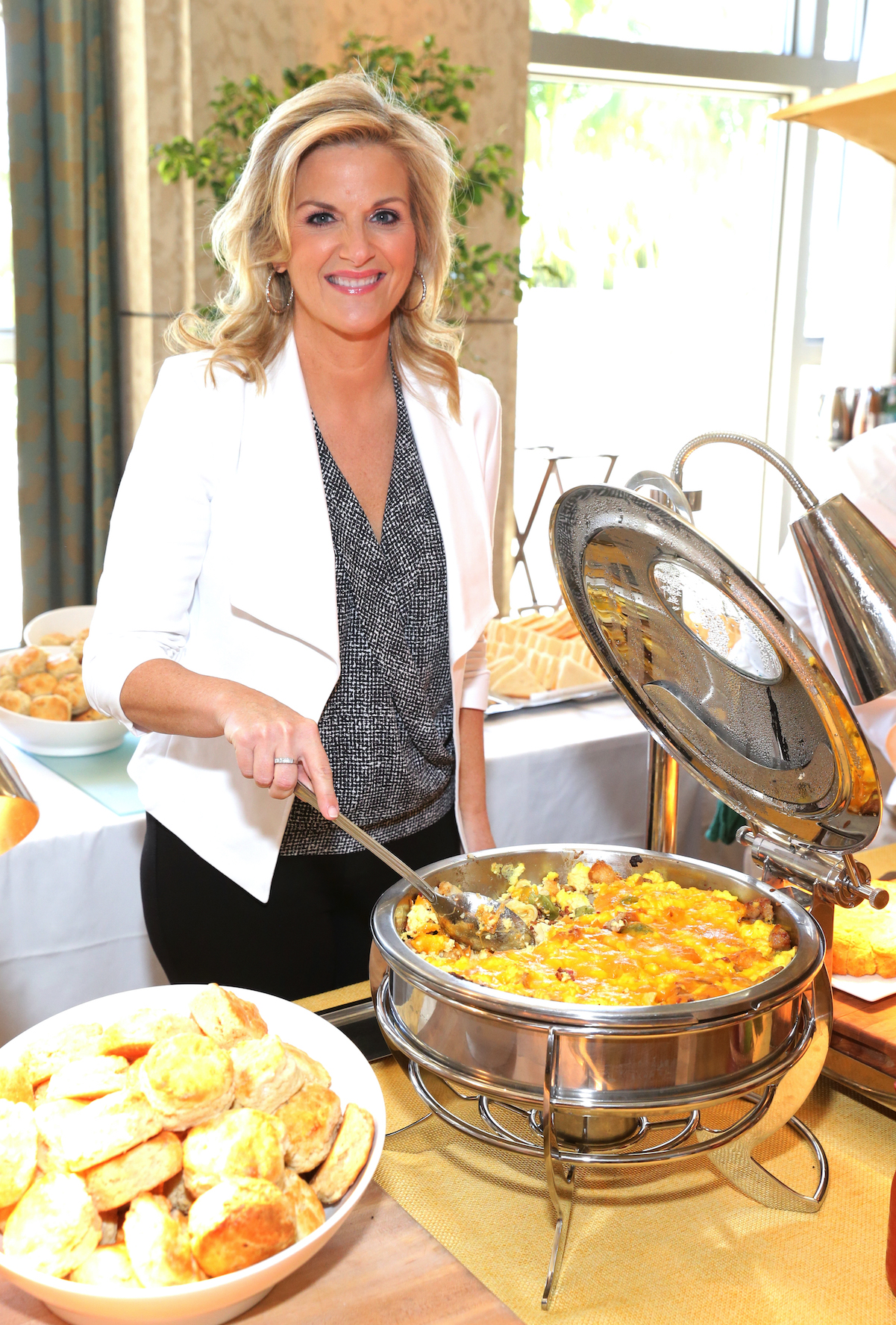 Trisha Yearwood and Garth Brooks' Nashville home is glamorous yet charming
Yearwood released her first cookbook in 2008, and her Food Network show, Trisha's Southern Kitchen, premiered in 2014. The show is filmed in Yearwood's Brentwood home, and though fans have seen the kitchen, the rest of the house is just as gorgeous.
The home sits on 4.4 acres, and it features five bedrooms and six bathrooms, plus 6,553 square feet of living space. The home's 100-year-old architecture is reflected in its modernized décor — especially in the entryway, which boasts crown molding and handcrafted archways. A massive fireplace is the focal point of the living room, complete with an antique rug laid over hardwood floors. The home's family room appears to have French doors to an outdoor area, based on the property's photos. The photos can be viewed on the Nashville Lifestyles website.
Yearwood's dining room features built-ins that house a display of plates and glasses a well as a round, six-person table. The crown molding carries throughout the home. Its master bedroom appears to have a double set of French doors leading to either a balcony or patio, plus a master bathroom with a massive vanity. Surprisingly, the home also has an elevator, plus a landscaped backyard with an in-ground pool.
Trisha Yearwood and Garth Brooks attempted to sell the home at one point
Though Yearwood and Brooks appear to love their Brentwood mansion, the couple did try to sell it at one point. Back in 2014, the two listed the property for $2.2 million, though it didn't receive any entertainable offers. They later dropped the price to below $2 million, at $1.99 million, but it still didn't seem to gauge enough interest, and they never sold it.
The couple took the house off the market that same year, and now, seven years later, they're still living there.