Troy Aikman Explains His Intense Bond With Joe Buck: We 'Went Through Divorces at the Same Time'
Troy Aikman consistently puts in solid performances calling NFL games alongside veteran sportscaster Joe Buck.
Troy Aikman is more than a Super Bowl-winning quarterback from the '90s. The former Dallas Cowboy turned sports broadcaster knows a thing or two about football. Aikman consistently puts in solid performances calling NFL games. Fortunately, he's in the booth with veteran sportscaster Joe Buck. The two have developed a close relationship and have a lot in common. 
Troy Aikman's life after the NFL
After a successful NFL career and three Super Bowl rings, Aikman retired in 2000. But there wasn't much time to rest; he joined Fox's broadcasting crew in 2001. Shortly after, the former quarterback joined Joe Buck and Chris Collinsworth as the crew's lead announcers.
Aikman fit right in, and even the Emmys took note. He received a nomination for Outstanding Sports Personality in 2004. Working the booth wasn't always fulfilling, though. In 2008, after calling the Giants-Patriots Super Bowl, Aikman felt depressed.
In an SI interview, he relayed a conversation he had with his then-wife about that game:
I may have just called the biggest game that I will ever have the opportunity to call in this profession and I could not be more depressed right now. It shook me up a bit. I thought, "Man, where does the joy come from broadcasting when you have already been the one out there doing it."
Working with Joe Buck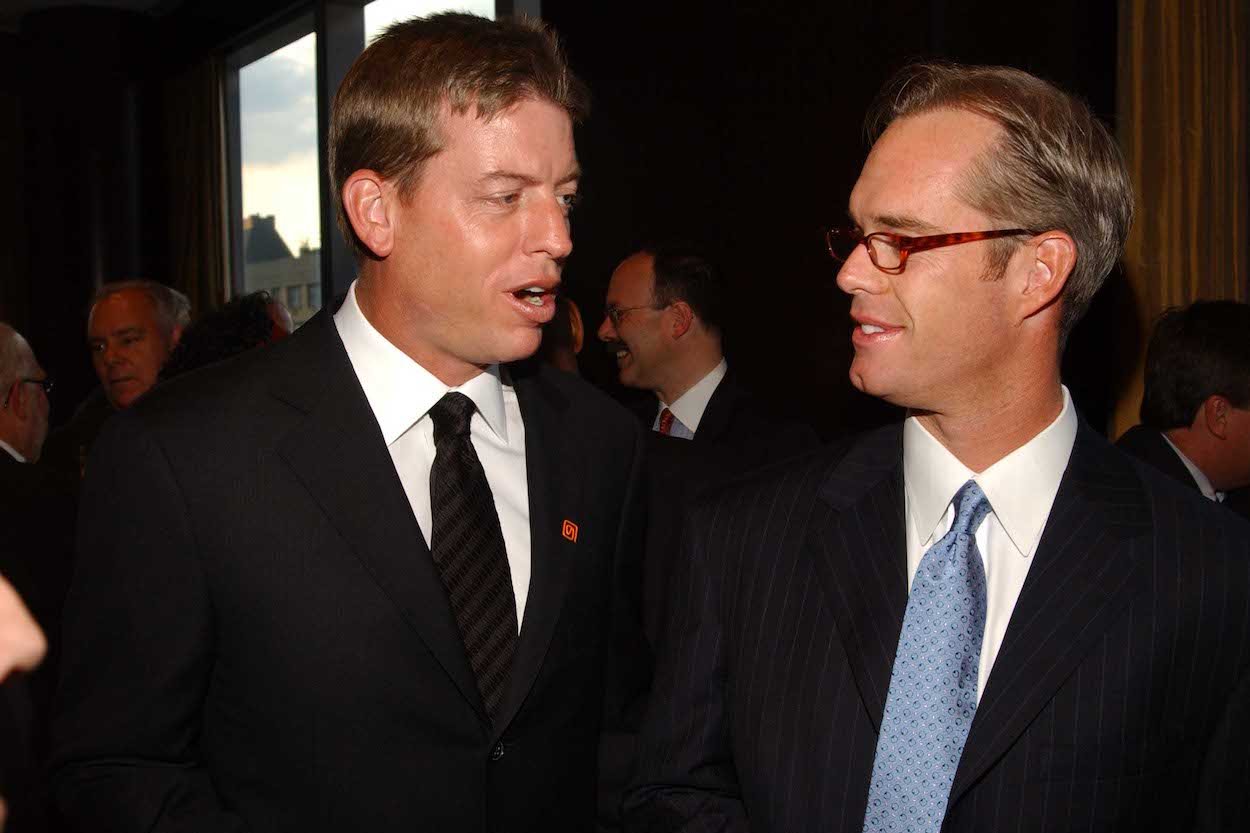 Almost from the start of his broadcasting career, Aikman worked with Buck. The pair quickly became Fox's go-to media duo because they complimented each other. Buck is a long-time play-by-play sports announcer and has worked at Fox since 1994.
On the other hand, while Aikman might not have the broadcast training, he certainly has on the field experience. The pair meshed well together. It wasn't long before Aikman picked up the tricks of the trade.  
Now, after 20 years of working together, the two have an easy repertoire, a comfort level with each other. But it wasn't always that way. In the early days, the pair needed time to get used to one another, and alcohol helped. Although they haven't kicked back with spirits in some time, it was a great way for them to relax and have fun. Plus, it made for a great story.
Troy Aikman and Joe Buck forge a friendship
Their relationship wasn't just professional. Buck and Aikman formed a friendship that's lasted. The pair has a lot in common besides working the same job. They both have two daughters. Buck's eldest daughter Natalie was born in 1996 and her sister Trudy in 1999. As for Aikman, his daughters arrived as his broadcasting career began. Jordan was born in 2001, followed by Alexa in 2002.
Aikman and Buck also experienced divorces around the same time, which bonded them further. Both divorced their first wives in 2011. Buck remarried in 2014 and Aikman in 2017. 
The former QB discussed his friendship with Buck and detailed the similarities in their lives on Morten Andersen's Great Dane Nation podcast. Aikman explained of Buck, "[He's] the most talented guy in our industry. He's a dear friend. Joe and I shared a lot of life experiences in our personal lives. Seemingly at the same time."
It seems like they've developed a network of support for each other. And it can be pretty rare for coworkers to get along so well. Aikman continued, "We've been best of friends for 19 years. And on a professional level, there's nobody more talented than him. He's really fun to work with each week."