'True Blood': Only 1 Main Cast Member Was Actually From the South
Hollywood knows that people love stories about vampires. Our fascination with vampires stems all the way back to Bram Stoker's 1897 novel, Dracula (which actually wasn't the first vampire story ever published–that honor goes to John Polidori's The Vampyre, in 1819).
Vampires have made for bestselling books, films, and televisions shows. From Nosferatu to Twilight, and everything in between, vampire stories have entertained fans on both big and small screens. HBO's True Blood was an exceptional example of a compelling show about vampires and other supernatural creatures. The series took place in a fictional town in Louisiana that had incredible characters and a powerful atmosphere, although not all of the actors were native to that part of the country.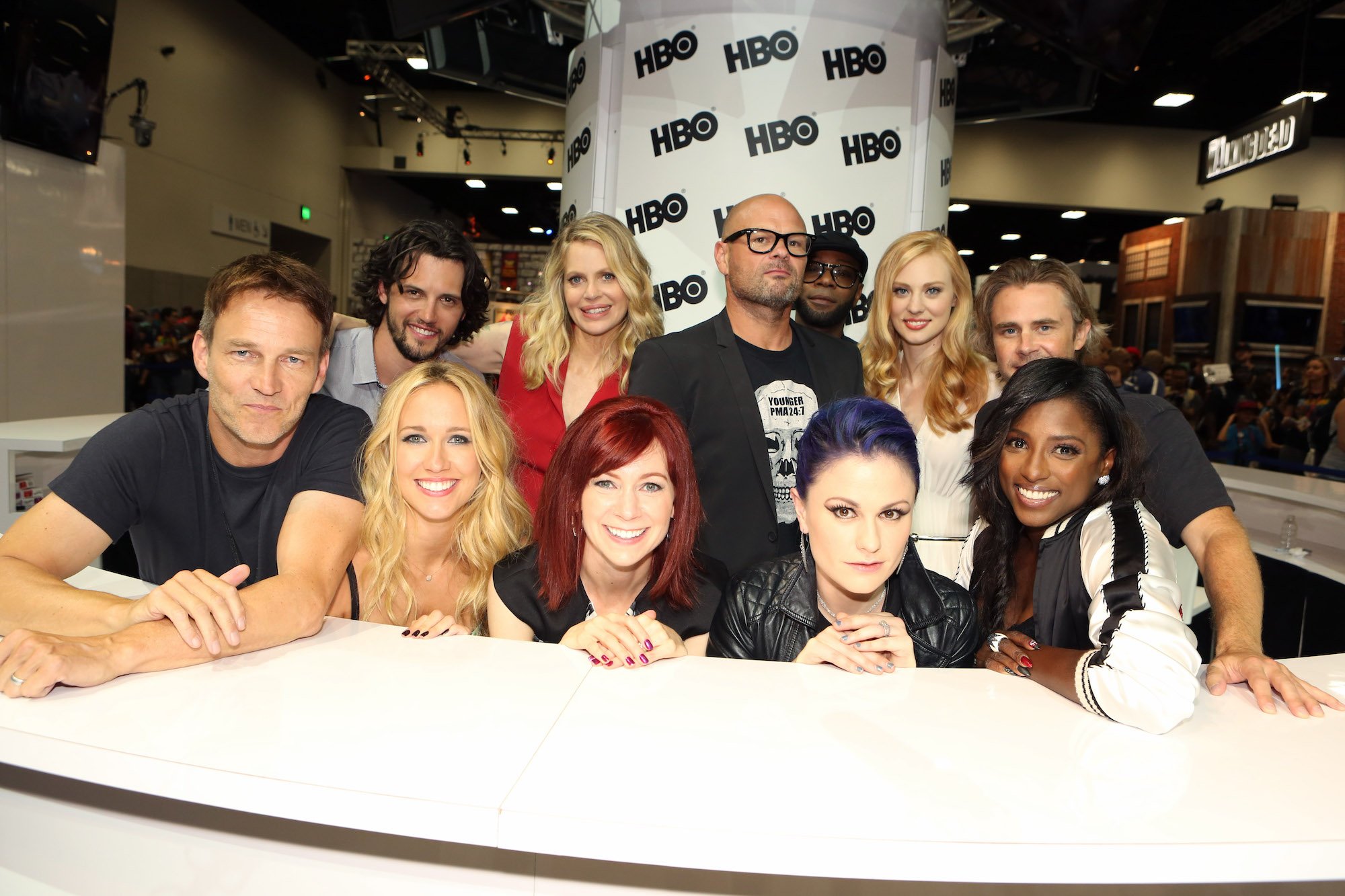 'True Blood' was based on a book series
The popular vampire show was actually based on a series of books written by Charlaine Harris. The Southern Vampire Mysteries–sometimes referred to as the Sookie Stackhouse Novels–contains 13 novels centered around a waitress with telepathic powers. Sookie Stackhouse lives in a world where supernatural creatures, like vampires, co-exist with humans. Both the books and the television series take place in the fictional town of Bon Temps, Louisiana. 
True Blood had seven seasons on HBO and won several awards including People's Choice for Favorite TV Obsession, AFI TV Programs of the Year, and Golden Globe for Best Performance by an Actress in a Television Series, according to IMDb. An incredibly talented cast brought the characters to life with amazing performances throughout the entirety of the show. 
Anna Paquin portrayed Sookie Stackhouse, the sweet waitress with the ability to read people's minds. Stephen Moyer played Bill Compton, delivering his performance with an air of mystery and charm that perfectly fit the brooding vampire. Sookie and Bill have an immediate attraction, developing one of the strongest love stories in television.
Of course, a love story just isn't complete if there's no conflict. Alexander Skarsgard brings that conflict when his character, Eric, falls in love with Sookie later in the series. This begins a complicated love triangle that had fans professing their allegiance to #teambill or #teameric.
The city of Bon Temps is a character of its own
RELATED: 4 Spooky Series to Fill the 'True Blood' Void
Bon Temps is a small, rural southern town. The fictional town is the perfect backdrop for a series full of magical, supernatural creatures. A sense of mystery and intrigue seems to be a part of the air in Bon Temps, and it creates a fantastic atmosphere for the story. The town is rich with history, and the old buildings and historical architecture help to bring the story to life. 
Most of True Blood's main characters come from families that have lived in Bon Temps for hundreds of years–some even have roots all the way back to when the Bon Temps was founded. Sookie's family stems back 200 years, as well as Bill's. Many of the families are descendants of Civil War veterans, and some of the current residents (like Bill) actually fought for the Confederates during the war.
Only one actor in the series was a true southerner
Despite the fact that True Blood was based in the heart of Louisiana, most of the actors weren't even from the south — or even the United States! Anna Paquin is from New Zealand, Stephen Moyer is English, Ryan Kwanten is Australian, and Alexander Skarsgard is from Sweden. Only Sam Tramell, who played bar owner Sam Merlotte, is from the south, according to The Gamer. He was actually born and raised in New Orleans, so he was most familiar with the setting of the series. 
The culture in Louisiana has been crafted from centuries of Cajun, Creole, French, and Spanish folklore, beliefs, and superstitions. It's an ideal place for a story about the supernatural. Having cast members from the area might have made the series seem more authentic–they might even have had some knowledge of local folklore that would help them further embrace their characters.