The Try Guys Will Host a Food Network Show Inspired by Their Series 'Without a Recipe'
The Try Guys have been incorporating their love of food into their viral videos for quite some time. The comedy group started at Buzzfeed, making videos doing things no one else was willing to try. Now they own their own production company. Among the rest of their hilarious content, the Try Guys created a series where they attempted to bake and cook popular dishes without a recipe. Food Network took notice.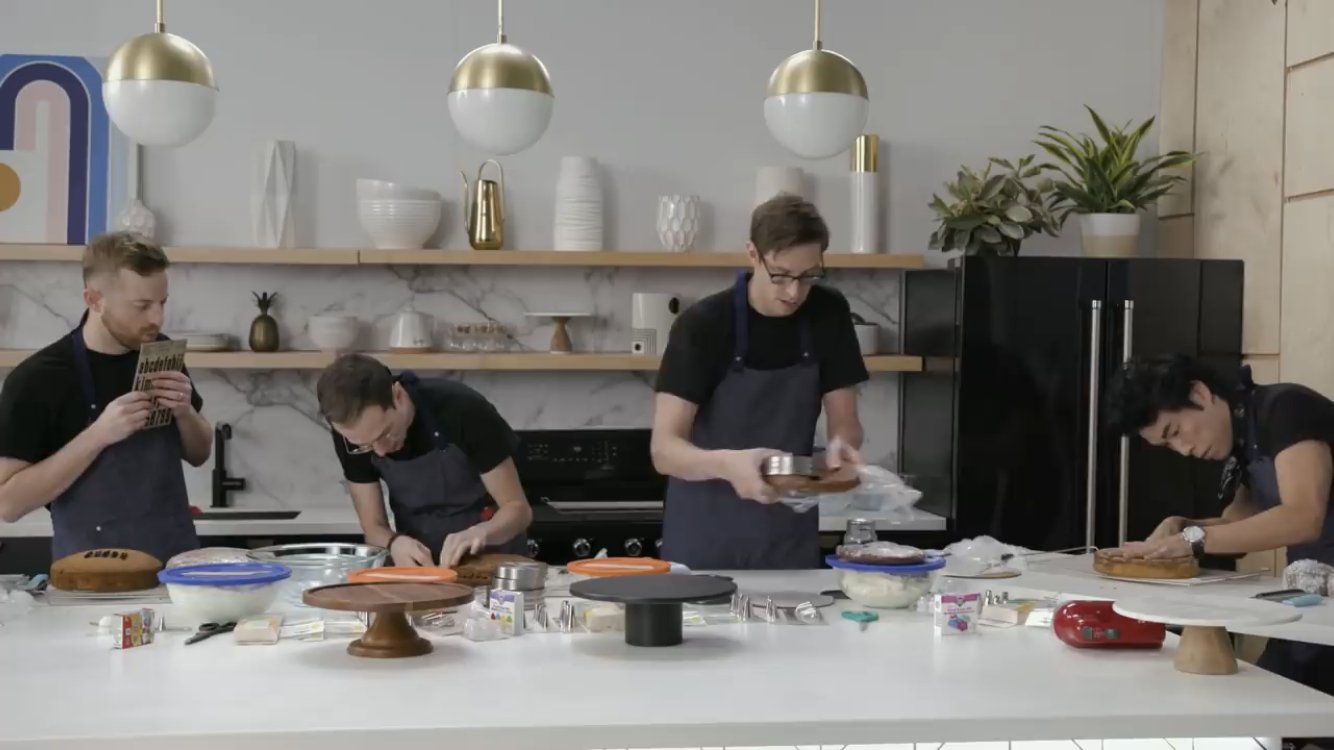 Several months ago, Food Network made a deal with the Try Guys for a one-off special based on Without a Recipe called No Recipe Road Trip With the Try Guys. Recently the network announced that the Without a Recipe concept will instead be a full season with six episodes in total.
Who are the 'Try Guys'?
The Try Guys met during their time at Buzzfeed. Zach Kornfeld, Ned Fulmer, Keith Habersberger, and Eugene Lee Yang's first video together was a simple concept: "Guys Try on Ladies Underwear for the First Time." The video was a big hit, and the guys continued to work together, making videos that no one else was willing to do. In June 2018, the Try Guys formed their own production company, 2nd Try.
Since then, the Try Guys have continued to make videos trying an endless variety of things, including acupuncture, fire cupping, professional bartending, and rollercoaster testing.
The Try Guys 'Without a Recipe'
While at Buzzfeed, the Try Guys came up with the concept for Without a Recipe. In the first 18 minute video, the four guys attempted to bake bread without a recipe using ingredients found in the Buzzfeed Tasty kitchen. A panel of judges then tasted their creations with hilarious results.
The concept became extremely popular, and the Try Guys took it with them to their new company. Since then, the guys have made pizza, cookies, cakes, ice cream, and more without a recipe on their new channel. Some of these videos are almost an hour long.
Food Network's 'No Recipe Road Trip With The Try Guys'
Variety recently reported that Food Network has picked up No Recipe Road Trip With the Try Guys to series. Season 1 will consist of six episodes, including the premiere which was originally intended to be a one-off special. The Try Guys will be testing their no-recipe cooking and baking skills in kitchens across the country.
In an interview with Variety, Courtney White, president of Food Network and streaming food content at Discovery, expressed her high hopes for the series. "The Try Guys' trademark approach to food, combined with their overwhelming popularity, has us very excited," she stated. "When we screened the pilot, we knew our audience would love a full series featuring this foursome's audacious spin on cooking. We're eager to leverage and grow their following as we broaden their reach on Food Network."
The premiere date has not yet been announced for No Recipe Road Trip.