'Tudum: Korea Spotlight': Netflix Reveals 'Hellbound,' 'New World' and so Much More to Look Forward To
Netflix's Tudum: Korea Spotlight gave Korean drama fans just enough new content to get them excited for the rest of 2021 and early 2022. On Sept.25, Netflix premiered their grand event hosted by some of the streaming platform's top actors like Henry Cavill and debuted new trailers for upcoming seasons and shows. The event had a special Korean section hosted by K-Pop idols Kai and Kim Hee-Chul. Included in the special event were actors Song Kang and Jung Hae-In.
All the new content coming their way and exclusive trailers and sneak peeks got K-drama fans excited. Netflix announced a long list of upcoming K-drama titles and their scheduled release dates. From The Silent Sea to Juvenile Justice, fans have many dramas to add to their "Remind Me" page. Above all, Netflix debuted their official trailer for Hellbound and the new reality show New World. Not to mention an action-packed My Name scene.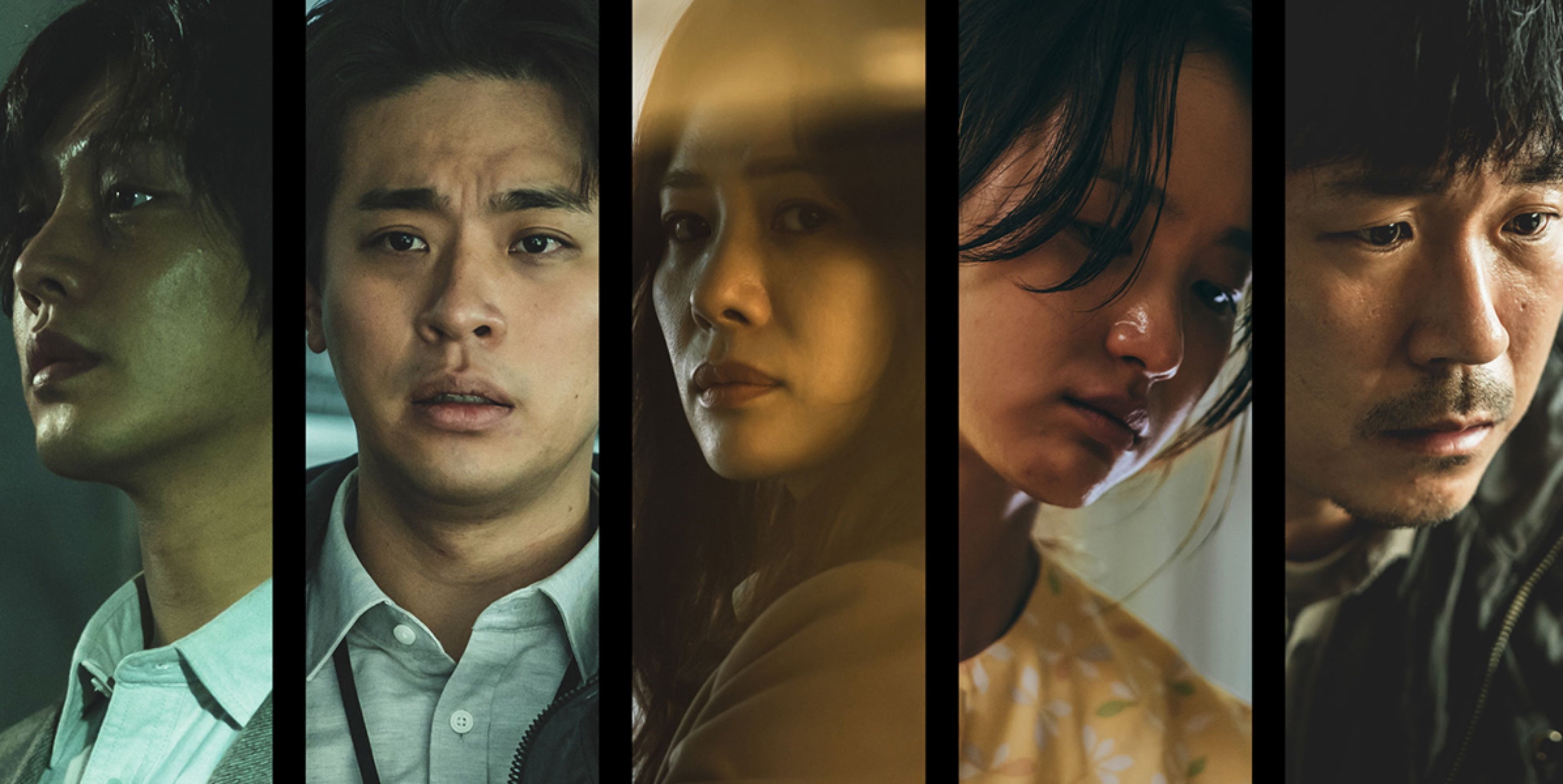 Song-Kang and Jung Hae-In make a special guest appearance
K-Pop fans are incredibly familiar with Tudum: Korea Spotlight's hosts. Kai rose to fame as part of the K-Pop group Exo, its subunit Exo-K, and South Korean supergroup SuperM. He gained even more popularity during his solo career. Kai is joined by Kim Hee-Chul, a member of Super Junior and well-known radio host. The event includes two of Korea's rising actors who have made a name for themselves on the streaming platform.
Song Kang is known as "The Son of Netflix," who has received most of his claim to fame starring in four consecutive Netflix original K-dramas. Song starred in the mature drama Nevertheless and the webtoon-based drama, Navillera. For the event, Song took fans on an exclusive date to the Netflix office. The actor did some arts and crafts while answering some fun and personal questions. When it comes to his perfect side profile, Song prefers his left side.
The actor also did ASMR giving some behind-the-scenes tidbits from his dramas. Song later revealed he wishes he could redo the first kiss scenes from Love Alarm and Brooklyn Nine-Nine is his favorite series. Tudum brought in D.P. star Jung Hae-In. Jung's segment took place on set for a promotional photoshoot for D.P. The actor talks about the on-screen chemistry with his co-stars and the difficulties of expressing his K-drama character's emotions. D.P. gained notoriety for its profound portrayal of mistreatment in the Korean military.
'Hellbound,' 'New World,' and 'My Name' get new trailers and exclusive scenes
The director of one of the most popular foreign zombie movies, Train to Busan, is back with his first K-drama. Netflix will debut Yeon Sang-Ho's upcoming K-drama Hellbound on Nov.19. Netflix's Tudum: Korea Spotlight event released the first official trailer for Netflix of the horror-fantasy K-drama based on a webtoon of the same name. Hellbound will captivate fans as its storyline entails supernatural creatures going to Earth to condemn people to hell as a new religion emerges, and people want answers to their new reality. According to South China Morning Post, Hellbound "is a dark and unforgiving affair that starts off slow until a palpable sense of dread emerges and builds, driving the story into tense and unpredictable territory."
Along with Hellbound was the trailer for Netflix's first original reality series, New World. The reality drama comprises six days with six well-known celebrities and TV personalities. Tudum's hosts, Kai and Kim, alongside Park Na-Rae, Lee Seung-Gi, and more, are included in the cast. According to the series's synopsis, "six celebs strategize and sabotage to earn virtual currency they can cash in on the final day of their stay on a utopian island."
The Netflix event also gave K-drama fans a never-before-seen exclusive of My Name with Han So-Hee. The video showcases Han's impressive stunt work as Yoon Ji-Woo singlehandedly fights off a throng of gangsters as part officer and part ruthless crime ring member.
'The Silent Sea' and 3 more K-dramas teased for 2021 and early 2022 during 'Tudum: Korea Spotlight'
Netflix's Tudum: Korea Spotlight teased fans with the official titles and posters for upcoming dramas. The Silent Sea will debut in Dec.2021 as a sci-fi mystery thriller adapted from the 2014 short film The Sea of Tranquility. According to Soompi, the K-drama is set in 2075, where Earth has no food or water. A special team is sent to retrieve a mysterious sample from the moon. Juvenile Justice will also premiere on Netflix in Jan. 2022.
Juvenile Justice is a legal K-drama of a prickly judge with an inherent dislike for juvenile offenders due to a previous circumstance. The K-drama will take fans on various court cases, her colleagues, and her new job at the local juvenile court. Based on a popular webtoon of the same name, All of Us Are Dead is a new zombie drama where a high school becomes infected by a virus. The students trapped have to survive in a limited space. The K-drama stars an ensemble cast of fresh new young actors and will debut in Jan. 2022.
The last K-drama Netflix's Tudum: Korea Spotlight revealed a new 2022 unconventional K-drama romance, Love and Leashes. The Feb. K-drama is about a man with a certain taste in women and a woman who finds out his secret. Netflix also teases a new Korean dating reality series titled Single's Inferno.