Tupac Once Came to Mary J. Blige's Rescue, According to Bodyguard
Decades after his death, Tupac Shakur remains a hip-hop figure whose mythos is as large as his personality. He's often associated with other entertainers who were either up and coming or popular during that same era, and there is a string of stories attached to him.
Music's Queen of Hip Hop Soul Mary J. Blige rarely comes up when people talk about Tupac's connections, but the two did know each other. And according to a former Death Row bodyguard, the late rapper indirectly intervened when Blige had issues with her boyfriend, K-Ci.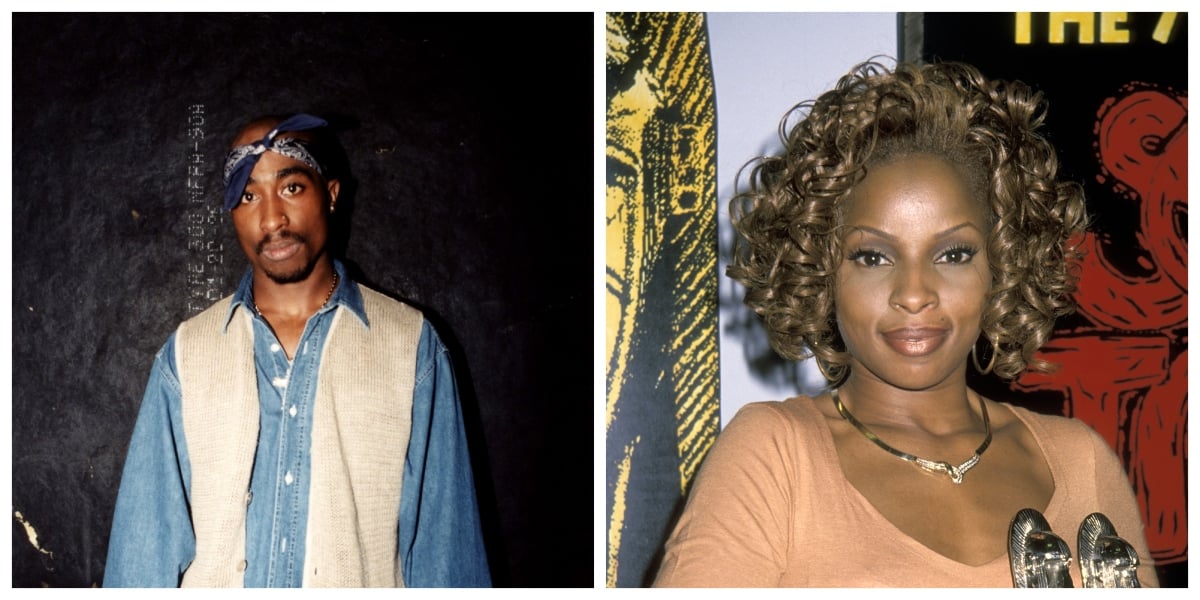 Mary J. Blige used to date Jodeci's K-Ci
In the early '90s, Blige began dating R&B singer K-Ci Hailey of Jodeci. It's become somewhat common knowledge that the pair had a tumultuous relationship for years, something Blige has spoken about openly interviews.
During her VH1 Behind the Music episode, she described it as hell. "I brought hell to his life because I was already damaged. He brought hell to my life because he was already damaged. And that's the result we ended up with: Hell," she said.
Things came to a head after K-Ci gave Blige a ring but later went on a TV show and denied having any intentions of marrying her. A talk show host showed Blige the clip after she said she was engaged, and she felt humiliated.
However, when they were together, they'd often have volatile fights while on tour. Allegedly, it was during one of those moments when Tupac was called.
RELATED: Why Method Man Originally Didn't Want to Do 'You're All I Need' With Mary J. Blige
Former bodyguard says Tupac picked up Mary J. Blige
Tupac began working with Death Row Records in 1995. After K-Ci and Jo Jo broke off from Jodeci to become a duo, they recorded "How Do U Want It" and "Toss It Up" with the late rapper at the studios at Death Row. The brothers developed a friendship with him that went beyond business.
According to former bodyguard Reggie Wright, Tupac knew them during the time K-Ci was dating Blige. Wright told Cam Capone News when all three R&B singers were on a tour stop in California, Blige and K-Ci must have gotten into a fight.
"They got into a fight. Somehow, she called Pac. 'Cause her and Pac were on the down-low cool. We had to run over to the Peninsula Hotel," said Wright. He recalled that Blige ran from the side of the hotel and quickly hopped into the car.
"She was running down the side street and jumped in the car right quick. And Pac picked her up and took her off."
Blige broke things off with K-Ci
As one of music's most high-profile couples in the '90s, Blige and K-Ci were under constant public scrutiny. But Blige said leaving that relationship behind was necessary.
"He had to be out," she once told The Guardian. "That was something that was holding me back. He didn't want me to have nothing. He didn't want me to sing when I was already a singer. He held me back from shows when I had to get on planes. When I say mental and physical abuse, everyone knows it was him. He'd use Jodeci interviews to say horrible things about me."
K-Ci has since apologized to Blige in interviews but other than collaborating once (and recording separately) after their split, it's unclear if the two are on friendly terms.