'Twin Peaks': Who Was 'Log Lady' Actress Catherine E. Coulson?
David Lynch has been a visionary in his films and TV projects, and that includes finding many of the amazing cast members of his celebrated Twin Peaks. Those who've watched the show through all its incarnations will remember the bizarre presence of the "Log Lady."
It turns out the actress who played her wasn't really intending to start an acting career on TV or film.
Catherine E. Coulson may not be a household name, yet the Log Lady will always be an indelible TV image for any Twin Peaks fan. The sight of her holding that log (as a form of therapy) is still a haunting concept, something Coulson revived briefly in the new cable Twins Peaks revival.
Unfortunately, Coulson passed away five years ago, though left a very interesting media legacy.
One of the few going from behind the scenes to actress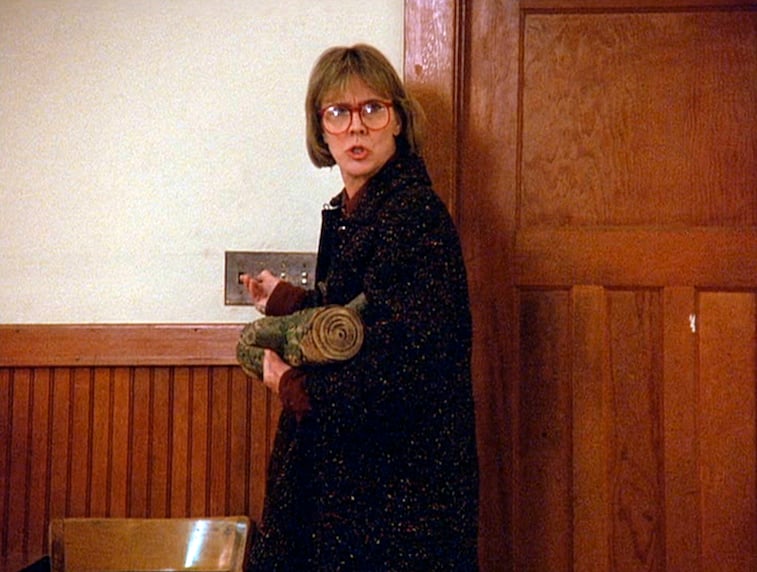 It's not often when you see someone helping to make movies go in front of the camera later in an iconic role. While there have been directors who've done this (or at least cameos), Coulson went from being an assistant camera operator on many top films to becoming an acting muse for David Lynch.
Not that Coulson didn't have acting experience. Living for a time in Ashland, Oregon, she was involved doing stage acting for the Oregon Shakespeare Festival during the time she met Lynch. Once associated with Lynch, she started doing various production duties for him, including as an actress.
Her first on-screen role was in Lynch's bizarre and gruesome short film Amputee in 1974. However, she'd already met Lynch in 1971 and immediately became simpatico with one another in the near avant-garde creative vision the director nurtured.
The devotion to making Eraserhead on a limited budget showed Coulson's commitment to sticking with Lynch through constant delays. Working on it for four years doing assistant camera and directing work, the end result was clearly more than worth it based on its cult status today.
Working on more mainstream movies
Despite Coulson's willingness to get very weird with Lynch's cinematic ideas, she started to become in demand as a skilled assistant camera operator. Throughout the 1970s and '80s, she was hired as a production assistant on many popular movies, including Modern Romance and Star Trek II: The Wrath of Khan.
She kept her association with Lynch going, but not until 13 years later. Coulson's work on other films made her too busy to participate in Lynch's other movie classics through the 1980s.
Not until 1991 did he hire her again as an actress as the Log Lady in Twin Peaks. According to most biographical information, Lynch had a dream vision of Coulson coddling a log back when they were making Eraserhead. He apparently had the role of Log Lady in mind for years before finally making it a reality when Twin Peaks debuted on ABC.
Outside of Coulson's memorable appearances in the role, she didn't stray away from her Oregon connections later.
Making an appearance on 'Portlandia'
Based on Coulson's attraction to the strange in film and TV, she probably found it apropos Portlandia would do the same. Since Portland always has the slogan of "Keep it weird", no wonder Coulson joined the show for one memorable episode in 2012 where she played a marionberry farmer.
She'd done more acting roles throughout the 2000s and into the 2010s, mostly since Lynch convinced her to come back as Log Lady (named Margaret Lanterman, incidentally). Her role was brought back in the theatrical Twins Peaks: Fire Walk With Me, plus in clips on the Showtime revival.
Her 2015 death from cancer just before the revival began was a shock, and it must have been a gut punch for Lynch. They seemed to be creative muses for one another from the early days, something that can feel like losing a limb when a loss occurs.