Twitter Is Dragging T.I. After Asking Boris Kodjoe and Nicole Ari Parker About Marital Secrets
T.I. has been having an interesting week and it all is related to his past marital issues with his wife, Tiny. Just recently, boxer Floyd Mayweather took shots at the rapper for their 2014 altercation after T.I. tried to fight Mayweather for an alleged affair with Tiny.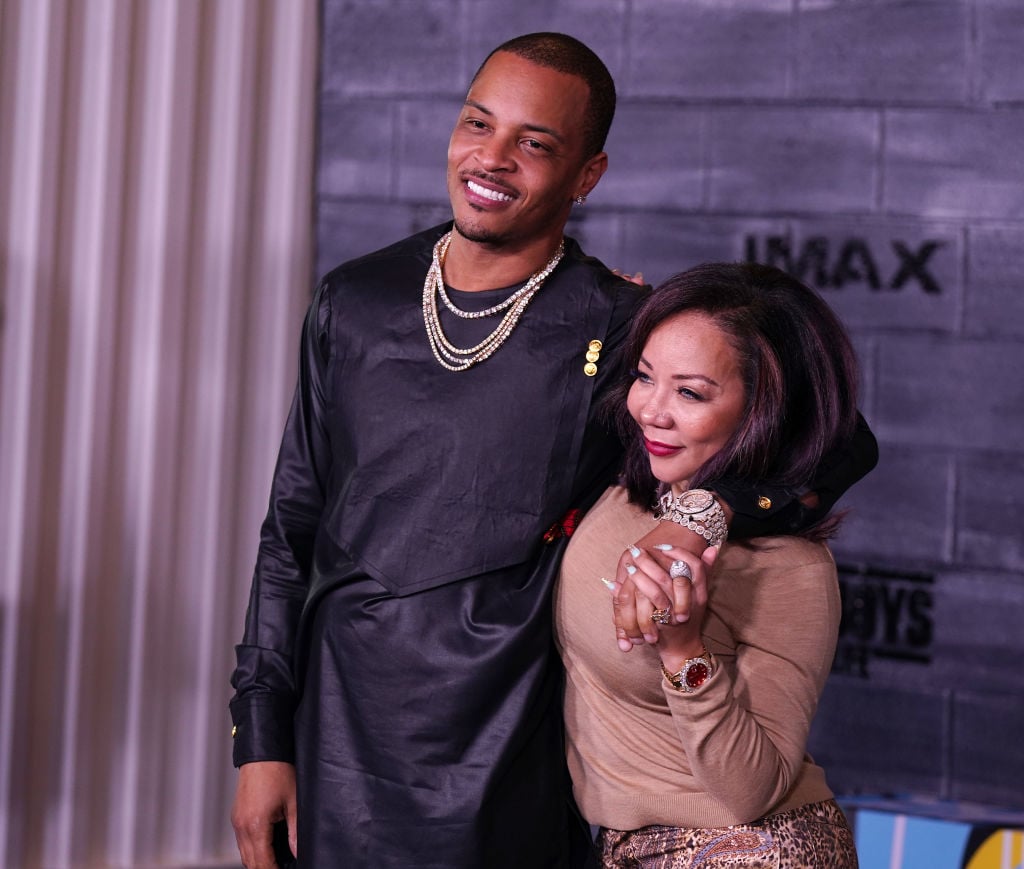 Now, T.I. is the butt of online jokes thanks to a recent podcast episode that features married actors – Boris Kodjoe and Nicole Ari Parker – sharing their secrets to marital success—-that does not involve infidelity. 
Boris Kodjoe and Nicole Arie Parker appear on T.I.'s podcast and discuss marriage 
Kodjoe and Parker appeared on T.I.'s popular podcast, expediTIously. T.I. and his wife Tiny shared the ups and downs of their marriage while also getting insight from Kodjoe and Parker on how they've managed to make their marriage last in such a fickle industry.
Kodjoe and Parker have been married for 15 years – while Tiny and .T.I. have been married for almost a decade. T.I. and Tiny have made headlines for cheating scandals, yet Kodjoe and Parker have had an opposite experience, seemingly clean of scandal altogether. T.I. and Tiny took note of their experience and spoke to the couple about they've come out unscathed. 
"I think that's how she [Tiny] got to be such a good human. Because of me f*cking up so much," T.I. told his guests in regards to Tiny forgiving him for his cheating ways.
After Kodjoe agreed, Tiny chimed in and redirected the conversation to pry into Kodjoe and Parker's marriage. "But my thing is, how do you keep it where it stays inside, stays in house," she asked. "I haven't heard any dirt on them."
Kodjoe's answer was both honorable and could be viewed as a dig to T.I.'s past indiscretions. " I don't think there's a lot of major dirt but we also respect each other enough that I would never want to embarrass myself or her or the kids or anybody," he declared.
Tiny joked that Kodjoe's answer proves he's an upstanding man – while T.I. joked that Kodjoe was perfect and he couldn't relate.   
T.I. dragged online after Q&A with Boris Kodjoe and Nicole Ari Parker
Listeners were both outraged and amused at the exchange on T.I.'s podcast. For starters, many couldn't believe that T.I. would make an assumption that there was any infidelity in Kodjoe and Parker's marriage as it has clearly been in his. 
"I'll never listen to that TI podcast but good on Boris Kodjoe for letting him know he's a piece of s**t without even having to say it," wrote another. 
"I'm cackling at the fact that TI thought he was finna bond with Boris Kodjoe over being a f***ing scumbag lmao. N***a must didn't watch soulfood the series. That chemistry was so real lol," one fan wrote while referencing Boris and Nicole's starring roles on the Showtime drama. 
Others were shocked that T.I. attempted to compare the experiences, as if all marriages are created equal.
"TI really sees him and Boris Kodjoe as equals…nah…Boris is FINE FINE and tall too…TI should've stayed quiet," another joked.
The overwhelming majority of listeners were more concerned with women not tolerating infidelity while urging men not to step outside of their marriages at all. 
"Lol listening to TI's podcast alongside Tiny with Boris Kodjoe and Nicole Parker as guests and lol lol lol it's two different couples in this world mayn," wrote one Twitter user. "May we all find ourselves in timeless & beautiful unions like Boris and Nicole and protect us from the messy that is TI & Tiny." 
"Sure hope he took heed to #BorisKodjoe's answer," one user commented.
T.I. hasn't commented on the internet's reaction since the clip has gone viral.