Twitter Users Freak Out Over Rumors of James Corden Replacing Ellen DeGeneres — 'Everyone Hates Him More Than Ellen'
Things are not going well for Ellen DeGeneres right now. The popular talk show host and comedian built her reputation on the simple mantra "be kind." However, many of her former employees and associates are coming forward saying it's all a big sham.
Multiple sources are claiming that The Ellen DeGeneres Show was a toxic work environment plagued by discrimination, bullying, and even sexual misconduct. The negative publicity surrounding The Ellen Show is so bad right now that rumors are swirling the host could be replaced.
There's just one problem: The leading contender for DeGeneres's replacement may be just as problematic as she was.
James Corden is a rumored replacement for Ellen DeGeneres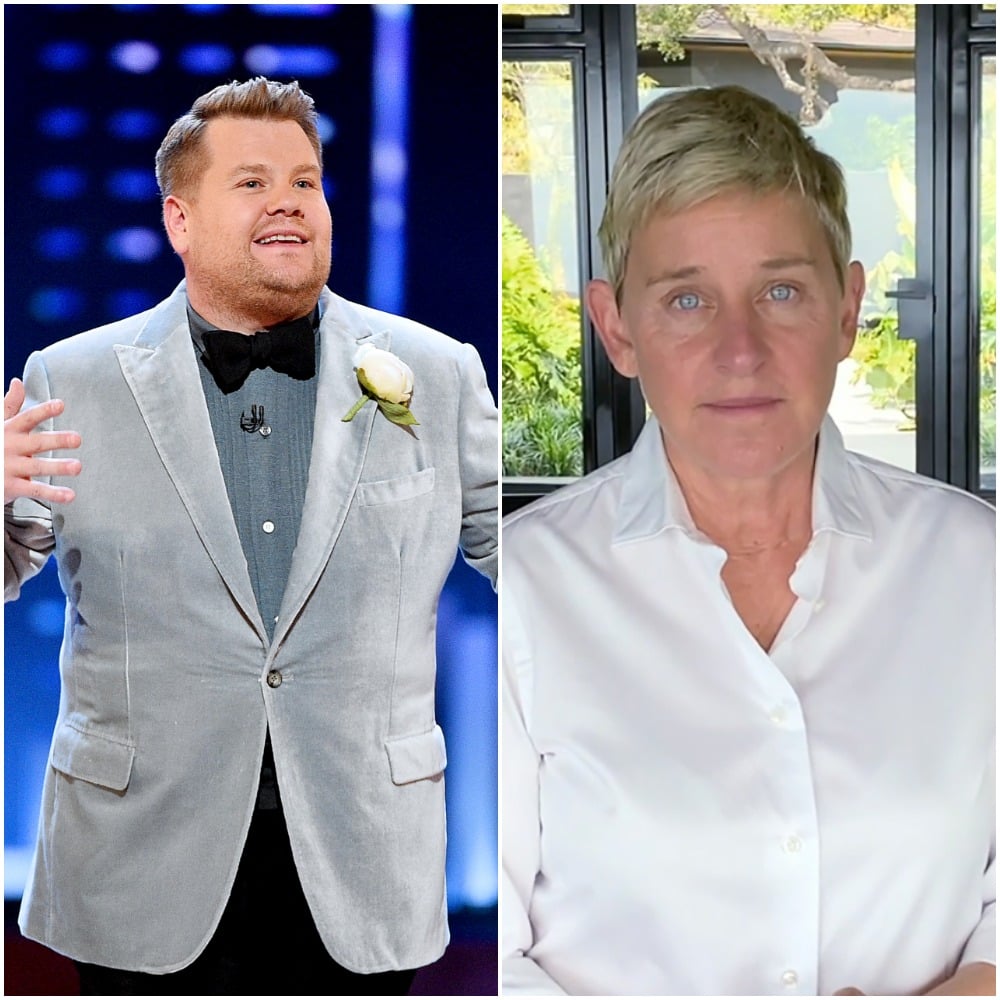 It seems impossible that anyone besides DeGeneres herself could host the talk show that bears her name. Still, that hasn't stopped the rumor mill from churning out an interesting prospective replacement for her: James Corden of The Late Late Show with James Corden and "Carpool Karaoke" fame.
The Sun reported that Corden is "in line" to replace DeGeneres. They said Corden "could be the shock winner after dozens of employees accused the $50 million-a-year presenter of turning a blind eye to racism, bullying, and sexual harassment on her hit daytime show."
The 41-year-old British actor and comedian already has experience hosting a talk show. But some critics are saying he'd make a terrible replacement for DeGeneres because many viewers despise him, too.
Many fans don't want to see James Corden take over 'The Ellen Show'
Corden's popularity makes him seem like a natural fit as a potential replacement. Twitter critics had other ideas.
"You fail to realize everyone hates [James Corden] more than Ellen," one user commented.
"THIS IS WORSE," another agreed.
"Ahhh…. Yes! Replacing a problematic TV talk show host with another problematic TV talk show host," a third wrote.
The entire thread was filled with comments slamming the news that Corden could serve as DeGeneres's replacement. "Lol replacing one awful person with another," one commenter said.
James Corden has a negative reputation, too
Interestingly, Corden stands accused of similar complaints that DeGeneres faced. One Twitter user shared a review someone wrote after attending a taping of his late night talk show.
"The biggest disappointment is that James seems more annoyed than happy with his job," the reviewer wrote, according to IB Times.
"As soon as cameras were off he checked his mobile, didn't even look at the audience. He got annoyed if something didn't work out and showed it. When the audience clapped for too long he got annoyed and made signs so we stop or vice versa. After the show he just left without a word or anything."
Ellen DeGeneres hasn't announced she's quitting her show
The Corden/DeGeneres debate might all be for nothing, though. Despite the rumors, there's been no official announcement that the talk show host is leaving her show or that anyone will need to replace her.
All communications indicate that DeGeneres will be returning to her show soon despite the ongoing controversies. One executive producer confirmed via Twitter that the show isn't getting canceled and there are no plans to replace DeGeneres as host.
Meanwhile, a third-party company is conducting an investigation of workplace conditions on The Ellen Show to hopefully address any issues that have come to light in recent weeks.