Tyga Lost His $2.2 Million Maybach After a String of Bad Financial Decisions
Fans of Keeping Up with the Kardashians may know Tyga as Kylie Jenner's ex-boyfriend, but he's much more than that. Not only is he a popular rapper and a TV star, but he's also been bad with his money.
Like his ex-girlfriend, Tyga likes fast, powerful, and expensive cars, but, unlike his girlfriend, he isn't as financially successful as Jenner has been. That hasn't stopped him from living a similar lifestyle like her, but it does mean that he's had to make some tough financial choices. Here's a look at how Tyga ended up losing his $2.2 million Maybach.
A brief look at Tyga's life and career
RELATED: Fans Are Suspicious of Kylie Jenner's Repeated Accidental Run-Ins With Ex Tyga
Like many hip hop artists, Tyga's career in the industry started young. In 2008, at the age of 19, his song, "Coconut Juice" debuted, and it featured him and his cousin, Travie McCoy of Gym Class Heroes fame, according to Celebrity Net Worth. This earned him a record deal, but his career didn't really blow up just yet.
It took him a few more years before he found mainstream success, but he did just that when his song, "Rack City," debuted. Not long after, he'd start dating a fellow artist, Blac Chyna, and a few years later, the couple separated. Along the way though, Tyga continued making hit songs and his albums continued selling well.
Then of course, at around 2014, he started dating Jenner, and from there, the media has been all over him and his relationship with the Keeping Up with the Kardashians star. While the two separated in 2017, Tyga's continued making music, and his latest album, "Legendary," has been a success as well. Celebrity Net Worth said that, in total, Tyga is worth about $5 million right now.
The story about Tyga's Maybach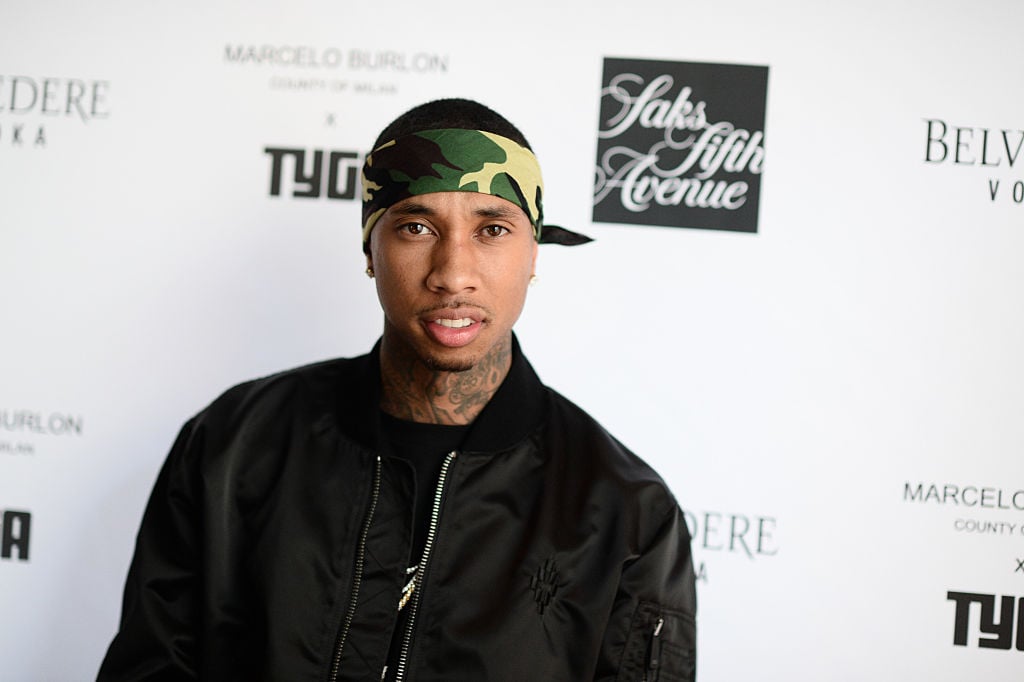 Tyga seems to be a big fan of Maybach, according to the Daily Mail. For Jenner's 19th birthday, he gave her a brand-new $200,000 Maybach. However, this may not have been a good idea, as he was in the middle of several six-figure lawsuits. This wasn't the first Maybach in his garage, though, and the Daily Mail said that in 2014, he bought himself an even rarer and more expensive Maybach.
That was a 2014 Mercedes-Maybach 62 S Landaulet. This extremely luxurious and rare car was worth $1.3 million but it wasn't enough for him. The Daily Mail also said that he brought his Maybach to West Coast Customs, one of the most famous car shops in the world, for additional work. This custom work cost him $900,000, which means that all in all, Tyga's Maybach was worth $2.2 million.
He has a net worth of $5 million, was involved in multiple lawsuits at the time, and had just bought his then-girlfriend a brand-new Maybach for herself. The math just didn't add up.
Tyga's Maybach gets repossessed
Tyga figured this out too, and according to the Daily Mail, he stopped making lease payments for his Maybach. As a result, it got repossessed. This wasn't the first time that the California-based rapper's exotic car got repossessed, either. The Daily Mail wrote that his Ferrari was repossessed a week before his Maybach was.
That said, the Daily Mail also said that both Tyga and Jenner said that his Ferrari did not get repossessed and instead, it was actually part of a prank. Jenner claimed that she hired some people to hide his Ferrari and then surprise him with a brand-new Bentley Bentayga, which is valued at $160,000.
This type of expensive gift-giving wasn't new to the couple. In fact, the Daily Mail also said that Tyga "becomes ill" whenever he's asked about how much money he spent on gifts for her.