'The Bachelorette': Tyler Cameron Just Lost $400 to Hannah Brown
Clare Crawley's season of The Bachelorette might be delayed, but former bachelorette, Hannah Brown, and her ex-boyfriend, Tyler Cameron, are keeping Bachelor Nation plenty entertained. The friendly exes have been spending time together in Jupiter, Florida (alongside other friends) and have named themselves the "Quarantine Crew." Tyler Cameron and Hannah Brown are quarantined together Although …
Clare Crawley's season of The Bachelorette might be delayed, but former bachelorette, Hannah Brown, and her ex-boyfriend, Tyler Cameron, are keeping Bachelor Nation plenty entertained. The friendly exes have been spending time together in Jupiter, Florida (alongside other friends) and have named themselves the "Quarantine Crew."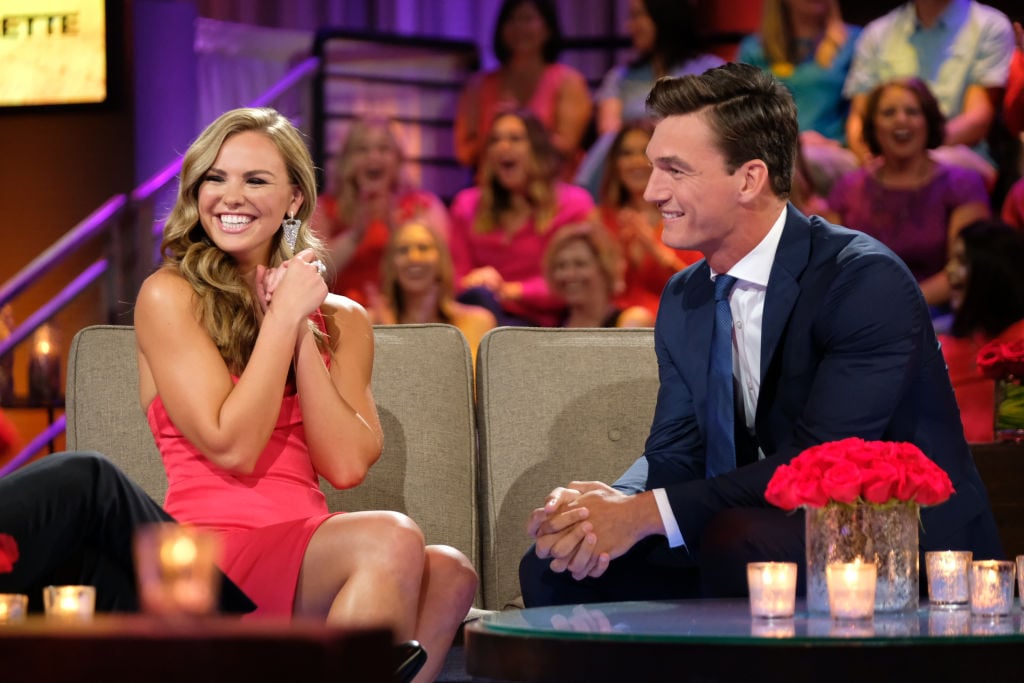 Tyler Cameron and Hannah Brown are quarantined together
Although the pair haven't dated for over a year, they have always been supportive of one another. Which is why when Cameron's mother died a few weeks back, Brown flew out to Florida to show Cameron and his family some moral support. The pair were already spending lots of time together, so when the government stated mandating social-distancing due to the Coronavirus (COVID-19) pandemic, Brown chose to stay put in Florida, rather than traveling back to California.
The bachelorette participates in a TikTok challenge
Forming the Quarantine Crew, Cameron, Brown and their six friends have been posting videos and photos to Instagram and TikTok that show how they are passing the time while in quarantine. Content includes daily workouts, trivia, games, dances, etc. Recently, Cameron and Brown even did a TikTok challenge where Brown emerged victoriously and managed to win $400 from Cameron.
"Alright, Hannah here's the competition. I got $400 here, right. If you can do everything I do, you'll get this money. Right there. Okay. You ready?" Cameron asks Brown before throwing the four-one hundred dollar bills down on the table. Cameron then proceeds to do a bunch of intricate hand movements. Halfway through, he takes a sip of water before continuing on with hand movements. Finally, he concludes by spitting the water (that he seemingly swallowed) back into the cup.
Brown won $400 from Cameron
But, instead of being surprised, Brown follows suit by calmly spitting her water back into her respective cup. "FU*K," Cameron declares playfully before Brown breaks out into giggles. "This was not supposed to happen like this," Cameron continues as Brown counts her newly-won money with a smile. Fans seemed to like this video even more than Cameron unsuccessfully teaching Brown how to say his name (Tyler) without her southern accent and made their feelings known on Instagram.
"You can't trick the beast twice 🤣 Get that money girl!!" one person wrote, championing Brown. "Never underestimate a woman," another Instagram user wrote. "Hannah is always up for a Challenge! 🤔 Queen Wins so King pays up,🤑🤑🤑🤑" another Bachelor Nation fan chimed in. Other people felt it prudent to show give Cameron and Brown thanks for the content they were delivering during this difficult time.
Fans on Instagram are loving the Quarantine Crew
"This is the BEST!! I just laughed out loud!! You guys keep us all smiling 😁 Thank you, honestly, from the bottom of our hearts 🙏❤️🇨🇦" one person wrote. "This is the only thing keeping me sane during quarantine," another person declared. "You guys are amazing. Thank you for brightening the hard days. Don't ever change,❤️" another fan wrote to Brown and Cameron.
Bachelor Nation is hoping the pair are secretly dating
Of course, many fans were less concerned about the bet and more interested in Cameron and Brown's relationship status. Although the pair have said many times that they are just friends, people are hoping that the copious amounts of time they are spending together will change that. "Having too much fun watching you two. This is a real relationship, not a bachelor one. Hope you guys get married one day. You will live life to the fullest if so," one person wrote. Whether Cameron and Brown will remain friends or not, it's great that they can offer support to one another during this time.