Tyler Cameron and Hannah Brown Tweeted At Each Other While Watching 'The Bachelor Presents: Listen to Your Heart'
Hannah Brown may have left The Quarantine Crew in Florida, but she's still having fun joking around with Tyler Cameron on social media. On April 27, Brown tweeted while watching The Bachelor Presents: Listen to Your Heart. Cameron replied to one of her tweets, showing the two friends know how to have fun together.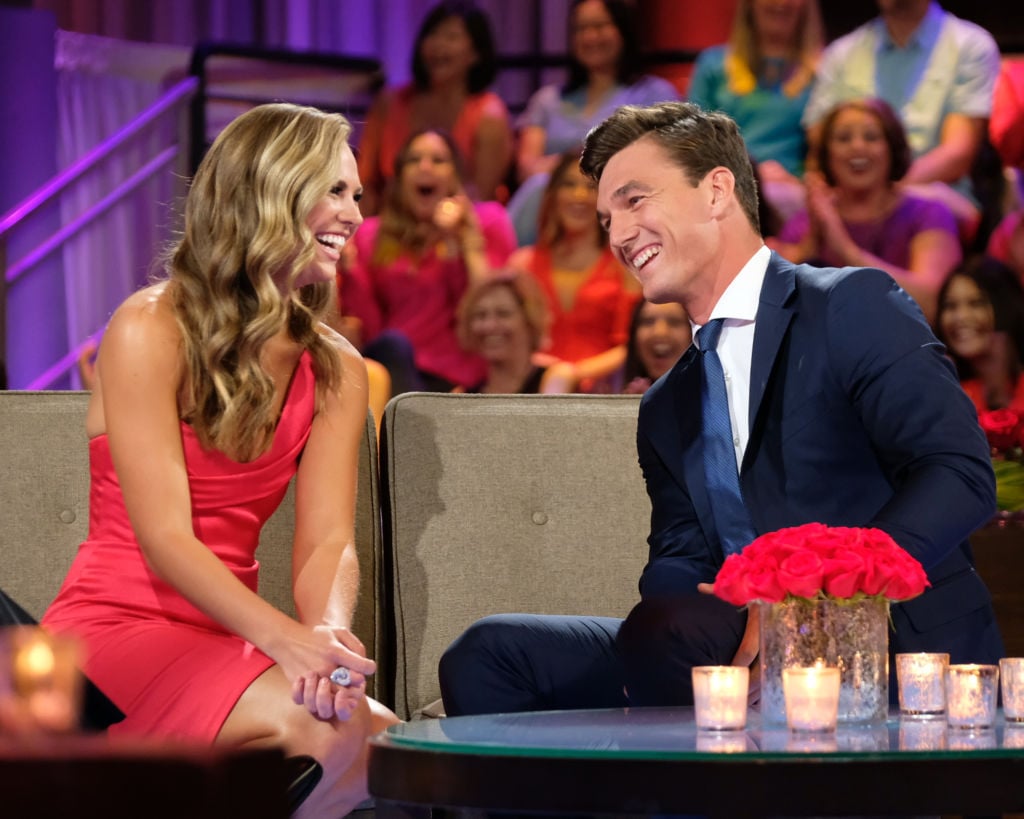 Tyler Cameron replied to Hannah Brown on Twitter
While watching The Bachelor Presents: Listen to Your Heart, Brown shared her opinion about contestant Julia Rae.
"I've got a hot take that a lot of y'all aren't gonna like, but I respect Julia. She speaks her truth and I respect that regardless if I always agree with what that is. #ListenToYourHeart," Brown tweeted in a Twitter thread.
She continued, "Also I thinks she been pretty clear in the nicest way possible to Sheridan that she's not all in and kinda feeling another dude. Sheridan is just not picking up what she's putting down. #ListenToYourHeart."
In another tweet, Brown wrote, "You're questioning everything Julia? Your eye roll and clinched jaw while Fabio tried to sing for you told me everything I need to know. Poor boy has no shot. #ListenToYourHeart."
Cameron then replied, "You are so observant Bzzzzzzzzzzzzzzzz."
Bachelor Nation loves Tyler Cameron and Hannah Brown
After Cameron replied to Brown's tweet, his replies were filled with fans expressing their love for the pair. Some fans like Brown and Cameron's friendship, while others tweeted about how they want the two to date.
One fan tweeted, "Homies are the best kind of friends!"
"Please date thanks," wrote a Twitter user.
"Just kiss already," a fan replied.
The two are adamant that they are just friends
While some fans who watched Brown and Cameron together on The Bachelorette want them to date, the two have made it clear that they are just friends. Earlier in April 2020, Cameron joined a Zoom call with fans of The Bachelorette. One of the fans who was present on the call recorded his appearance and posted it on TikTok.
When asked about Brown, Cameron replied, "The tea is we are friends. She's a good friend."
A Bachelor Nation fan account recently posted an Instagram story of a video where Cameron discussed his current relationship status with Brown.
"We're friends..it's been nice to be able to communicate and be friends again. We are able to talk, and you know, we're just starting off as friends and that's what it is right now," Cameron said. "And we're not in a place where we should be worried about dating or anything like that right now…but yeah, that's my homie she's my friend…But it's good to be back on good terms. She's a great person and I'm grateful to be able to call her a friend."
On April 14, Brown confirmed she is single in an Instagram Live.
"A lot of my friends, like, have babies, and they are the best moms, but I couldn't imagine it. Like, I'm not ready for that just yet. I mean, I could be. If something happened, I could be. But, I'm still trying to figure out my life and how it's changed," she said. "Also, you have to have a significant other for that, and I don't."