Tyler Herro's First Big Purchase After Joining the NBA Was for His Mom
Every young basketball player dreams of one day making it to the NBA. Yet even for those who prove talented enough to take their skills to the college level, going pro remains an even more elusive goal. According to data provided by the NCAA, only 1.2% of mens college basketball players end up getting drafted into the NBA.
Players who accomplish that unlikely feat almost always celebrate by making a few big purchases once they've signed their rookie contract. Most players spend their money on flashy cars, high-priced jewelry, and other coveted symbols of wealth.
Miami Heat rookie Tyler Herro took a different approach. Here we take a look at Herro's college and NBA careers, as well as the surprising way he chose to spend his first big paycheck.
Tyler Herro's background and college career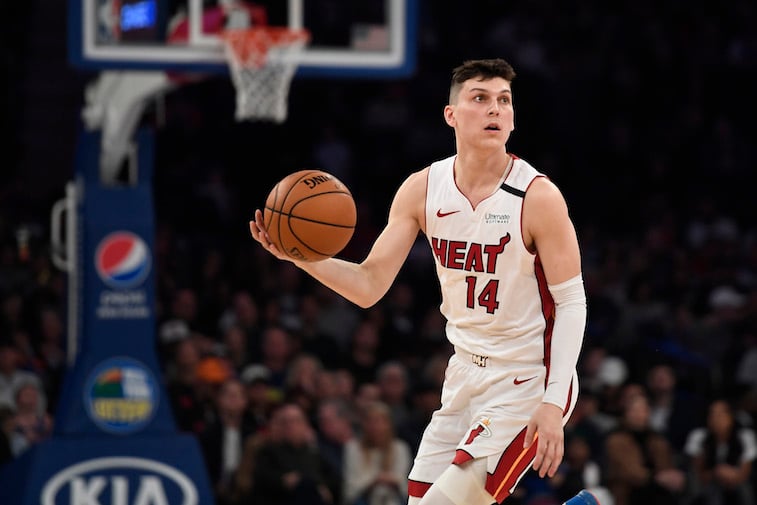 Herro was born to Jennifer and Christopher Herro in January 2000. He grew up in Greenfield, Wisconsin, a suburb of Milwaukee. Herro has two brothers, Austin and Myles, both of whom are younger than him.
A life-long athlete, Herro had a breakout season in his senior year at Whitnall High School, averaging 32.9 points, 7.4 rebounds, 3.6 assists, and 3.3 steals per game.
Naturally, Herro had numerous suitors among college basketball teams. In September 2016, he verbally committed to playing for the University of Wisconsin. He later reneged on that deal, instead choosing to join the far more competitive University of Kentucky. Wisconsin fans were irate, and for a while, Herro even received death threats.
Although Herro got off to a slow start with the Wildcats, he rounded into impressive form by the end of his single season at Kentucky. He averaged 14.0 points, 4.5 rebounds, 2.5 assists, and 1.1 steals per game, all while shooting 46.2% from the field and 35.5% from the three-point line. His silky smooth shot was seen as his greatest asset going into the draft.
Herro's rookie season in the NBA
The Miami Heat selected Herro with the 13th overall pick of the 2019 NBA draft. During the first 47 games of his rookie season, Herro primarily came off the bench. Of course, that hasn't stopped him from showing off the skills that made him such a coveted prospect. Any doubts about how Herro's skillset would transition to the NBA are long gone.
In 27.2 minutes per game, Herro is averaging 12.9 points per game, while shooting a blistering 39.1% from long-distance. Those contributions played a big role in making Miami one of the surprising contenders in the Eastern Conference.
At the time the NBA suspended play due to the coronavirus, the Heat had a two-game lead on the number four spot.
Herro's first big purchase in the NBA was for his mom
In July 2019 the Heat officially signed Herro to his rookie contract. The contract nets Herro $3.45 million during his first season, and a full $16.5 million over the course of the four-year deal. That's a lot of money to suddenly fall into a 20-year-old's lap.
Yet Herro showed a surprising degree of maturity and thoughtfulness when it came time to celebrate his newfound wealth.
According to an interview he did with GQ Sports, the very first thing Herro bought was a Gucci purse for his mother. That thoughtful gift set him back $5,000. Herro then turned around and bought himself two cars—a Jeep and a Mercedes—spending $200,000 on the pair. He also dropped $85,000 on a new wardrobe.
His subsequent purchases show that Herro isn't shy about treating himself to some well-earned swag. Yet by making his very first purchase a gift for his mother, Herro proved himself a kind and thoughtful person.