Tyler Perry Calls On Singers For Inspirational Song Challenge To Help Ease Anxiety Amid Coronavirus
Tyler Perry is asking all singers to participate in a new singing challenge to help ease fears about the coronavirus. Perry's asking for singers to post videos singing "He's Got The Whole World In His Hands."
Tyler Perry is known for including positive messages in his plays and films, normally revolved around his Christian faith and belief practices. As fear and anxiety kick in due to the coronavirus, he's using his platform to encourage others to hold on to their faith during this time.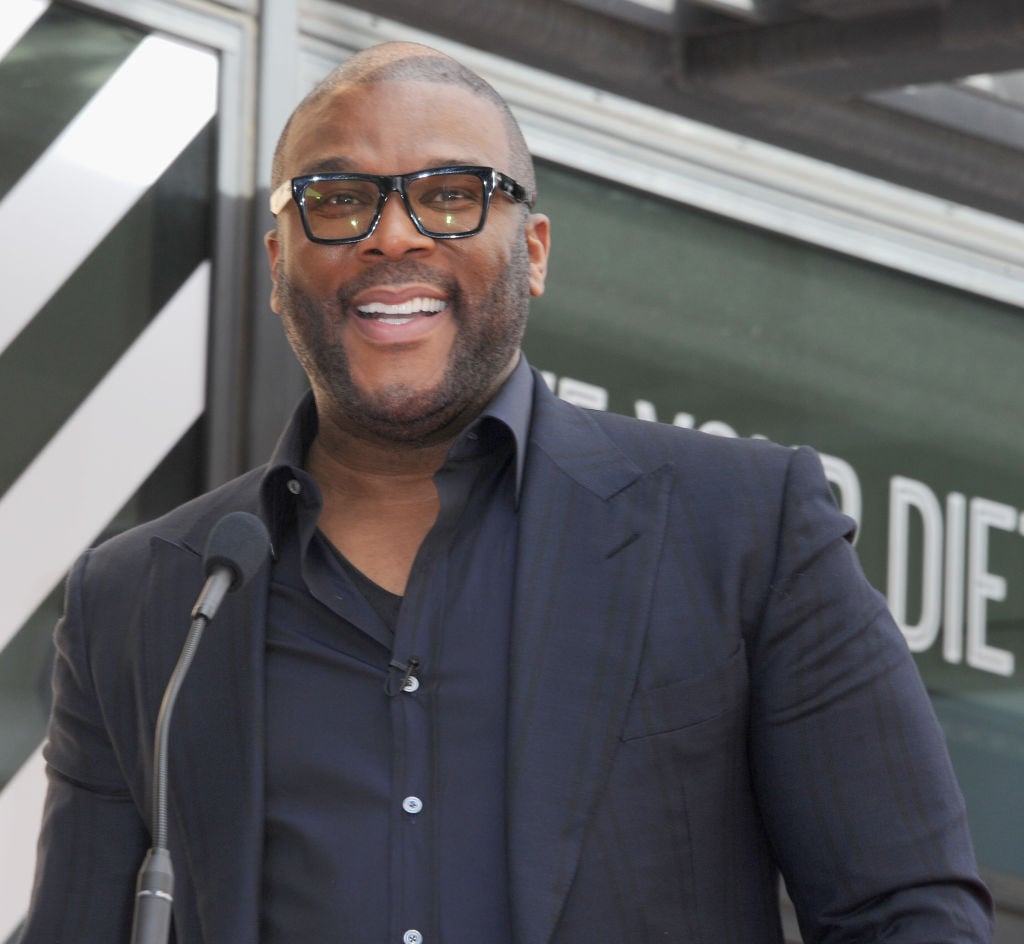 Perry is partnering with some of his favorite singers in a new song challenge, asking them to sing the gospel classic "He's Got The Whole World In His Hands" to let everyone know there's something of a higher power involved in all of this. 
History of "He's Got The Whole World In His Hands"
"He's Got the Whole World in His Hands" is a traditional African American spiritual, also known as "a Negro spiritual." The song is thought to be written by Master Sergeant Obie Edwin Philpot, though Philpot never received any royalties nor did he copyright it. The song was first published as a musical single 1927 but did not become considered a pop hit until British singer Laurie London's 1957 recording. 
Before London's version, the "He's Got the Whole World in His Hands" was first published in the hymnal Spirituals Triumphant, Old and New versions in 1927. In 1933, Frank Warner from the singing Sue Thomas in North Carolina collected and recorded the song. It was also recorded by other collectors, including Robert Sonkin of the Library of Congress, who recorded it in Alabama in 1941. Sonkin's version is still available today at the Library's American Folklife Center.
Warner performed the song during the 1940s and 1950s, and introduced it to the American folk music scene. It was an instant favorite and picked up by both American gospel singers and British and pop musicians.
London's 1957 version rose to #1 of the Most Played by Jockeys song list in the USA and charted at number three on the R&B charts in 1958. It went gold, selling over 500,000 copies, and was the most successful record by a British male in the 1950s in the U.S. It was the first, and remains, the only gospel song to hit #1 on a U.S. pop singles chart.
Famous gospel and soul singers, Mahalia Jackson and Nina Simone, also performed renditions of the classic. Jackson's version made the Billboard 100 at number 69.
Tyler Perry calls on singers for his "He's Got The Whole World In His Hands" challenge
Perry is known for including elements of faith in his stage plays and films. He uses comedy to grab his viewers' attention but always makes sure he sprinkles faith-based principles into all of his projects. As the hysteria around coronavirus spreads, Perry is urging many to hone in on their faith to help ease their anxiety. More so, he's asking singers around the world to participate in a singing challenge, there they post a video of themselves singing "He's Got The Whole World In His Hands" to promote a message of hope.
"It's my hope that we add to this simple song in every language from every nation as we let it become a prayer for our whole world! God bless you today. And remember it's all in God's hands," he captioned the video while tagging singers like David and Tamela Mann, Fantasia, Yolanda Adams, and Karen Clark Sheard who participated in the singing challenge. 
Several singers have participated while calling on others to do the same. Singer and Broadway star Deborah Cox posted with the caption, "Happy Sunday everyone! Psalm 31. God got us," while calling on Toni Braxton, Ne-Yo, Beyoncé, and Tamia.
Former The Voice contestant, MaKenzie Thomas, answered to Perry's call. She grew up singing gospel music in Kentucky and was trained by her grandmother. Thomas has said in the past that gospel music is her favorite genre and she looks forward to creating a gospel album. 
Singer Kenny Lattimore also shared his version. The singer recently married new Divorce Court host, Faith Jenkins. 
Tamar Braxton also chimed in and gave a glorious rendition while tagging her big sister Toni – and surprisingly, her former co-host of the daytime talk show The Real, Adrienne Bailon, to join.
Celebrities aren't the only singers showing off their chops to share positivity, everyday signers are also taking to Instagram to share their version as well.