Tyler Perry Went From 'Poor As Hell' To Billionaire Status
Tyler Perry is one of the most influential and popular men in comedy. He's directed, written, produced, and even acted in many extremely popular plays, TV shows, and films, and his characters like Madea have a universe of their own.
On top of comedy, Perry is also incredibly successful as a more serious actor and has held roles in films like Vice, Gone Girl, and Star Trek. With the massive success Perry has seen, he has to have a high net worth to match.
So how much money does Tyler Perry make from his career in entertainment? And where did he start out before creating Madea?
How Tyler Perry became famous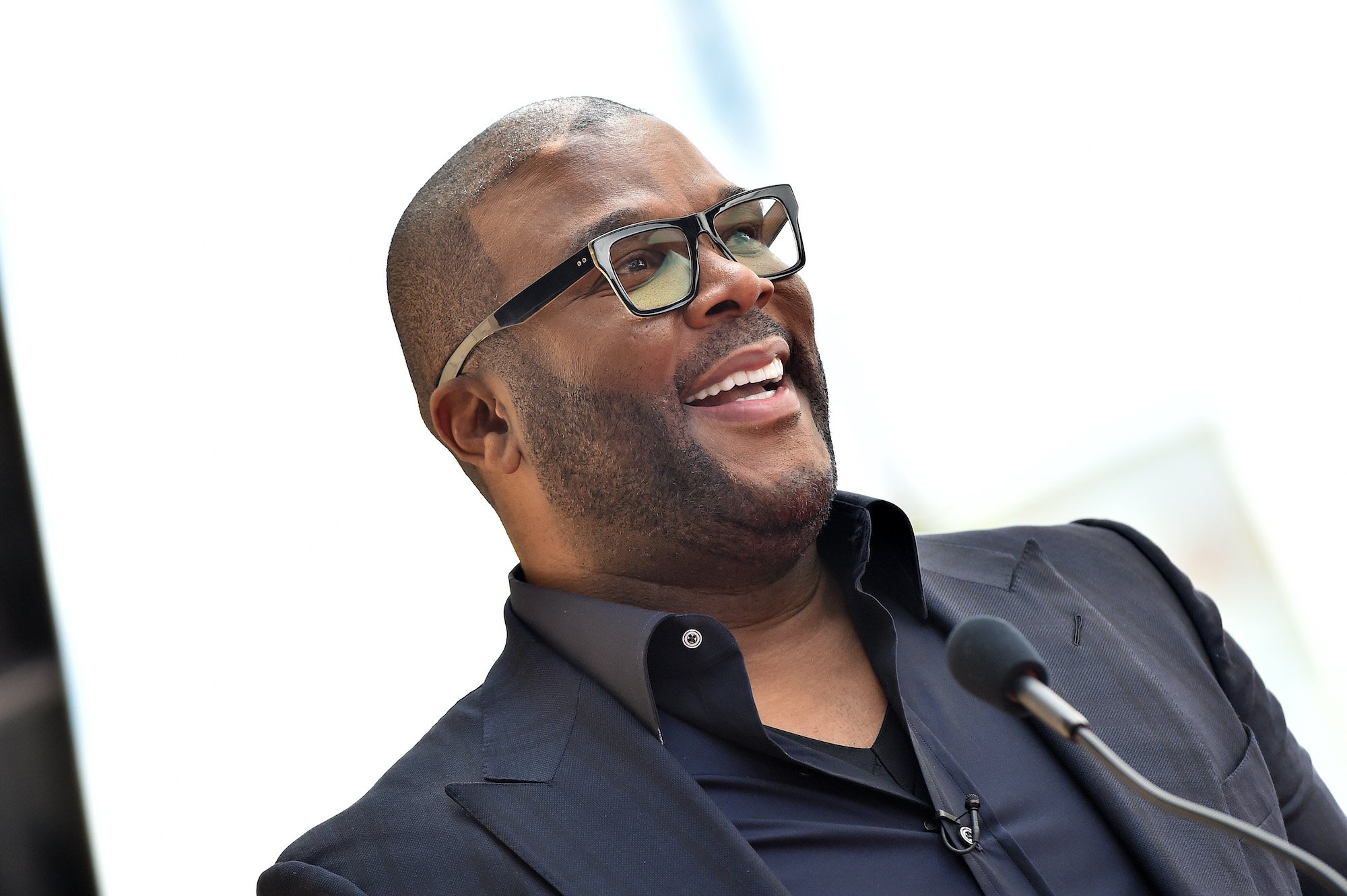 While most people probably know Tyler Perry for the Madea series of films, he actually has been a playwright since the 1990s, and that character first appears in Perry's 1999 play I Can do Bad All By Myself.
However, Tyler Perry's early life was marked by tragedy and mistreatment. The man Perry believed to be his father was highly abusive, and at a young age Perry faced sexual abuse as well — things no child should ever have to go through. Perry did have one major source of happiness in his youth: his mother's church.
Faith would continue to be important to Perry throughout his life, and it was part of what inspired his first play, I Know I've Been Changed, which started as a therapeutic writing exercise for Perry and addressed both the fulfillment he felt in his faith and the difficulties of his childhood. He financed the first production in 1992 with his life savings: $12,000.
It wasn't initially a success, but after six years of revisions to this play and others Perry had written were financially successful.
Madea and Tyler Perry in film
RELATED: Everything You Need to Know About Tyler Perry's New Shows on BET
Perry created his first film, Diary of a Mad Black Woman, in 2005. Revenue from his various stage productions helped fund the production of this highly successful romantic comedy. He continued to direct more films featuring his character Madea while acting in films by other directors.
In 2006, he also premiered his first sitcom, Tyler Perry's House of Payne, which has the most episodes of any TV show with a primarily Black cast.
By now, it's pretty clear that Tyler Perry is a major player in the entertainment industry. He definitely has to have amassed a fortune through his film and stage work — so how did he make that fortune, and just how much has Perry made?
How Tyler Perry became a billionaire
Tyler Perry's pre-tax income since 2005 has apparently reached $1.4 billion, which would most likely give him a net worth of over $1 billion. Tyler Perry recently signed a contract with BET for $150 million per year until 2025, which would increase his net worth by nearly another billion.
He also owns his own studio, which enables him to make even more money on film, TV, and stage productions. This is far from Tyler Perry's youth and young adulthood, when he grew up in poverty. In an interview with Forbes, Perry joked:
I love when people say you come from 'humble beginnings,'  [It] means you were poor as hell.
Perry's youth involved both poverty and abuse. He dropped out of high school and worked various jobs, from bill collecting to selling cars to hotel service.
This is how he made the money to produce his first play in 1992, but the initial failure was a huge financial blow that forced Perry to live out of his car for a time. But eventually, he saw success, and was launched even further when Oprah Winfrey invited Perry on her show in 2001.
By now, Perry is likely a billionaire and definitely a major figure in the entertainment industry. His past can only be described as tragic, but that tragedy and the times of safety and security in his mother's church pushed Perry to become one of the most influential comedy writers of the 21st century.
And despite the difficulties of 2020, Perry is still working to produce new media — a testament to his tenacity.