Tyra Banks Blames Jennifer Lopez and Halle Berry for Mistakes She's Made in Her Career
Tyra Banks has had a career that some models might dream of having. She's been featured in her fair share of Hollywood movies and television shows, and she's also hosted several successful shows of her own. Her critically acclaimed, The Tyra Banks Show, lasted for four seasons from 2005-2009. In addition to her own show, Banks hosted the CW's popular, America's Next Top Model, which lasted 24 seasons.
Right now, the legendary model and producer is currently lending her hosting talents to Dancing with the Stars. As successful as her career has been, however, Banks has admitted to quite a few missteps. And she blames some of those missteps on her contemporaries, Jennifer Lopez and Halle Berry.
Why Tyra Banks blames Halle Berry for her career mistakes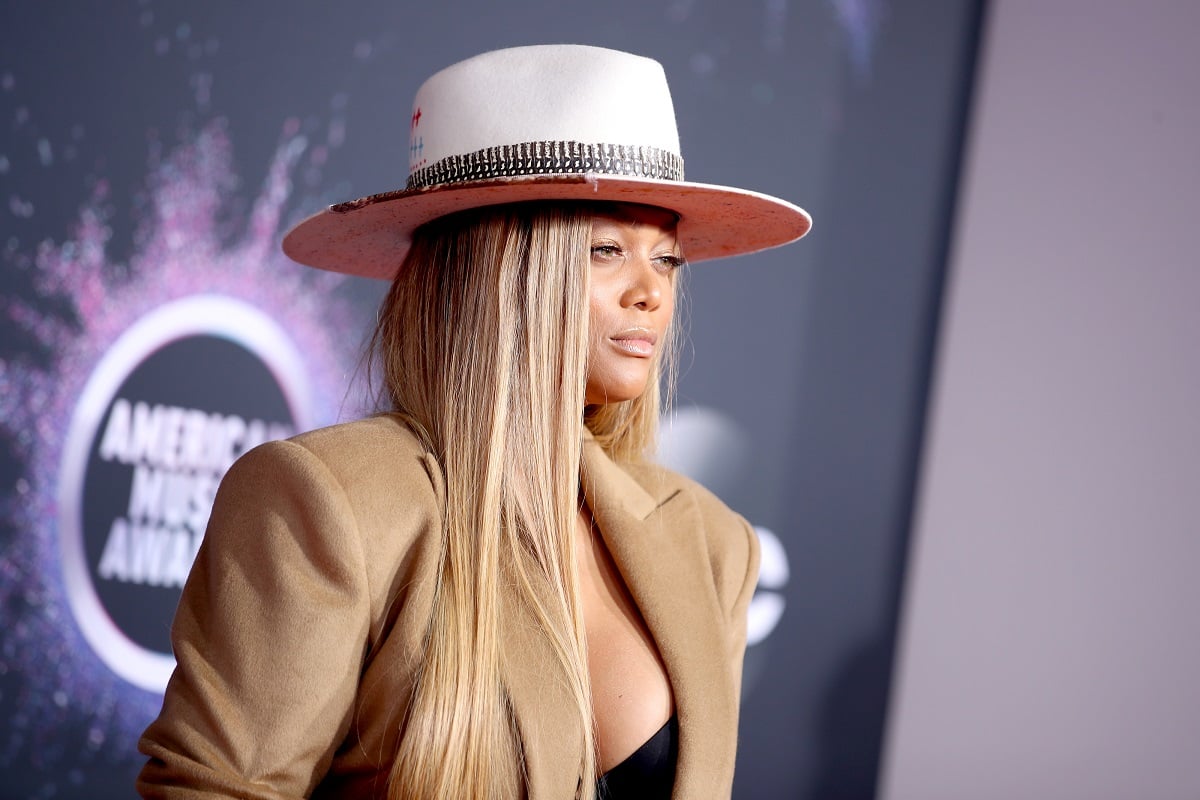 Tyra Banks was strutting her way to the top of the modeling industry. From Marc Jacobs to Victoria's Secret, Banks was on her way to the kind of megastardom that many models aspired to achieve.
Eventually, Banks transitioned into acting. She made her acting debut in Will Smith's Fresh Prince of Bel-Air. From there, she was featured in movies like Higher Learning, Love Stinks, and Love & Basketball.
One of her most popular roles was as Eve in the Disney movie, Life-Size. In the 2000 film, she starred opposite of Lindsay Lohan as a doll that's magically transformed into a real person. The film was successful enough to warrant a sequel, but Banks originally declined because she wanted to model her career after Halle Berry.
Berry also started out modeling before transitioning to television, and the star largely credits her role as a drug addict in Spike Lee's Jungle Fever for making that transition possible. It was a path Banks wanted to follow.
"Yeah, Halle Berry, I have a bone to pick with you, lady," Banks said in an interview with Buzzfeed. "I was like, Oh my God, she went from being this beauty queen, and then she played a crack addict in a Spike Lee movie and got all this respect. So I told my mother, 'I need my crack addict piece.'"
Her mother, however, believed that this wasn't a good idea.
"My mom said, 'You're making the biggest mistake of your life. People want this, this could be a huge franchise, you should do it,' and I passed," Banks revealed.
However, Banks circled back to the role 18 years later with Life-Size 2.
Tyra Banks also blames Jennifer Lopez
Banks revealed she also tried to shape her career after Jennifer Lopez. The model briefly indulged in a singing career because of Lopez's success in the genre.
"I was like, 'J.Lo did it,'" Banks said. "I was like, 'She did it, so I'm gonna' transition from modeling to singing.'"
She collaborated with several powerful figures in the music industry like Wyclef Jean and Pharrell. Although Banks had the talent of a singer, she might've made a bad impression when working with Pharrell due to the rapper's good looks. When she met Pharrell in person, she couldn't help but be distracted by the former Neptunes artist's features.
"I get in the studio, and I see his fine ass through the glass. And it's Pharrell and he's a hit-maker," Banks said.
Unable to overcome her attraction to the singer, Banks admits, "I couldn't finish the song."
How Tyra Banks got started in the industry
The idea of modeling was given to Tyra Banks at an early age, and it was thanks to a random encounter with a girl while Banks was in school.
"A girl came up to me on the first day of school and was like, 'You look like a model,'" Banks said in an interview with Howard Stern. "I was like, 'What?' She was the first person to ever tell me that."
She was 13 when she was originally approached for modeling, and waited until she was 15 before auditioning for modeling agencies. But because of her unique looks, and being African-American, she initially had difficulty getting her foot in the door.
"I walked into the agencies and a lot of them were like, 'Oh, we already have a black model. I'm sorry,'" Banks revealed.
Banks eventually found an agency that was willing to hire her in LA Models. But even after starting in modeling, Banks kept up with her education. She was accepted to every college she applied to and had aspirations to write for film and television. But at the same time, she was discovered to go to Paris to further advance her modeling career. Banks went to her mom for advice.
"My mom said, 'Follow your heart. I support you in whatever,'" Banks said.
Banks chose to model full time, and her rise to fame and fortune had officially begun.
RELATED: 'Dancing With the Stars' Fans Love the Show's Judges, Roast Host Tyra Banks