Tyra Banks Gets Personal With Vanity Fair
As a teenager growing up in California, Tyra Banks launched her modeling career. Before long, she transitioned to acting on both television and in motion pictures. By 2003, she had co-created her first show, America's Next Top Model, which became an instant hit. Now, the supermodel turned media mogul has a new docuseries called Beauty, in development. While more of the show's details are forthcoming, Banks stopped by Vanity Fair to spill a few personal secrets.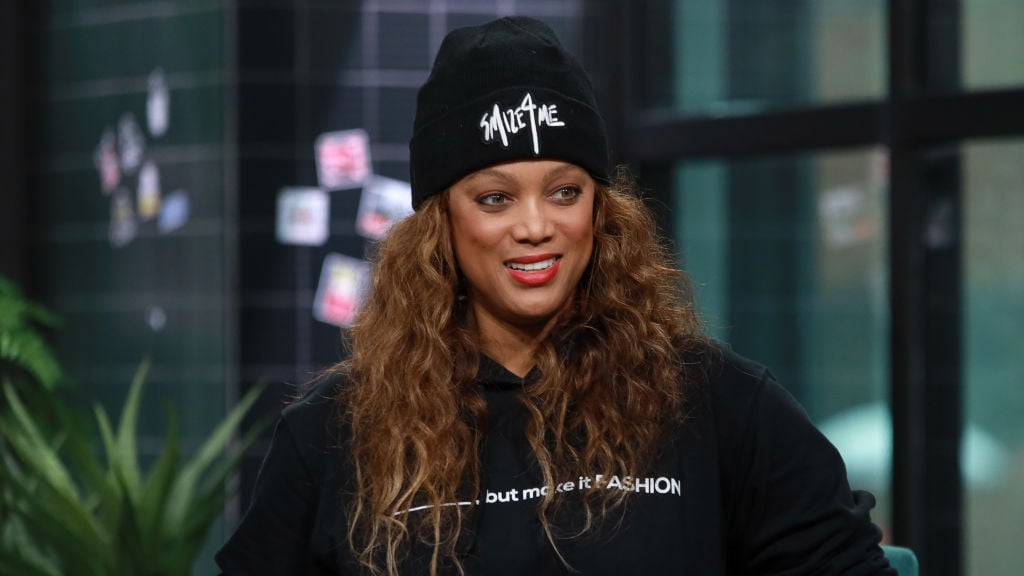 Tyra Banks on family
Vanity Fair posted a short video called Tyra Banks Answers Increasingly Personal Questions as the Camera Moves Closer to Her Face (seen below). The title is certainly a mouthful, but the sentiment is on-the-nose. The vignette gives fans an intimate look inside Banks' life and livelihood.
Related story: Terry Crews Reveals His Favorite Wayans, His Least Favorite 'Star Wars', and More in a Vanity Fair Lie Detector Test
The interviewer begins by asking Banks about her family. She lights up as she reports that both her mother and her son, York, are doing well. The star shares that her bed is "the most comfortable place in the world" for her son, then goes on to describe her mother, Carolyn London.
"My mama is crazy. My mama's got so much personality. She is the fun grandmama. My mama tells me about the Drake song before the Drake song is on the radio." Banks says that both she and her son have her mother's sense of humor.
Besides her infectious sense of humor, London shared valuable life-lessons with her daughter. In an earlier interview with Us Weekly, Banks said that her mother helped her to achieve body positivity at a young age, and those teachings still impact Bank's life today.
London has dropped loads of wisdom over the years. In the video, Banks tells Vanity Fair that as a child of divorce, her mother taught that love is "shared interest and not need."
Tyra Banks on Sports Illustrated
Banks' concept of "smize" means to "smile with your eyes." The model shares that the first person to tell her to smile with her eyes was Julie Campbell, the editor of Sports Illustrated Swimsuit Edition. Allure notes that Banks made history twice in the long-running publication, once in the mid-1990s and again in 2019.
In 1996, Banks broke the ceiling as the first Black woman to land a solo cover of Sports Illustrated Swimsuit Edition. In 2019, she came out of retirement at the age of 45 to bust more barriers as the oldest woman to ever grace the cover of the magazine.
Tyra Banks on business
Banks goes on to speak about juggling her multiple business ventures, including talk shows, modeling, education, and entrepreneurship. She sums up her investment strategy in one sentence:
"The bigger the risk, the bigger the reward."
Banks may have taken significant risks in business, but when it comes to her modeling career, she sticks to a few hard and fast rules. Banks won't book shoots with frontal nudity, alcohol, or cigarettes. She also has a policy against modeling with birds, fish, and cats.
During the interview, Vanity Fair gives Banks an opportunity to plug her ModelLand Theme Park for would-be fashionistas who want to live their fantasies. She admits that thoughts of ModelLand and "making sure people are wowed when they come" keep her up at night.
Tyra Banks on life
Banks gets increasingly intimate with Vanity Fair as she opens up about feeling uncomfortable with small talk. She also confesses that her modeling agent threatened to drop her if she didn't lose 25 pounds. Throughout the video, Banks shares her thoughts on tough love, carrying flats in her handbag, emotional abuse, and looking to the future, among other things.
In a classic interview with Oprah Winfrey, Banks told her story of abuse that she endured while in a relationship. Now, over a decade later, she projects an air of confidence, strength, and love.
Banks closes the Vanity Fair piece, saying, "I want to leave this world more uniquely beautiful than what it is today."
Read more:Jameela Jamil Channeled Samantha from 'Sex and the City' for Her New Disney Role