UFC Champ Conor McGregor Says He Loves People But It's 'Not Easy Being in the Public Eye'
Conor McGregor is one of the most famous athletes in the world right now. McGregor's nickname when he's fighting is "The Notorious,"
Conor McGregor is one of the most famous athletes in the world right now. McGregor's nickname when he's fighting is "The Notorious," and he's certainly as notorious outside the UFC as he is inside it.
Despite his fame and popularity though, he has some reservations about it all. 
Conor McGregor's career so far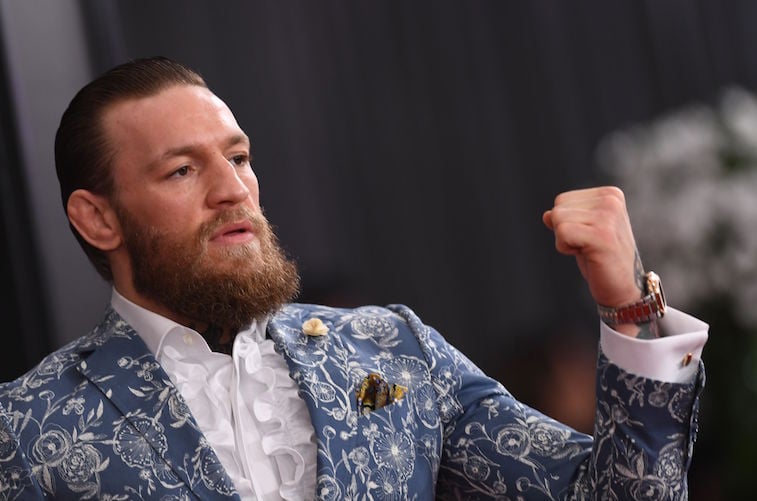 McGregor's rise to fame wasn't an instant one, though many could've predicted it. He was a loud-mouthed fighter who wasn't afraid to back up his trash talk with his heavy hands.
He wasn't just spitting incoherent insults either; McGregor was charismatic on the mic and he had a way with words that few people in the UFC have. With his mic skills, he sold himself as an entertainer to the fans, and with his hands, he knocked his way out to the top of the UFC.
Perhaps the moment that sent McGregor to superstardom was when he won his first real championship by knocking out the defending champion, Jose Aldo, in 13 seconds flat.
This was the fastest championship win in UFC history, and McGregor instantly became a notorious name. It didn't take him long to capitalize on his fame and participate in bigger and bigger fights. 
After he fought Floyd Mayweather in one of the biggest boxing matches of all time, McGregor's popularity hit a new high. But soon, he'd find himself in some new lows. 
A most violent year
Between early 2018 and early 2019, McGregor's career took a turn for the worst. McGregor isn't undefeated, and in late 2018, he lost to Khabib Nurmagomedov. But that wasn't even the biggest news story for him. In that year, McGregor committed so many crimes, both alleged and proven, that his fame, popularity, and goodwill with the public took a nosedive. 
Likely the most infamous incident was when a camera at a bar in Ireland caught McGregor sucker-punching an old man. The reason why McGregor did that was arguably worse.
McGregor offered a shot of his own whiskey to the man, but the man turned him down. McGregor, infuriated, punched the man on the head before his team pulled him out of the bar. 
McGregor apologized for this act, but it wasn't over yet. McGregor is also allegedly under investigation for two separate sexual assault cases in Ireland. While nothing has been proven in the court of law in that regard, it hasn't stopped people from asking McGregor about those accusations.
This recent media limelight has caused McGregor to take a new approach to his public image.
Conor McGregor is a man of the people
As McGregor told Bleacher Report, he loves helping people because he has the story of a man who received a lot of help himself. Like McGregor said, a few years ago, he was training to be a plumber and receiving welfare checks from the Irish government. This welfare helped him survive as he pursued his dreams, and look at where he is now. 
Because of this, he enjoys doing charitable work whenever he can. But at the same time, like he told Bleacher Report, he doesn't think that it's easy to be under public scrutiny all the time. But he still loves it, because he says that the people, "gives me great energy."
This is especially true for his home country of Ireland, which McGregor says, "I love Ireland, its land and its people. I was born here, I will raise my children here, and I will die here."
As for how he responds to his past actions, alleged or not, McGregor's taking the high road of apologizing when he's at fault, and, as Bleacher Report said, not talking about his alleged sexual assaults otherwise.