These Are 'The Umbrella Academy' Season 2's Best Musical Moments
If there's one thing fans adore about The Umbrella Academy, its the show's spectacular soundtrack. One of the most popular moments from season 1 is when all of the Hargreeves siblings dance to Tiffany's "I Think We're Alone Now." With season 2 upon us, there are plenty of other musical moments to behold. (Spoilers for 'The Umbrella Academy' Season 2 ahead.)
'Right Back Where We Started/'My Way'
Season 2 kicks off with back-to-back music moments. The first comes as each Hargreeves sibling lands in Dallas, Texas in the 1960s: First Klaus in '60, then Allison in '61, Luther in '62, then Diego, Vanya, and Five in consecutive months in 1963. The scene is set to the song "Right Back Where We Started From" by Maxine Nightingale, which also serves as the episode title.
As Five realizes where he is — smack dab in the middle of the apocalypse, again — "My Way" by Frank Sinatra begins to play. Each of his siblings takes on the Russian soldiers as nuclear bombs start to fall. Five narrowly escapes with Hazel just as they land, killing the remaining Hargreeves. It's a fun start to the season.
'Twistin' the Night Away'/'Bad Guy'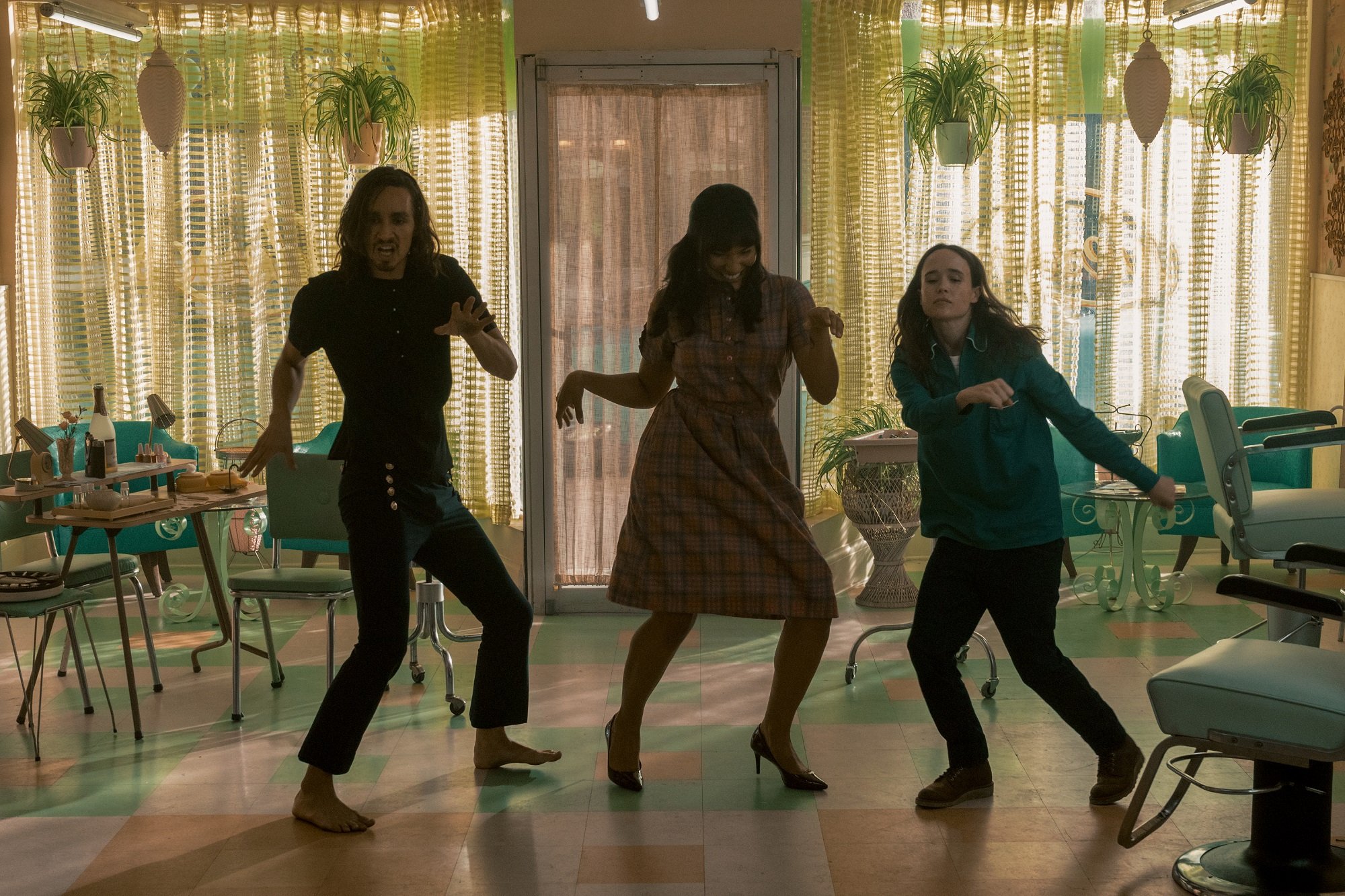 In episode 5, "Valhalla," Vanya, Klaus, and Allison get in some bonding time. Sam Cooke's "Twistin' the Night Away" comes on the radio, and they dance around Allison's salon with some time-specific moves. The single was released in 1962, making it perfect for the year in question.
In the same episode, Five tracks down Lila. The two go head to head as a cover of Billie Eilish's hit single "Bad Guy" plays. Whereas the Grammy-winning pop star's original track is a juxtaposition of her dark vocals and the upbeat first half, the version by ska band the Interrupters leans into the fun side of the song, speeding up the pace a bit.
'Everybody (Backstreet's Back)'
When it comes to his cult, Klaus imparts wisdom on his followers in the form of song lyrics from their future, such as TLC's "Waterfalls." In episode 7, he — err, well, Ben — finally says goodbye for good. When asked for any last words, he tells his disciple, "Oh my God, we're back again. Brothers, sisters, everybody sing…"
If those words look familiar, it's because they're the opening lyrics to the hit single "Everybody (Backstreet's Back)" from the popular '90s boy band, the Backstreet Boys. The music kicks in then, as Ben/Klaus leave the cult as one. They meet up in the alley with Luther and Five. Meanwhile, Allison and Ray fight off the Swedes.
'Dancing with Myself' 
Five has something of an identity crisis in the latter half of season 2. He comes face to face with himself — that is, his younger self, the adult version of him who jumped from 1963 to 2019 in the pilot. Only he did it wrong, which is why the current Five is stuck in the body of a teenage boy.
The two Fives develop a bad case of paradox psychosis, and despite making a deal to help one another, engage in a teleportation battle in episode 9 "743." Never afraid to be too on-the-nose, this The Umbrella Academy scene is set to the tune of the hit Gen X number "Dancing with Myself."