'The Umbrella Academy' Season 2 Episode 10: 'A Happy Family' of 'Dangerous People'
Season 2 of 'The Umbrella Academy' concludes with a few big surprises. Here's what happened in the finale episode, 'The End of Something.'
The Umbrella Academy Season 2 concluded with a battle, of course. The Hargreeves siblings are wanted in connection with the events of the past several days, and they still have one more foe to take down. Here's what happened in The Umbrella Academy Season 2 finale, "The End of Something" (spoilers ahead).
On the lam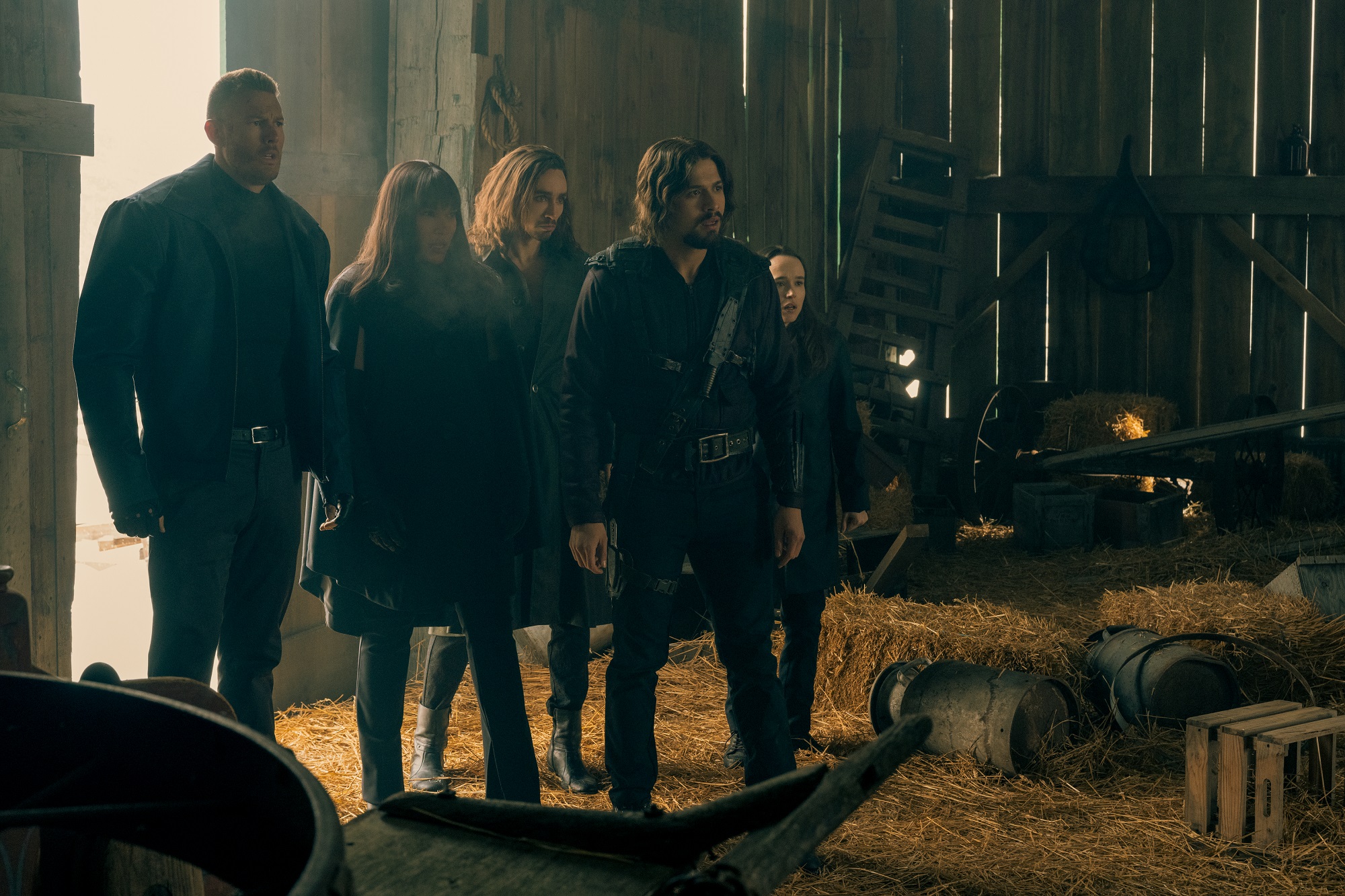 The last time the Hargreeves were in this much trouble, it was with their dad. At Ben's funeral in 2006, Reginald blames the remaining teens. While Vanya tries to assuage them, they all point fingers at one another. Except for Klaus. He uses his power to contact Ben, who says he was supposed to go into the light. Klaus says he can go at any time.
In 1963, everyone argues about what to do next. Vanya finally realizes she and Harlan are linked, and she asks her siblings to go with her to help him. First to join her is Klaus, who she talks to about Ben. She puts him at ease, telling him Ben chose to stay with him all those years. Once all of the Hargreeves are packed in the car, they drive away. The remaining Swede follows them.
Lila's true power
While Vanya tries to help Harlan, Lila and the Handler arrive. They call in all of the Commission's assassins. Gunfire rains down, and Vanya takes them all out. But in the middle of it all is Lila and the Handler, who are protected. Lila emulates Vanya's powers. The Hargreeves realize she is one of them.
Lila proceeds to use her ability to copy powers with each of the siblings in turn. We've already seen her fight like Diego, but now she throws Luther out a window. She rumors Allison, preventing her from breathing (Luther gives her mouth to mouth). She even engages in a teleportation battle with Five.
Time travel gone right
While fighting Five, Lila learns the truth about the Handler. Diego and the rest of the Hargreeves explain that she must have hunted Lila down and faked the kill order on her parents to collect her the way Reginald collected them, and is doing the same with Harlan now. They say they'll be her family.
Just then, the Handler comes in and shoots all of the Hargreeves. Lila confronts her, and she turns on Lila, killing her too. Then the Swede comes in and kills her. But Five, still alive, uses his power to turn back time a couple of minutes. He saves his siblings and Lila, and the Handler still dies. Lila disappears with the Handler's briefcase. The Swede and Five call a truce.
The Sparrow Academy
Everyone wraps up their time in 1963. Vanya takes back her power (or does she?), but Sissy won't go with her to 2019. Ray finds a note from Allison. Dave deploys. Ruby gets his gun ready to kill Lee Harvey Oswald. Herb is acting chairman of the Commission. It's time for the Hargreeves siblings to go home.
The only problem? They've caused some changes. In 2019, the Umbrella Academy is the Sparrow Academy. Reginald is still alive, and while he knows who they are, they're not the kids he adopted. Those now-adults reveal themselves, led by none other than a very much alive Ben.