'The Umbrella Academy' Season 2 Episode 2 Recap: 'Don't Go Chasing Waterfalls' — Or Fathers
In The Umbrella Academy Season 2 premiere, the Hargreeves are transported back to the early 1960s in Dallas, Texas. The second episode sees two of them come together, and others make connections. It also reintroduces a character thought to be deceased. Learn more with this recap of The Umbrella Academy episode "The Frankel Footage." (Spoilers ahead.)
Daddy dearest
Picking back up where the last episode left off, Luther explains that Jack Ruby takes care of him, and returns to his job — throwing out a drunk man, who happens to be Carl, the man whose family Vanya is staying with. She comes to pick up for Sissy, and Luther sees her. He later follows her to her house, and, when he sees she doesn't recognize him, apologizes for his past mistakes, and leaves.
As Luther goes to take care of Carl, Five discovers a tape in his jacket pocket, seemingly put there by Hazel before he was killed. He takes the Frankel footage to Elliott, who develops it. After Five convinces the escaped patients Diego and Lila to join him, they watch the video and learn that their father, Reginald Hargreeves, was there on the day of Kennedy's assassination.
Missed connection
The cops come to Allison and Ray's house to arrest him, even though she's the one who hurt the man up outside the shop in the previous episode. She is about to use her power but decides not to. Allison goes down to the police station but isn't allowed to see him.
Also in jail? Klaus, who we learn was a cult leader. He imparts the wisdom of TLC on one of his "followers." Klaus also gets acquainted with Ray in the next cell. After he gets out, Allison comes to the jail to see Ray, who tells her they have to make the sit-in happen without him. She also recognizes the follower's hand tattoos, which match Klaus'.
Vanya gets a piece of her puzzle
Vanya is playing with Harlan, and Luther pulls up at the farm — he found the address from Carl's wallet left at the club. Luther confronts her, but when he realizes she doesn't know who she is, he apologizes for how he kept her locked away, resulting in Pogo's death and the apocalypse. Sissy chases him away with a gun.
Later, Vanya and Sissy talk about her memory and Luther. Sissy looks at her hand and notices her callouses from playing the violin. They have another sexually charged moment, and Sissy goes to bed. Vanya sees visions of her past. She leaves the house and takes the car.
An old friend and an old enemy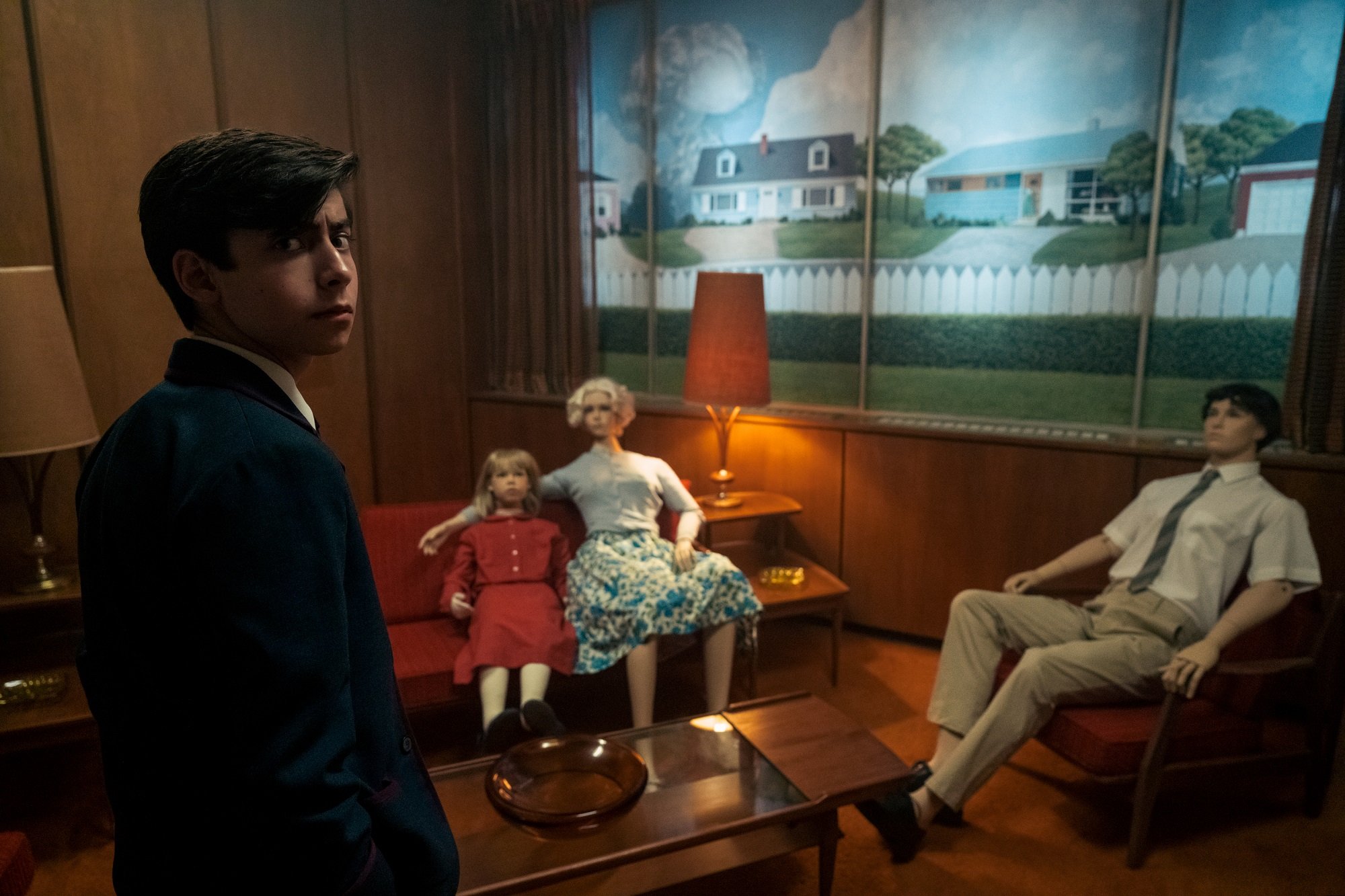 Diego and Five argue about whether or not their dad killed Kennedy. They find his address under D.S. Umbrella in the phone book. Lila is worried that she's losing her mind after seeing a video from the future. Diego comforts her and tells her there are just some things we don't understand.
Diego and Five go to the location. Five find some bizarre things, including a note from the consulate of Mexico. He comes in contact with a Baby Pogo, who injures him and runs away. Diego follows a man dressed like Reginald in the video. They fight, and as Diego sees his dad's face, Reginald stabs him. He walks away, calling for Pogo, and leaves.
The Handler returns
The episode begins with a flashback to the Handler getting shot by Hazel. She's about to be cremated when she wakes up. Months later, she arrives back to work at the Commission. The only problem? She's been demoted. She finds herself at Five's desk from when he worked there.
Speaking of the Commission, it looks like the silent Swedish assassins connected after receiving a message via a pneumatic tube. It reveals their next target: Vanya.