Video Footage of Quavo and Saweetie Fighting in an Elevator Leaked and the Internet Has a Lot of Opinions
Fans were shocked earlier this month to learn that Migo's rapper Quavious Marshall, better known as Quavo, and Saweetie had broken up. Once the news was announced, people were clamoring for answers about what happened between the couple. Saweetie, born Diamonté Harper, released a statement that alluded to Quavo having been unfaithful. But now, video footage has come out of the two fighting, revealing that there may be even more to the story than anyone thought.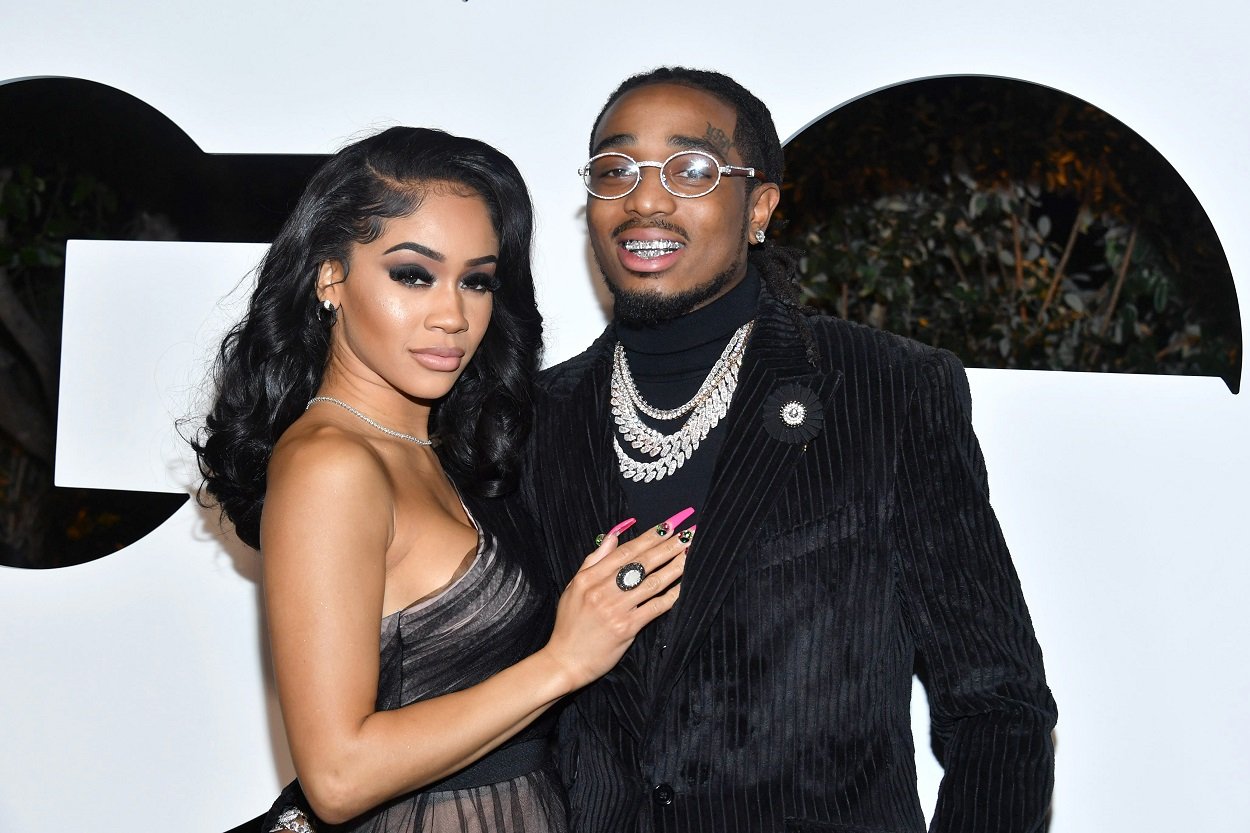 Saweetie and Quavo's relationship
Saweetie and Quavo started dating in 2018 after the rapper slid into Saweetie's DMs.
"I seen her on my Explore page. I was like, 'D*mn! Who is this?'" Quavo told GQ magazine. "So I did my research and I DM her. I was like, 'How she going to call herself icy and she don't talk to me?' So I slid in her DM. I told her, 'You an icy girl, you need a glacier boy.'"
For a while, the relationship seemed to be going smoothly and Saweetie credited Quavo with her growth.
"Growing up I struggled with communication, and he has taught me to be a better communicator," she told the outlet of Quavo. "I feel like I'm growing and I'm maturing because of him — not the music, not Saweetie, but Diamonté. I don't know how I would be as a person if I would have never met him."
Are Saweetie and Quavo still together?
Fans began getting suspicious that something may have been off between the pair when they both unfollowed eachother on social media. Then, Saweetie revealed they had broken up.
"I'm single. I've endured too much betrayal and hurt behind the scenes for a false narrative to be circulating that degrades my character," Saweetie tweeted. "Presents don't band aid scars and the love isn't real when the intimacy is given to other women."
"I emotionally checked out a long time ago and have walked away with a deep sense of peace and freedom. Excited for this new chapter of elevation 🙏🏽.," she continued in a follow-up tweet.
Quavo also cryptically commented on the situation.
"I know you want to make this into a show so I'll play my part just this one time," he wrote. "I don't normally put my business out there, especially my personal life. I feel the need to address this so there are no false narratives."
Quavo and Saweetie's fight
Yesterday, TMZ released footage of Quavo and Saweetie in an altercation in an apartment elevator. According to the outlet, the encounter happened last year.
In the clip that went on for a minute-and-a-half, Saweetie can be seen trying to push Quavo off of her and throwing her suitcase out of the elevator. Then, Quavo pushes her back onto the elevator and she falls to the ground. Saweetie stays on the floor for the rest of the video until she finally is able to get up and limp out of the elevator.
Fan reactions
Fans had differing reactions to the video. Some called Quavo out for abusing Saweetie.
"This is not an altercation," one person commented on The Shade Room's Instagram post containing the video. "This is a man clearly physically assaulting his woman. Call it what it is. Domestic Abuse. SMH"
"If he doing this, then you know what he doing behind closed doors," another person commented. "Look how he looks at the camera. Some of yall favs aint s*it.
Others were suspicious of the timing of the video.
"Why hasn't this footage been released? Why wait until this breakup situation chileeee!!!!!" one person wrote.
"People more mad this video surfaced then the issue of him manhandling her," another fan said. "But I digress…"
Reps for Saweetie and Quavo did not respond to Showbiz Cheat Sheet's request for comment.