Usher Explained the Real Meaning Behind His New Song, 'Bad Habits,' On 'The Kelly Clarkson Show'
Usher dropped by 'The Kelly Clarkson Show' during Music Week. While there, he dropped knowledge about the meaning behind his new song, 'Bad Habits.'
R&B icon Usher dropped by The Kelly Clarkson Show during the program's highly anticipated Music Week. While there, he dropped knowledge about the meaning behind his new song, "Bad Habits."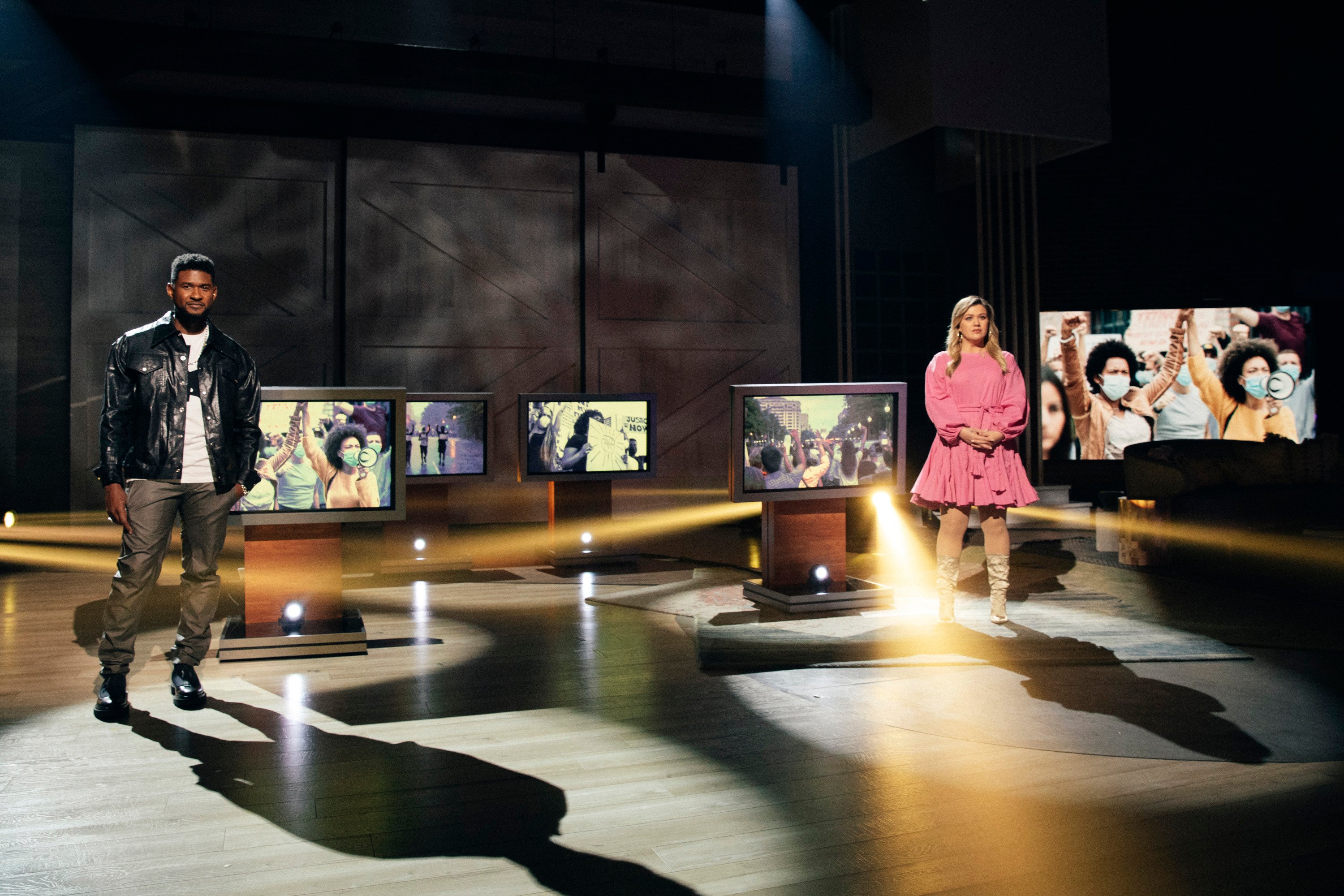 Kelly Clarkson and Usher commiserated over homeschooling their kids
Beloved recording artist-turned-talk-show host, Kelly Clarkson, welcomed Usher to The Kelly Clarkson Show. Clarkson booked Usher for a socially distanced interview to discuss his new music, but first, they traded stories about homeschooling during the pandemic.
Clarkson asked Usher parent-to-parent, "So, are you happy that homeschooling is over in your house?"
Without missing a beat, Usher answered, "Oh man, yes, I am." He and Clarkson had a laugh, saying sarcastically how much they both loved homeschooling their children during the coronavirus pandemic. Clarkson confessed that she thought her nanny was going to pack it up and quit.
"God bless the teachers," Usher declared earnestly. And Clarkson chimed in, saying, "Teachers are the best. They're so underappreciated. I'm with you on that."
The R&B star broke down 'Bad Habits' on 'The Kelly Clarkson Show'
After a bit of small talk, amusing banter, and a commercial break, Usher and Clarkson got down to the business of discussing his new single, "Bad Habits." After previewing a clip of Usher's music video, Clarkson teed things up by reintroducing Usher. "Hey guys, I'm back with the one and only Usher!"
Before launching into his spiel about his new song, Usher revealed that he's inspired by many different genres of music, including classical. He also teased a dynamite stint of future performances during his forthcoming Las Vegas residency. After much buildup, Clarkson asked, "What is 'Bad Habits' about?"
"We all have those bad habits that stop us from moving forward in life," Usher acknowledged. "And not until actually, we address them do we begin to get over it or either acknowledge that maybe some of the trauma and drama you're dealing with in your life comes as a result of you keeping it there. So, it's a song that really talks about it [and] addresses it."
Usher also opened up about the inventive process behind producing the music video for "Bad Habits" with numerous artistic partners. He dished, "I got really creative with the video with Todd Sims, Rio, Amy, and also too, Chris Robinson. We were able to play with our imagination. You know, in this time, you don't have as many options, so you have to find ways to really be creative narrating stories."
Finally, the singer noted the challenging subject matter that the song lyrics address. "Being able to, you know, have that very difficult topic, and conversation that I'm pretty sure people all over the world are now having to deal with their significant others and have these very complicated conversations at home."
"And listen," Usher cautioned. "The divorce rate is ridiculously high at this point."
"Yes, I am aware," quipped the recently divorced Clarkson.
Follow Erika Delgado on Twitter.