V of BTS Reportedly Wrote a Song for the 'Itaewon Class' OST and Fans Can't Wait
BTS fans are extremely proud of V of BTS for writing a song for the OST of 'Itaewon Class.'
On March 6, V and RM of BTS held a brief VLIVE livestream for fans. In the VLIVE, V told BTS fans he had been writing songs. One of those songs is reported to be featured in the Itaewon Class OST. V's close friend Park Seo-joon appears on Itaewon Class. The two are part of a friend group known as the "Wooga" Squad, along with Park Hyung-sik, PeakBoy, and Choi Woo-shik.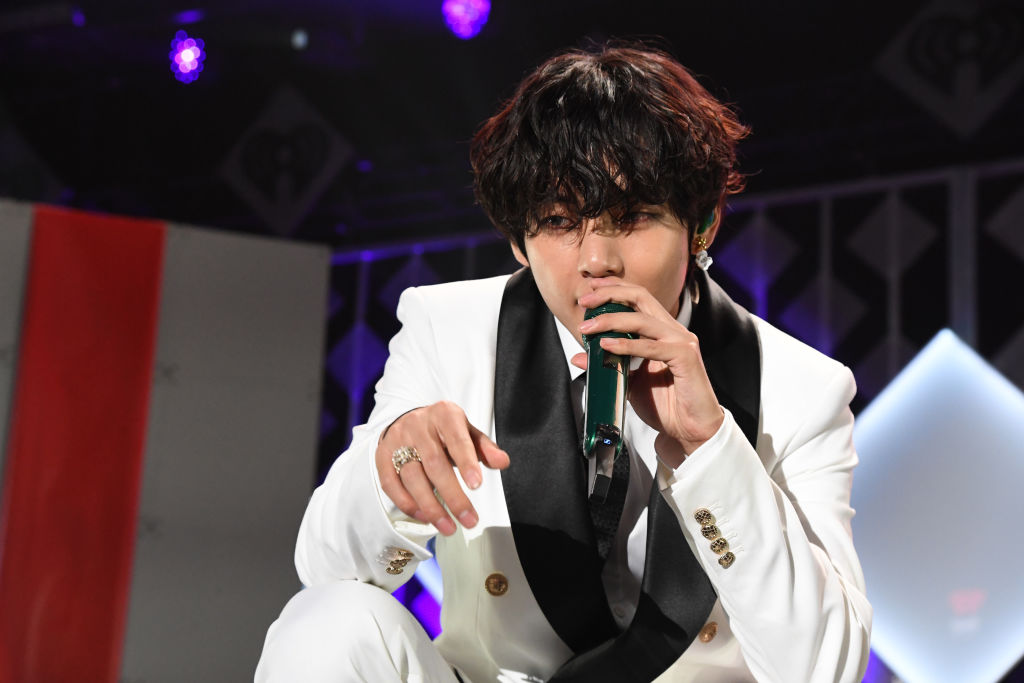 V and RM discussed V's songwriting
RM and V started the VLIVE by mentioning how they missed performing for fans and hoped ARMY would watch their music show performances on TV. RM then brought up songwriting.
"V, have you been writing songs recently?" RM asked according to an English translation.
"I've written three songs," V answered.
He credited living with songwriters after becoming a trainee at Big Hit Entertainment and later a member of BTS as inspiration for his own songwriting.
"I was able to actually feel the life of songwriters," he said. "I was influenced as I lived with the songwriters."
RM praised V for working harder than him, and V told him that the songs he wrote were not finished yet. He then added that one would be released soon.
"One song will be released," he said. "As far as I know, the article is already out."
V then told fans that the song was completed, and he really loves the song. He also told ARMY he wants them to listen to the song to heal.
The two BTS members talked about 'Inner Child'
In the middle of the VLIVE, the BTS members discussed V's solo on Map of the Soul: 7, "Inner Child." According to RM, V was very involved in the songwriting process.
"Normally, people say emotions volatilize after that moment. It disappears in the sky," RM said. "Most emotions disappear. Writing down the emotions you felt at the time is…"
"You can't feel it again in the future," V said.
"It's a great attitude as a writer," RM said. "When working on 'Inner Child,' V was… I've worked on several solo tracks for other members. When I send them a file, they will edit it on their own. And they would finally confirm. But V and I had an active conversation while working on 'Inner Child.'"
BTS fans are proud of V
After the VLIVE, ARMY started the hashtag #TaehyungOSTisComing on Twitter. With the hashtag, BTS fans wrote about how proud they are of V and how much they can't wait for the new song.
"Taehyung has now a total of 10 songs officially registered under his name as lyricist/composer in Korea Music Copyright Association as INNER CHILD was officially added today To our musical genius, we are so proud of you, we are looking forward for more #TaehyungOSTisComing," one fan tweeted.
"taehyung has written & composed 3 different songs & one of them is the ost for itaewon class, taehyung also said that he wants army to listen to the song for healing so pls let's give it lots of love & support since he worked so hard for it #TaehyungOSTisComing," wrote a Twitter user.
"Taehyung said he wrote and self composed three song im so proud this is literally My happiest day ever please i can't wait to hear the ost by taehyung @BTS_twt#TaehyungOSTisComing," a fan tweeted.
"at the end of the year, taehyung will go on stage to accept his OST of the year award and will proudly say 'I really became the singer that everyone can be proud of' #TaehyungOSTisComing," one fan wrote on Twitter.