Was V Actually Supposed to Be in the BTS Rap Line?
From his love of Drake to his love of the BTS "Cypher" series, V isn't afraid to share his love of rap music. Was V a rapper in another life? Was he supposed to be a rapper in BTS instead of J-Hope? Here's what we know about this K-pop idol.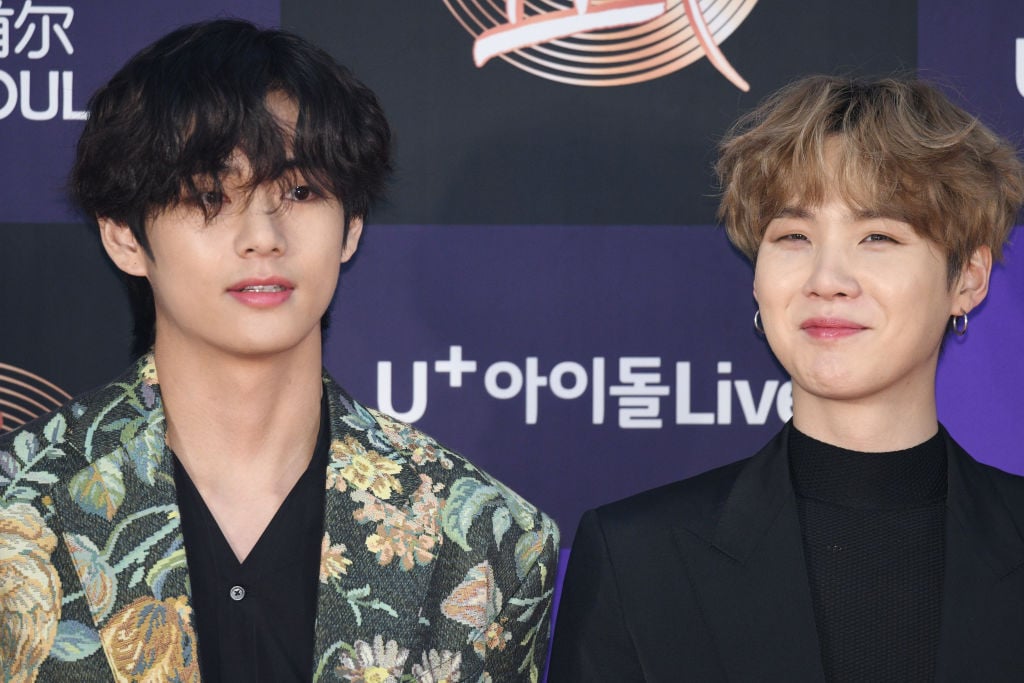 There's a rumor floating around that V was supposed to be a rapper in BTS
Fans know Kim Taehyung as the lovable, sometimes strange, always adorable member of BTS, V. As a member of this K-pop group since their debut in 2013, V is a known vocalist and dancer, often showing off his skills during songs like "Singularity" and "Stigma."
The details of V's audition are pretty murky, as BigHit Entertainment has not released the audition songs performed by this boy band. According to Seventeen, V had dreams of being a singer and in high school, took up the saxophone, as recommended by his father.
Stylecaster reports that V was only at the auditions to support a friend. A team member from BigHit Entertainment asked him to audition and he became the only person from Daegu that day to make it to the next round. The rest is history.
Somewhere in there, a rumor started by BTS fans that J-Hope, the lead dancer and one of the rappers, was actually supposed to be in the vocal line for BTS, but he and V switched. This has not been confirmed by the BTS members or by BigHit Entertainment.
V still loves to rap, even sharing videos of himself rapping and li-syncing
It's no surprise that V loves to rap, especially for BTS' Cypher series. One time, the boy band let him have his moment, letting him rap "Cypher pt.3" alone for a Bangtan Bomb. The other members, who stood around him in a circle, weren't exactly impressed.
Eventually, Suga joined in to give him a hand, but V's dabbing and dancing had fans wishing he was featured in the song. Still, V shares his love of rapping during interviews and Bangtan Bombs. During 2019, the member shared a video on Twitter of himself lip-syncing Amine's "Blackjack." Another video showed V's adorable reaction to meeting the Canadian rapper, Drake.
J-Hope oftentimes sings, even for the 'Map of the Soul: 7' Comeback Trailer 'Outro: Ego'
With seven albums and seven years since BTS debuted, these members had a chance to branch out and create music on their own. V released his solo song "Winter Bear" and J-Hope created his successful mixtape, Hope World. Together, BTS released their second album in the Map of the Soul series, entitled Map of the Soul: 7.
With Map of the Soul: 7 came J-Hope's featured song, in which he rapped and sung. The music video for "Outro: Ego" premiered on Feb. 2 (in the United States) and already earned over 18 million views.
Music by BTS, including the recently released album, Map of the Soul: 7, is now available on streaming platforms like Spotify and Apple Music.