Valerie Bertinelli's Garlic Bread Recipe Uses 1 Kitchen Gadget for an Easy Shortcut
Celebrity chef Valerie Bertinelli's garlic bread is about as easy as it gets. The Food Network star often uses shortcuts in the kitchen and her No-Fuss Fancy Garlic Bread is no exception. Bertinelli uses a kitchen gadget to make the cooking process easier. 
Valerie Bertinelli's garlic bread is ready in 20 minutes
Don't worry about spending an hour — or even 30 minutes — in the kitchen whipping up this side dish. According to the Food Network Bertinelli's garlic bread can be made in about 20 minutes. After 10 "active" minutes, i.e. prep, the garlic bread goes in the oven for 10 minutes. That's it. It's zero to freshly baked garlic bread in 20 minutes. 
On top of that, the host of Valerie's Home Cooking only uses a handful of ingredients. Meaning the No-Fuss Fancy Garlic Bread really does live up to its name.
The Food Network star uses a food processor to make a quick garlic paste 
RELATED: Valerie Bertinelli's Salmon Burgers Are an Easy Twist on the Barbecue Classic
Ina Garten isn't the only Food Network star who keeps a food processor in the kitchen. Bertinelli does too. She uses it to make the garlic bread-making process quicker and easier. 
"We're going to make this easy on ourselves and really chop everything up in a food processor," Bertinelli said as she prepared the garlic bread on Valerie's Home Cooking. 
Instead of getting out a cutting board and chopping up everything by hand, Bertinelli has the food processor do the work. She tosses garlic and fresh herbs in the food processor. In seconds the cookbook author has what she describes as a "cheesy and salty and nutty and buttery and garlicky" paste. 
Bertinelli's garlic bread recipe calls for a store-bought baguette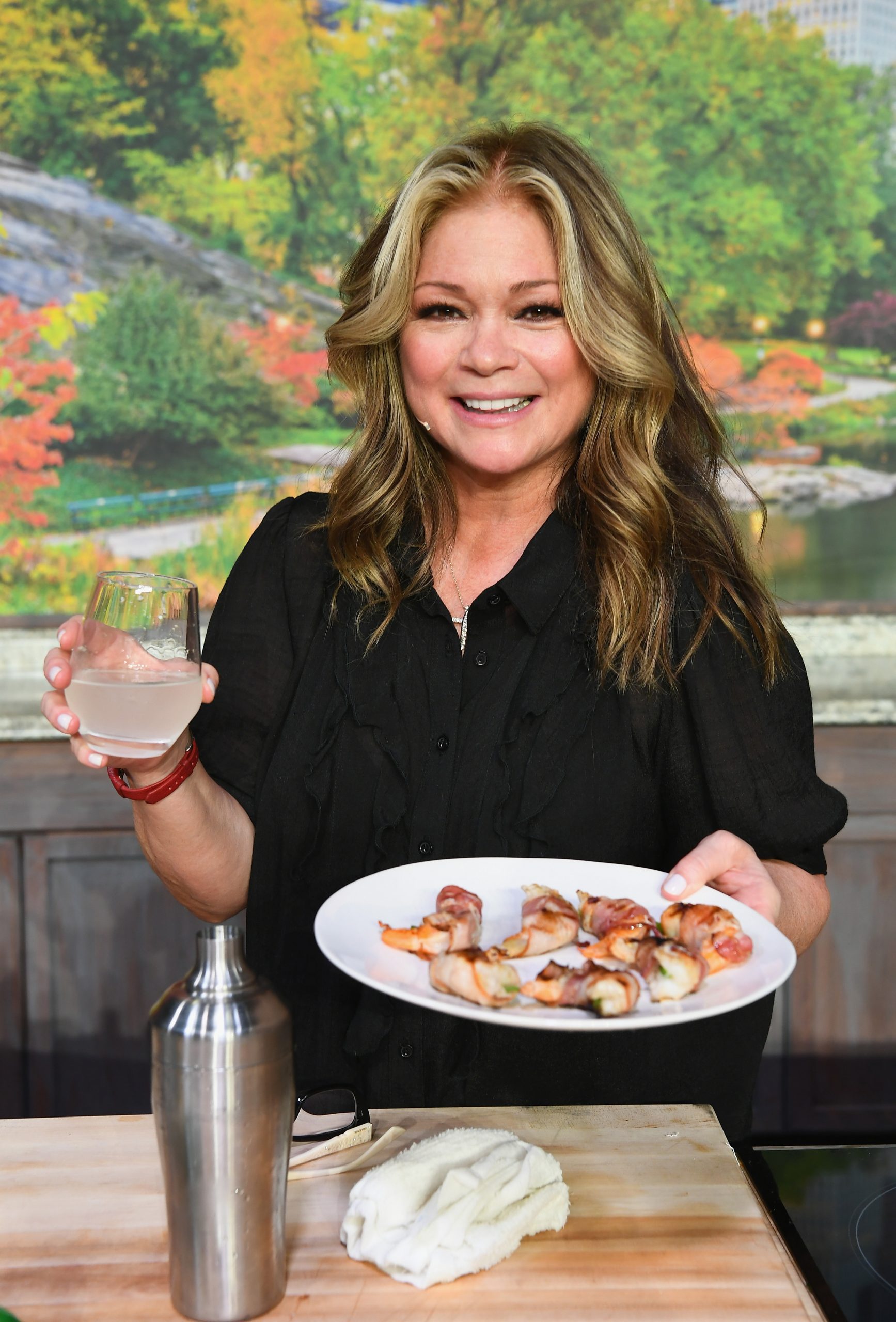 RELATED: Valerie Bertinelli Calls Her Easy No Churn Lemon Ice Cream 'the Most Magical Thing' — 'It's so Easy'
Forget making garlic bread from scratch complete with homemade bread. Why? Because Bertinelli's garlic bread uses a shortcut, store-bought bread. The cooking show host cuts a baguette in half then slices it lengthwise being sure not to cut all the way through. What she's left with is two pieces of baguette that open like a book. 
From there the 61-year-old spreads the garlic-butter paste on the baguette. Next, she wraps them in foil "so they cook evenly." After the garlic bread's been in the oven for 10 minutes Bertinelli removes the foil and toasts the edges using the broiler. Finally, she carefully takes the garlic bread out of the oven, removes the foil, and slices it. 
What reviewers have to say about Bertinelli's No-Fuss Fancy Garlic Bread
RELATED: Valerie Bertinelli's Summery Shrimp, Corn, and Avocado Dip Is an Easy Appetizer No Matter the Season
At the time of publication, Bertinelli's garlic bread recipe has five stars on Food Network's recipe. However, it's nowhere close to being as popular as Bertinelli's risotto seeing as it's only been reviewed five times. Despite the small number of reviews, those who have tried the recipe at home are fans. 
"This is the most flavorful garlic bread," a reviewer wrote, adding they'll "never buy it again." Meanwhile, others described it as "very good," a "keeper," and "easy and delicious."