'Vampire Diaries' Has a '50 Shades of Grey' Easter Egg Hidden in Season 8
Some stories seem to instantly capture their audience's attention. The Vampire Diaries, 50 Shades of Grey, and Twilight are all great examples of this, and because of their similar storylines, they're often compared.
Ian Somerhalder is loved on The Vampires Diaries, so fans assumed he'd make a great addition to the 50 Shades of Grey movie. But when he wasn't cast, he and The Vampire Diaries cast showed that they don't take anything too seriously.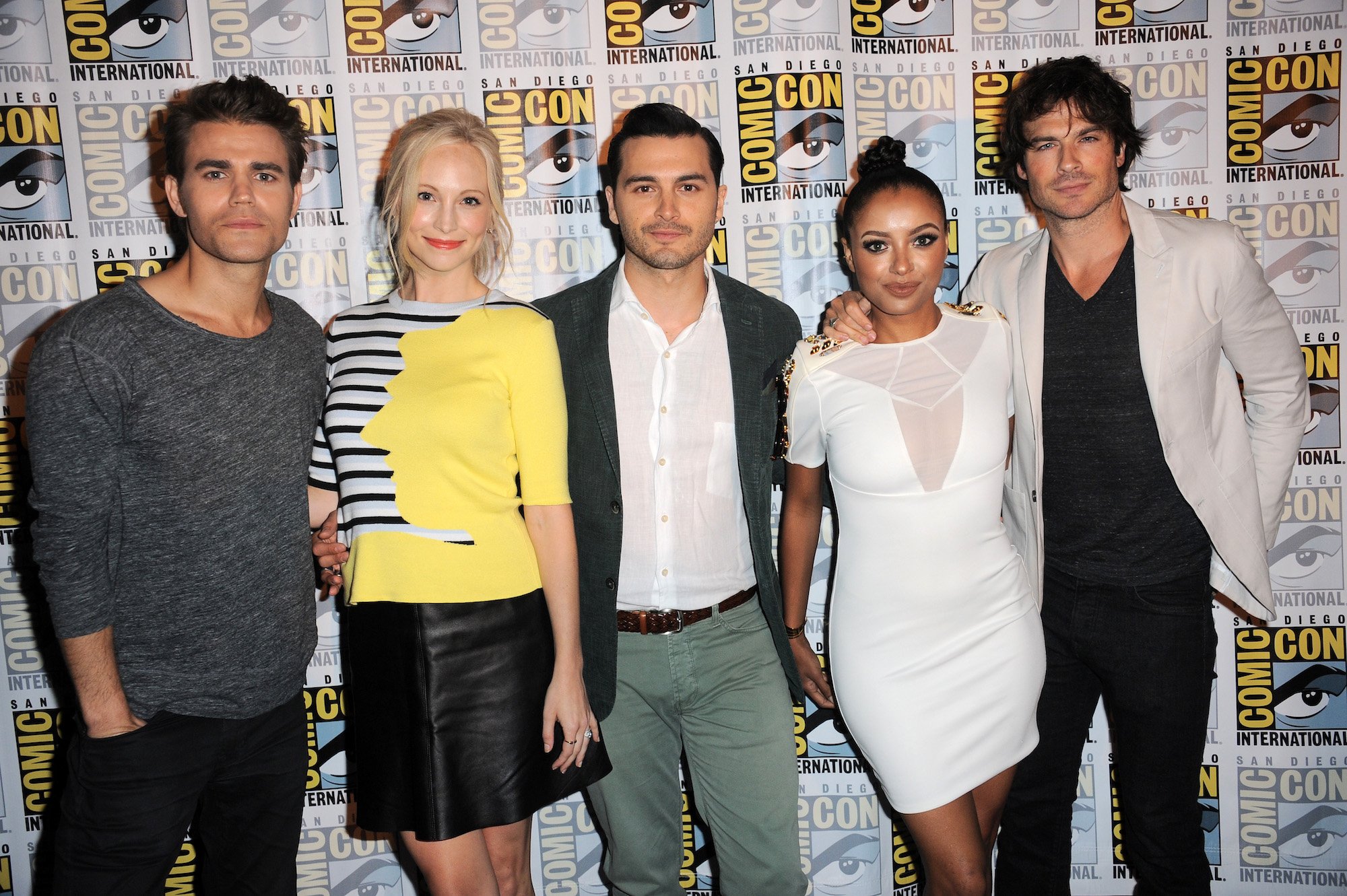 Ian Somerhalder in 'The Vampire Diaries'
The success of CW's The Vampire Diaries is in large part because of Somerhalder's steamy character, Damon Salvatore. One of two vampire brothers, Damon is the troublesome sibling of Stefan Salvatore. At times rivals, especially for the love of Elena Gilbert, Damon at first appears to be a cold and murderous villain. But as the series progresses, viewers are able to see another, softer side of Damon, and better understand his motivations. 
Somerhalder makes the character come alive with his unique, expressive eye movements, and sexy glances. His portrayal of Damon perfectly captures the seductive qualities that women love about a bad boy. Without the character to contrast his sensitive brother, Stefan, The Vampire Diaries probably wouldn't have the same mass appeal that has made it so popular.
Ian Somerhalder almost starred in '50 Shades of Grey'
RELATED: 'The Vampire Diaries': Who Has the Higher Net Worth, Ian Somerhalder or Nina Dobrev?
Since Somerhalder does such a fantastic job at playing the sexy bad boy, he seemed like the perfect match for Christian Grey in 50 Shades of Grey.  Fans immediately got behind the idea, even creating an unofficial trailer for the film, staring him and Alexis Bledel of Gilmore Girls, which garnered around 2.8 million views on YouTube. 
Furthering the rumors, Somerhalder was asked about the role during an appearance on Watch What Happens: Live in March 2013, and seemed to show interest in the part. "I think they have a very big job ahead of them," Somerhalder said. "So, I can't say anything other than that, it's a very interesting story and whoever plays that role is going to have a lot of fun rehearsal time," according to HuffPost. "I think that means he's doing it, you guys," Andy Cohen said in response. 
However, after 18 months of controversy, it was finally announced that Jamie Dornan would play Christian Grey in 50 Shades of Grey and not Somerhalder, or any of the other actors suggested by fans. But Somerhalder didn't seem upset with the decision. During a discussion with HuffPost, he admitted that he was busy enough without the role.
"I'm on a TV show that shoots 10 months a year," Somerhalder said. "It's so funny, you read these blogs: 'Ian Somerhalder angry, livid he's not Christian Grey' -I mean, no, no, no, there's none of that."
'The Vampire Diaries' references '50 Shades of Grey'
Perhaps to show that there are no hurt feelings, an episode of The Vampire Diaries even joked about the situation with a reference to 50 Shades of Grey.  In the premiere episode of season eight, Somerhalder's character, Damon is seen reading the bestselling book, Fifty Shades of Grey, by E.L. James, of which the movie is based on. 
This isn't the first time The Vampire Diaries has used this tactic to reference other fan favorites. Because of several similarities, including vampires, and a love triangle, the CW show is often compared to the popular franchise, Twilight. During the first season, while Damon is in Caroline's room, he picks up a copy of Twilight by Stephanie Meyer, and asks, "What's so special about this Bella girl?" He then comments about missing Anne Rice, another famous author in the vampire genre. 
For such a dramatic show, The Vampire Diaries seems to always know the perfect way to inject some humor into the storyline, and show that they don't take anything too seriously.