'Vanderpump Rules' and 'Southern Charm' Cast Members Debate Tom Sandoval's Intentions Behind the Pastor Comment
Viewers saw the conversation behind what to do about the controversial pastor who Jax Taylor and Brittany Cartwright from Vanderpump Rules originally hired to officiate their wedding.
In June Buzzfeed's deputy editorial director, Lara Parker tweeted about a series of disturbing posts made by pastor Ryan Dotson. The posts included negative comments about a transgender deacon who was appointed to the United Methodist Church. Plus Dotson supported new legislation designed to significantly reduce a woman's right to choose.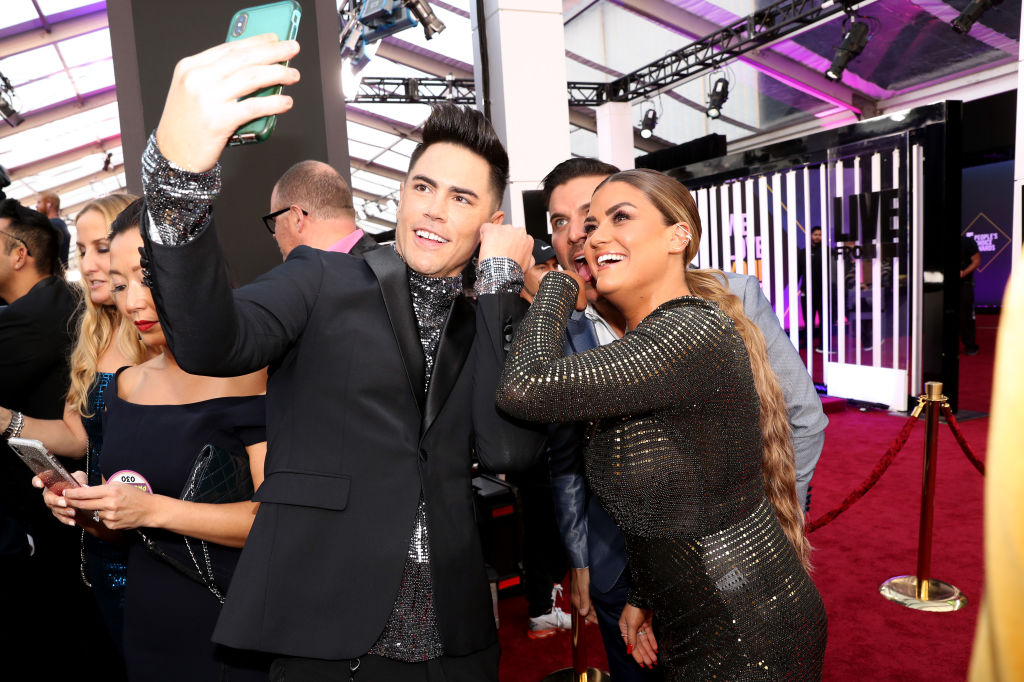 Cartwright confronted the allegations months before Parker shed additional light on the posts. "I talked to him myself and he promised me that he was not that way, that he was not saying anything about the community whatsoever. I've known this man for years, and if it was anything that I felt otherwise, I would never choose somebody like that," she said when she appeared on Watch What Happens Live with Andy Cohen.
The Buzzfeed tweets were brought to boss Lisa Vanderpump's attention as media coverage turned to Dotson's views. Eventually, the couple fired Dotson and instead asked singer Lance Bass to officiate.
Tom Sandoval and Ariana Madix sound the alarm
Both Tom Sandoval and Ariana Madix seemed disturbed when they learned the extent of the posts. Sandoval confronted Taylor about it during a gathering at a sports bar, which went south pretty quickly. Taylor and Cartwright were upset that Sandoval continued to emphasize the situation because their wedding was only a few weeks away.
Cartwright also seemed to be upset because she grew up with Dotson's daughter. The couple had already decided to ask Bass to officiate but Sandoval still wanted to ask why it took Vanderpump to nudge the couple to chose a new officiant. Most of the friends rushed to support Taylor and Cartwright. Cartwright became so upset she was in tears.
"Why does it matter who we have marry us," Taylor asked. The discussion turned to the number of comments Dotson made as Sandoval said in a confessional that he is just asking a simple question.
Taylor says Sandoval asked about the pastor to look good on TV
Taylor made several comments on Twitter about Sandoval's intentions. A number of fans tweeted support for Taylor too. "Tom does things for tv so he looks good. Period. You all live in a fantasy world," Taylor wrote.
Shep Rose from Southern Charm, who attended Taylor and Sandoval's wedding also offered his opinion. "I'll jump in here. I respectfully don't watch any other reality shows. But Jax has a point. In the past on our show there have been people that do something purely to look like the hero. Most real/discerning fans take it with a little grain of salt. Others swallow the hook," Rose wrote.
"The fact is most of us aren't all that great or all that bad. We try doing the right thing as much as possible and we feel like crap when we screw up," he continued. "And we weather the storm on social media because we are in the public eye. That's the deal i suppose." Rose learned a hard lesson this summer when he was slammed for his remarks about a homeless woman.
Scheana Shay defended Sandoval. "I see your point here Shep but let me just say that @TomSandoval1 is one of the most generous people I've ever met in my life and an amazing friend. He truly cares for his friends and wants the best for them on and OFF camera."