'Vanderpump Rules': Ariana Madix Says Viewers Don't See Everything Going on With Scheana Shay
Ariana Madix from Vanderpump Rules seemingly backed up Scheana Shay's assertion that she's being portrayed in a certain light on the show.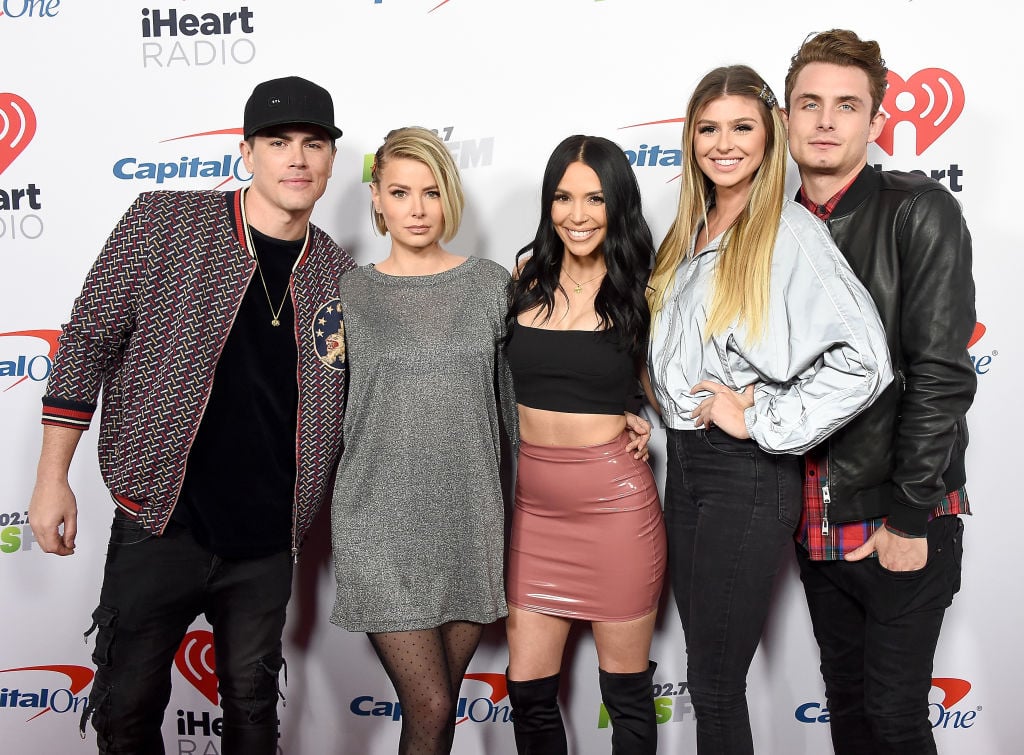 Madix and boyfriend Tom Sandoval appeared on Watch What Happens Live with Andy Cohen. Host Andy Cohen shared a fan question on the After Show asking why no one called Shay out on her bullsh*t, adding that she chases down every new guy on the show. Plus, the fan wondered if Shay causes more trouble than Kristen Doute.
While Madix admits Shay can fall hard, viewers aren't getting the full picture. She hinted that some people had issues filming together too, which can also influence storylines.
Fans aren't seeing everything
Madix shared that there is more than what meets the eye (or television screen). "Yes, Scheana does get involved with people pretty deep, pretty fast," she says. "But at the same time, there's a lot of stuff that you're not seeing on the show, like things that are going on with somebody that doesn't want to film."
"And so I think there is a lot more to that story," she hints. "And I don't want to divulge all of her personal life. But I wouldn't just take what you see on the show as her entire life."
Sandoval then pipes in, "And also, I would like to say that I thought that Scheana did one hell of a job on this season. I would go so far as to say she's the 'MVP' of the season."
Madix adds, "Kudos to her for being willing to put it all out there time and time again." Cohen says he agrees.
Shay insists she was being portrayed in a negative light this season too
Shay said she was sick of being portrayed as a desperate, middle-aged waitress this season. "I think that they just like to keep me in this one-dimensional box," she told Channel Q's The Morning Beat. "It's almost like I'm playing a character. I am a 'desperate, middle-aged waitress.' That is my role to play here."
She also backed up Madix's assertion. "Nothing from my actual life is shown outside of it. I had so much going on last year, but it's just brushed over because we have eighteen other cast member's lives to cover."
Shay noted that her journey to freezing her eggs was also brushed over. Instead, her storyline was flirting with the new cast members. "They think me desperately flirting is a better story," she said. "Than me actually going through something real in life that could help people. And you, know, that's their decision." 
A 'Vanderpump Rules' editor made jaw-dropping comments about Shay
Editor Bri Dellinger shared on the Twisted Plot Podcast with Evelyn Marley podcast that she purposely shared Shay's embarrassing moments. "If Scheana knows what's good for her, she'd befriend me because my favorite game is finding all the embarrassing things that Scheana does and putting them all in," she said, Page Six reports.
Dellinger even admitted she set Shay up to appear to flirt with Stassi Schroeder's teenage brother, Nikolai. "We asked her in the interview, 'How young would you go?' and we didn't tell her it was for the Nikolai scene, of course," she said.
"It was so funny," Dellinger remarked. "We were watching the scene and were like 'Okay, this is over the top, I realize that, but how can we resist?' … Yes, I set it to funny music and I added a funny [sound] bite, but she did that."